Originally posted on
Sportsnaut
| Last updated 2/23/15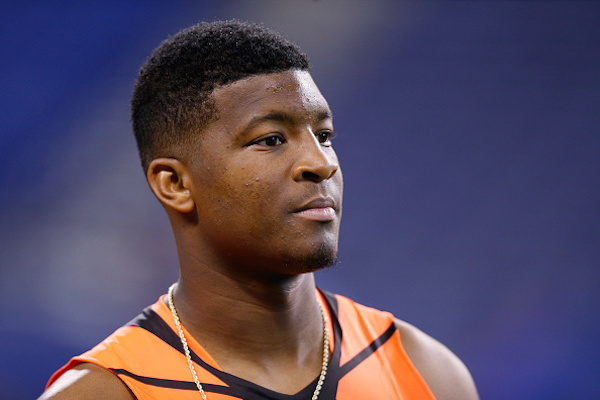 It's easy to anonymously throw shade at a person, as evidenced by an unnamed scout ripping Jameis Winston.
Joe Robbins/Getty Images
By Rachel Wold
Florida State quarterback and Heisman Trophy winner Jameis Winston did an adequate job of speaking and answering questions about off-field issues at the NFL Scouting Combine in Indianapolis.
Leaving a favorable impression by addressing these concerns and doing a great job during the passing and physical skills, Winston's draft stock remains extremely high moving towards the draft. While Winston impressed most, there was one scout who decided to blast the young quarterback (via Milwaukee Journal Sentinel).
"Someone will take him in the first round, but how could you even let that guy in the building? The second law of thermodynamics basically is the more ways something can happen, the more likely it is to happen. That's true of players. The more ways they can (expletive) up, the more chances they (expletive) up. This guy's got a lot of stuff that would lean him more likely to be a bust than a good player."
His past off-field issues, including a sexual assault investigation that did not result in charges being filed, likely played a role on the scout's trashing of the former Florida State quarterback.
In regards to that, Winston had this to say:
"I know I have to gain a lot of people's trust. But whatever happens, this is just my opportunity and I'm going to take advantage of this opportunity because this is what I dream of. I dream of being a Hall of Famer one day and I dream of being the face of someone's franchise."
Potentially the first-overall pick in the upcoming draft, Winston's performance both on the field and during his media session in Indianapolis will go a long way moving forward in the draft process.
As it relates to an anonymous scout bashing a young prospect in the media, it's something we see far too often. Easy to throw shade someone's way without your signature.
MORE FROM YARDBARKER
NFL News

Delivered to your inbox

You'll also receive Yardbarker's daily Top 10, featuring the best sports stories from around the web. Customize your newsletter to get articles on your favorite sports and teams. And the best part? It's free!