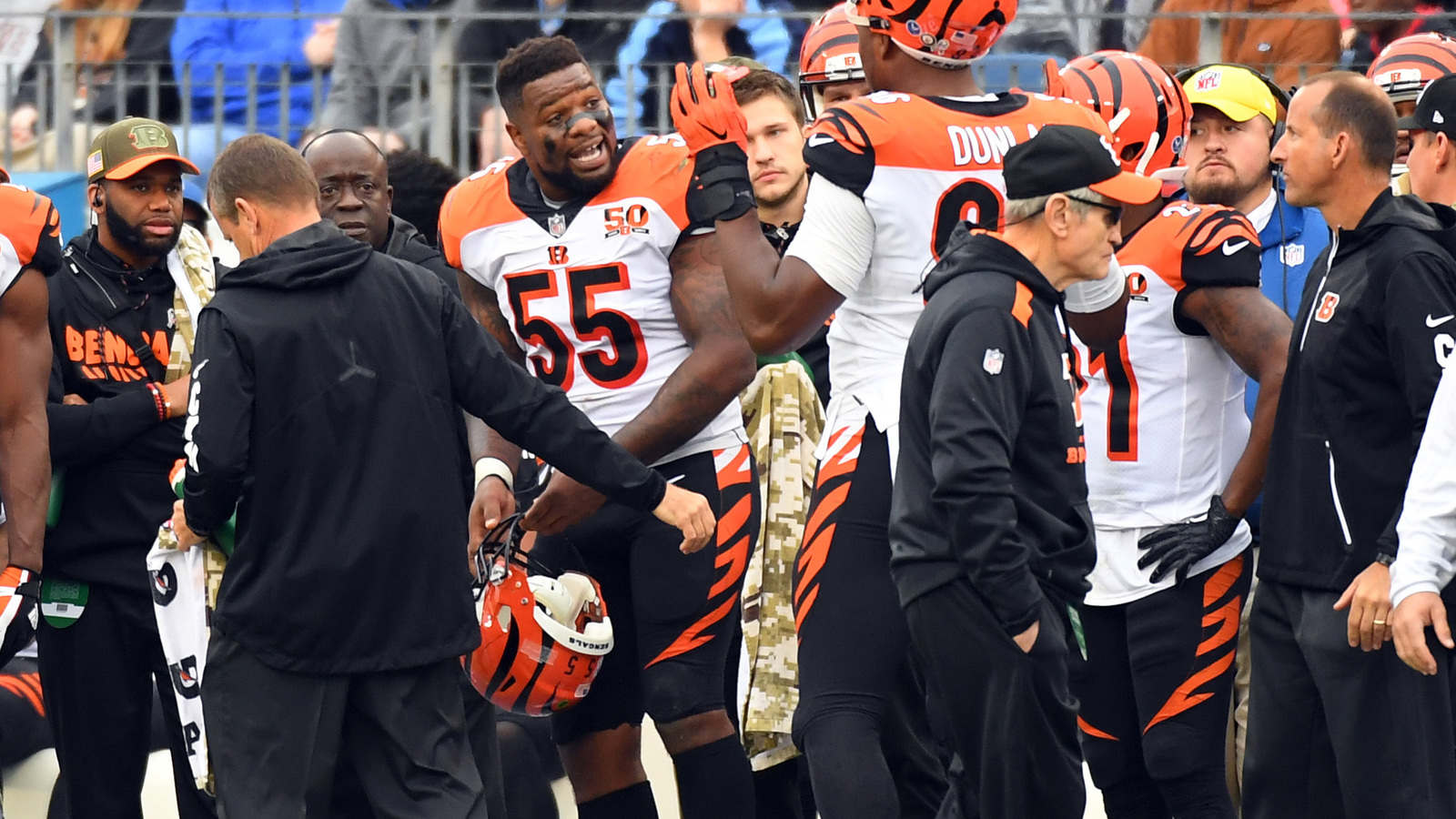 Christopher Hanewinckel-USA TODAY Sports
Vontaze Burfict has a reputation for committing dirty plays and racking up personal fouls, but one of his teammates feels the linebacker has been treated unfairly by NFL officials in recent weeks.
A Cincinnati Bengals player who chose to remain anonymous told ESPN's Adam Schefter on Monday that Burfict has been provoked by NFL officials at least three times in the past four games. The player claims he has witnessed officials cursing at Burfict on multiple occasions, and he says there is video that shows officials initiating contact with the linebacker at least three times over the last month.
A source close to Burfict told Schefter that Vontaze feels he is being singled out by officials during games and is growing frustrated. Burfict has complained to Bengals head coach Marvin Lewis, who is part of the NFL's competition committee, but Lewis has not logged any complaints with the league.
According to Schefter, officials made contact with Burfict in Cincinnati's Oct. 22 game against the Pittsburgh Steelers, on Nov. 5 against the Jacksonville Jaguars and again on Sunday vs. the Tennessee Titans. An NFL spokesman denied that officials have been antagonizing Burfict and said there has been nothing unordinary about any physical contact that was made with the veteran.
Burfict is not expected to face a suspension after he was ejected from Sunday's game for picking up two personal fouls, the second of which was for making contact with an official. The first flag was thrown after Burfict bumped DeMarco Murray out of bounds, and video replay showed that the contact was pretty minor.
It will be interesting to see if the NFL decides to fine Burfict. While he has lost the benefit of the doubt and is known for being a dirty player, it did seem like he was treated unfairly against the Titans.
MORE FROM YARDBARKER:
MORE FROM YARDBARKER
Bengals News

Delivered to your inbox

You'll also receive Yardbarker's daily Top 10, featuring the best sports stories from around the web. Customize your newsletter to get articles on your favorite sports and teams. And the best part? It's free!