Originally posted on
Sportsnaut
| Last updated 4/2/15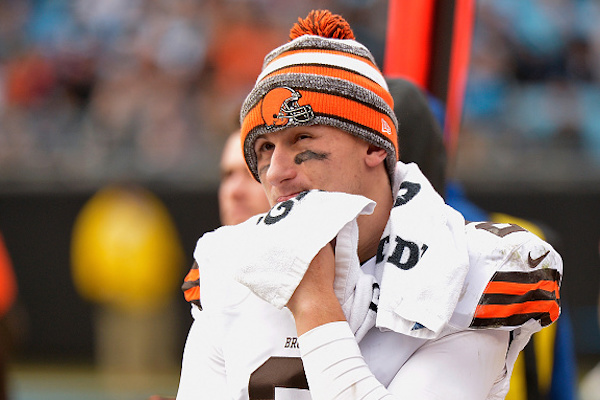 Reports indicate that the Browns may be already prepared to move on from Johnny Manziel.
Grant Halverson/Getty Images
By Vincent Frank
Cleveland Browns quarterback Johnny Manziel is expected to join the team for its organized team activities later this month. That is if he's released from rehab before then.
According to ESPN's Chris Mortensen, Manziel's return to the the Browns might very well be short lived (h/t NJ.com).
"I think about 90 percent (the Browns) have moved on (from Manziel) in their own minds except that they really don't know who they're going to get when Johnny leaves rehab, which has been an extended stay. A two-month stay." the ESPN insider said on an appearance on ESPN's Mike & Mike. "He should be getting out in the first week of April if they're satisfied that he's ready to go out and get into society and whatever deep-rooted problems that he had has been addressed. Okay, now he is part of your depth chart. You have Josh McCown."
While that statement isn't a clear indication one way or the other, it doesn't necessarily inspire confidence that Manziel has any sort of a future in Cleveland. A lot of this might be dependent on how the former first-round pick responds to life after rehab.
However, there have been whispers around league circles that Cleveland has already started to look ahead to a future without the former Heisman winner. Following the signing of Josh McCown earlier this offseason, various reports indicated that the team had shown interest in new Philadelphia Eagles quarterback Sam Bradford. At one point, general manager Ray Farmer and company may have even offered a first-round pick in exchange for Bradford.
The interesting dynamic here is that Philadelphia is said to be entertaining the idea of moving up for former Oregon signal caller Marcus Mariota—a pupil of head coach Chip Kelly in Eugene. If so, Bradford could be dangled as a carrot to the Browns, who possess two first-round picks.
What would this all mean for Manziel?
Mary Kay Cabot of the Cleveland.com hinted over the weekend that the Browns may very well look to trade the Texas A&M product should they land either Bradford or Mariota. Short of dealing Manziel in a package for Bradford, the entire situation could get even more convoluted.
Sadly for the Browns, it now appears they are back to possessing a mediocre veteran stopgap option without having that quarterback of the future on the roster. Sound familiar?
If Mortensen's report tells us anything, it's that the Browns simply don't view Manziel as any sort of a long-term option for the team. If that's the case, the team may very well just decide to part ways sooner rather than later.
MORE FROM YARDBARKER
Browns News

Delivered to your inbox

You'll also receive Yardbarker's daily Top 10, featuring the best sports stories from around the web. Customize your newsletter to get articles on your favorite sports and teams. And the best part? It's free!