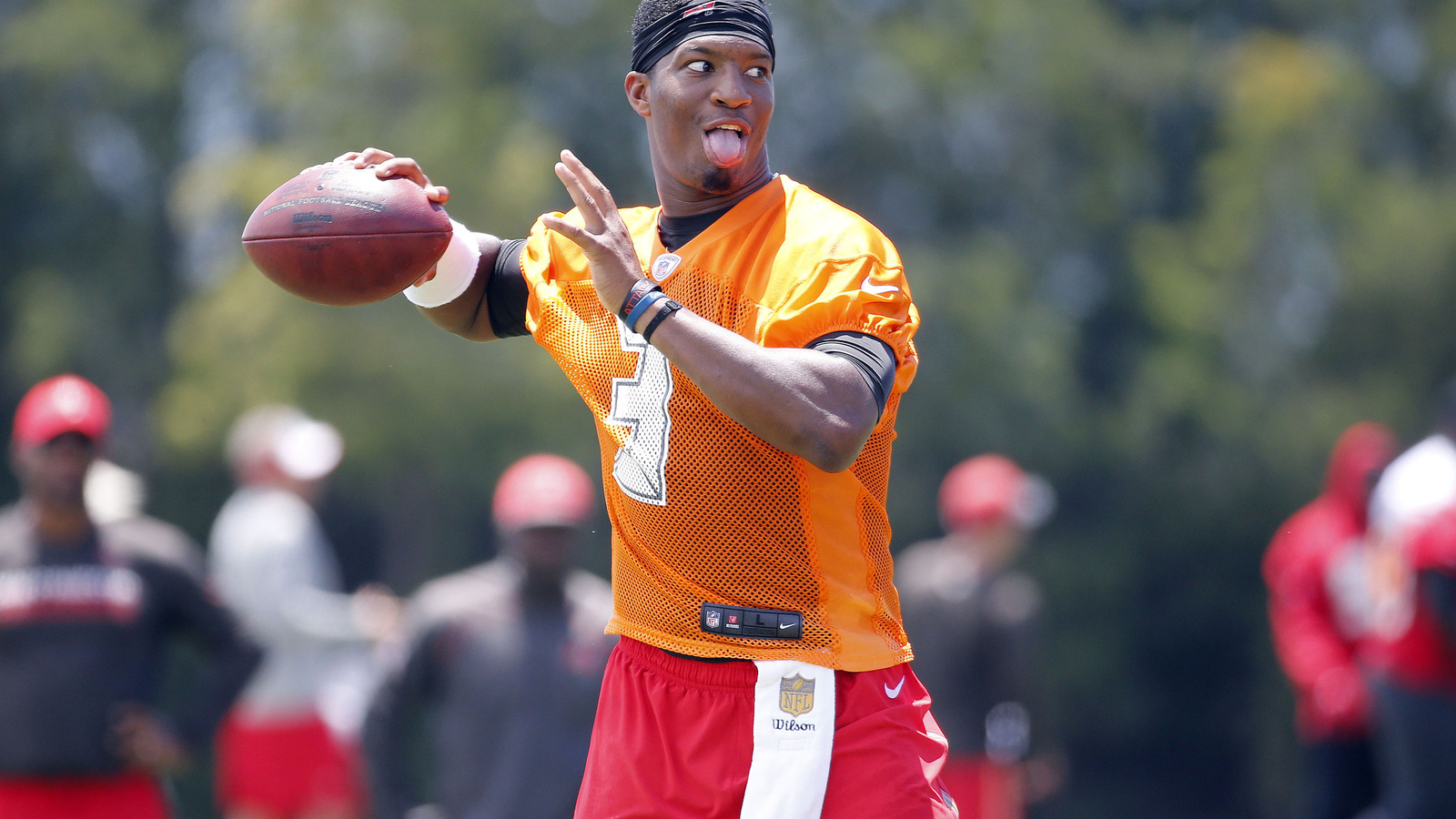 Jun 14, 2017; Tampa Bay, FL, USA; Tampa Bay Buccaneers quarterback Jameis Winston (3) stick out his tongue as he gets ready to throw the ball at One Buccaneer Place. 
Kim Klement-USA TODAY Sports
Tampa Bay Buccaneers head coach Dirk Koetter is not one to mince words. He will let players know where they stand. He'll also tell the media what is going on.
Following an early wrap-up of minicamp on Thursday, Koetter spoke about young franchise quarterback Jameis Winston. The reviews were mixed.
"I would say Jameis is different in that he knows he can play in the NFL. He knows he can be a successful player. Jameis, no one has higher expectations for his performance than he does," Koetter said, via The Tampa Bay Times. "He's aiming to be elite, not just one of 32. And because he has such high expectations and we have high expectations, it's a never-ending process. We're hard on Jameis and he's hard on himself. Always improving but not where he wants to be."
As the No. 1 overall pick back in 2015, there's no reason why Tampa Bay shouldn't be hard on Winston. Expectations should also be sky high for his ability to lead this team. Winston himself knows that very well.
Interestingly enough, the Buccaneers decided to end their minicamp early as to give their players some more time off. Winston was the only member of the team not happy with this decision. He wanted to continue putting the work in.
The Bucs are coming off a surprising 9-7 campaign that saw them in playoff contention into December. Though, Winston himself was inconsistent in his second season as the team's starter. He did throw for almost 4,100 yards with 28 touchdowns.
But mistakes haunted the former Florida State standout. He opened the season with eight interceptions in the four four games en route to being picked off 18 times. That's obviously an area Winston is going to want to work on this upcoming season.
MORE FROM YARDBARKER:
QUIZ: Name every prominent quarterback in the history of the Tampa Bay Buccaneers
While there are a few obscure quarterbacks who threw passes for the Tampa Bay Buccaneers, the QBs featured in this quiz were the 'top passer' for the team that year, according to the number of yards passing. We have identified 19 (with one repeat). How many of them can you name?
Clue: Years active
MORE FROM YARDBARKER
Buccaneers News

Delivered to your inbox

You'll also receive Yardbarker's daily Top 10, featuring the best sports stories from around the web. Customize your newsletter to get articles on your favorite sports and teams. And the best part? It's free!