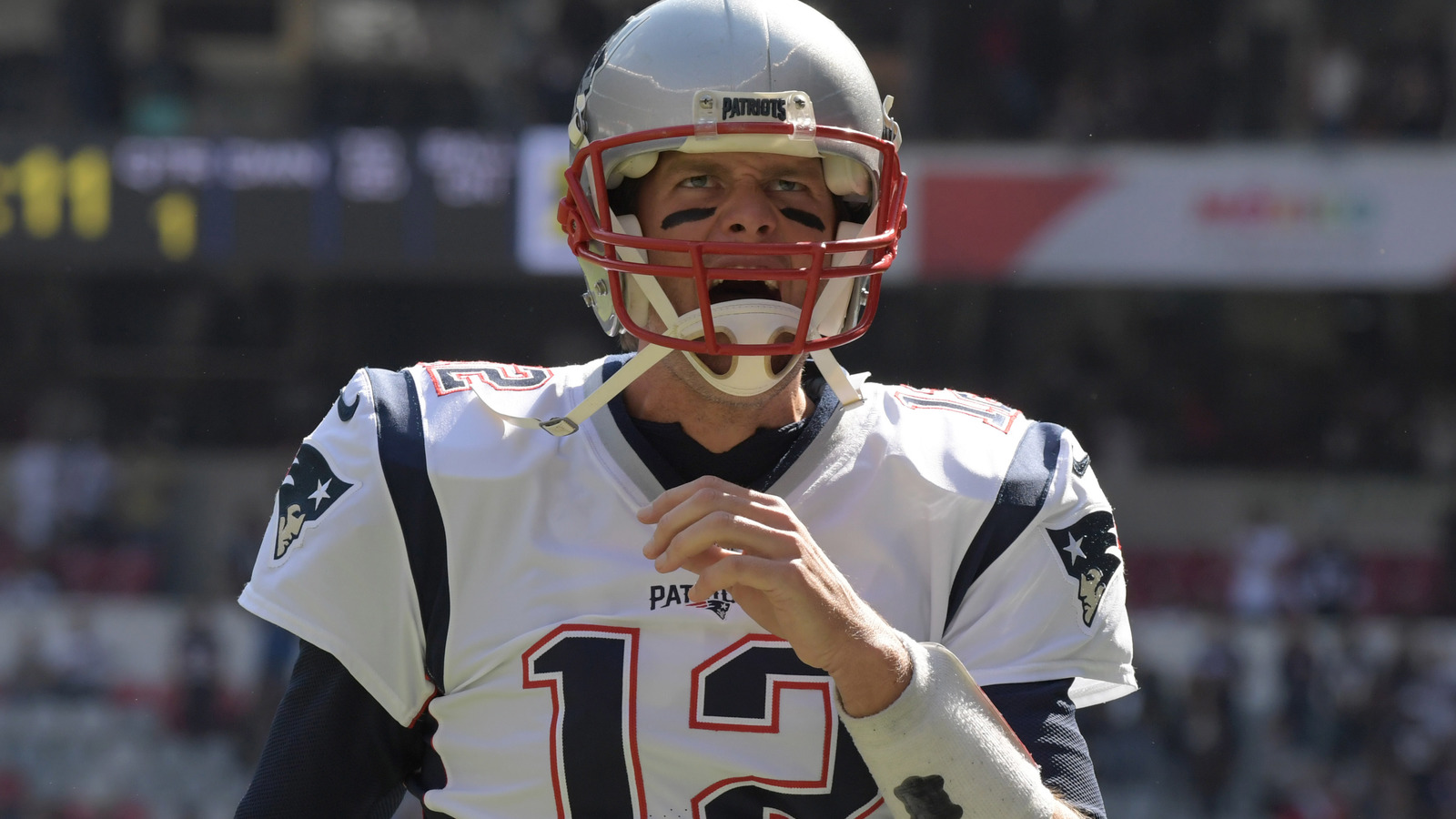 Can Tom Brady lead the Patriots to yet another Super Bowl victory?
USA TODAY Sports
So, what else can you say about the New England Patriots that hasn't already been said? Not much. Unless, of course, they win it all this season. Then we'll just have to say it all again. But currently embroiled in a defense of their latest Super Bowl title, the Pats are beginning to play like they are ready to win another one. So we all better get ready for another "Very Brady" postseason.
The Patriots are 8-2 after a beat down in Mexico of the Oakland Raiders. And, once again, lead the AFC East Division (by three games)—which seems like a broken record. But quarterback Tom Brady, at 40 years old, is having another season that most NFL quarterbacks would envy. So now we're are going to have start searching his closet for a picture of Dorian Gray.
As a quarterback in his fourth decade of life, Brady's stats are becoming other-worldly. He currently leads the league in passing yards per game at 315. He is second in touchdown passes with 22. And, he sits atop the league in throwing fewest interceptions with just two. (And with the exception of Alex Smith, who has thrown three, the only other quarterbacks that are near him in this category are backups, injured players or other players who have not started a full ten games thus far as Brady has.)
Did I mention that he was 40 years old?
Brady is the biggest factor in the Patriots success this season. Then again, he has been most seasons during the Patriots dynasty. And yes, seven Super Bowl appearances and five wins since 2002 is a dynasty. No matter who Brady had around him (and it has been an often-changing cast of receivers, running backs, offensive linemen and other castoffs, Brady has found a way to lead them to the postseason. His team, which is tied with the Green Bay Packers for the longest current streak of consecutive playoff appearances at eight, is surely headed to nine.
This will the tie them for the all-time NFL record of nine (with the Dallas Cowboys from 1975-1983).
In assessing New England's success, we mustn't neglect the contributions to this streak of the man who is the architect of those teams. Head coach Bill Belichick, who brings in a lot of those castoffs to surround Brady. Belichick, who first installed Brady mid-season in 2001 (to replace Drew Bledsoe), has been lockstep with his quarterback Brady ever since—for five (sometimes disputed) championships.
Through it all, the hoodie-wearing Belichick has mumbled and grumbled his way towards coaching immortality. And, is working his way to the doorstep of adding to his already sure-fire cinch Hall of Fame resume.
But is it possible that this New England B&B may finally be closing down? That was the speculation earlier this season, when Belichick and the Patriots jettisoned backup quarterback Jimmy Garoppolo. Belichick sent Garoppolo, the presumed future of the quarterback position in New England at the end of the Brady era, to San Francisco for a second-round draft pick.
Some see this move as a sign that Belichick (who is 65 years old and a person with a decent retirement portfolio set up for himself) plans to go out with Brady. Win one more ring for the other thumb. Then, set up offensive coordinator Josh McDaniels to take over the empire. And finally, go golfing?
"This league is all about messages, and Bill Belichick just sent you one," FOX Sports 1's Colin Cowherd said at the time of the trade. 'I'm leaving with Tom Brady when he leaves probably at the end of next year or the year after that.'"
But it seems to me more like another shrewd move for the future. The 49ers have just one win and appear headed for a good draft position. On top of that, Belichick just picked up another "castoff" in former Packer (and former Patriot) tight end Martellus Bennett. The move could be viewed as another strengthening of the Patriots juggernaut for the stretch run in a title chase. Or, it could be another of the Darth Sidious-like Belichick spinning of his dark web for the future.
The problem with this logic may lie, perhaps, with the quarterback. That's because Brady doesn't seem ready to thrown in the flattened football just yet.
"I'd like to play a long time," Brady told CBS last season. "There's a lot that goes into playing well. I've played with a lot of great teammates. But I want to play for a long time, maybe 10 more years. I think that's probably what my goal is."
But all that is speculation, since "Dorian and Darth" have not uttered their plans. But a look at the current Patriots season certainly displays what their intentions are for 2017. The Patriots stumbled out of the gate in defense of last season's title going 2-2 and being unable to stop many teams on defense. But then longtime Patriots defensive coordinator Matt Patricia grabbed the pencil from behind his ear and got things straightened out.
The Patriots defense still isn't at the top of the league (in fact, they are at the bottom in total defense giving up 401.9 yards per game), and, as CBS analyst Tony Romo said on Sunday, no NFL team has ever made the playoffs while owning that stat of last in the NFL in total defense.
But the Patriots defense has risen to the middle of the pack (ranked 13th) in an even more important metric: points allowed—20.3 per game. Couple that with a Brady-led offense that is scoring 29.0 points per game (thanks to the addition of wideout Brandin Cooks, the health of tight end Rob Gronkowski and the emergence of running back Dion Lewis), and the Patriots could become the exception to that defense statistic (if their defense continues to bend and not break.
Brady is Aaron Rodgers-like in his ability to make-up for other deficiencies on his teams, so keeping the old man upright is paramount to the Patriots' success.
Ultimately, all the personnel maneuverings just obscure our focus on a team that continues to improve and win big. Just like they always have, the Patriots are giving us new headlines and different things to write about (Spygate, Deflategate, etc.) while they rack up victories.
The bottom line remains that the Patriots are tied with the Pittsburgh Steelers for the best record in the AFC. And when the two teams meet in Pittsburgh on Dec. 17, it should be an important postseason tune-up for both teams. Plus, a likely preview of the AFC Championship Game. And if we have learned anything over the years, it will be hard to count out the New England B&B. Even when they're facing the Steelers' Three B's.
Patriots News

Delivered to your inbox

You'll also receive Yardbarker's daily Top 10, featuring the best sports stories from around the web. Customize your newsletter to get articles on your favorite sports and teams. And the best part? It's free!
MORE FROM YARDBARKER
Patriots News

Delivered to your inbox

You'll also receive Yardbarker's daily Top 10, featuring the best sports stories from around the web. Customize your newsletter to get articles on your favorite sports and teams. And the best part? It's free!