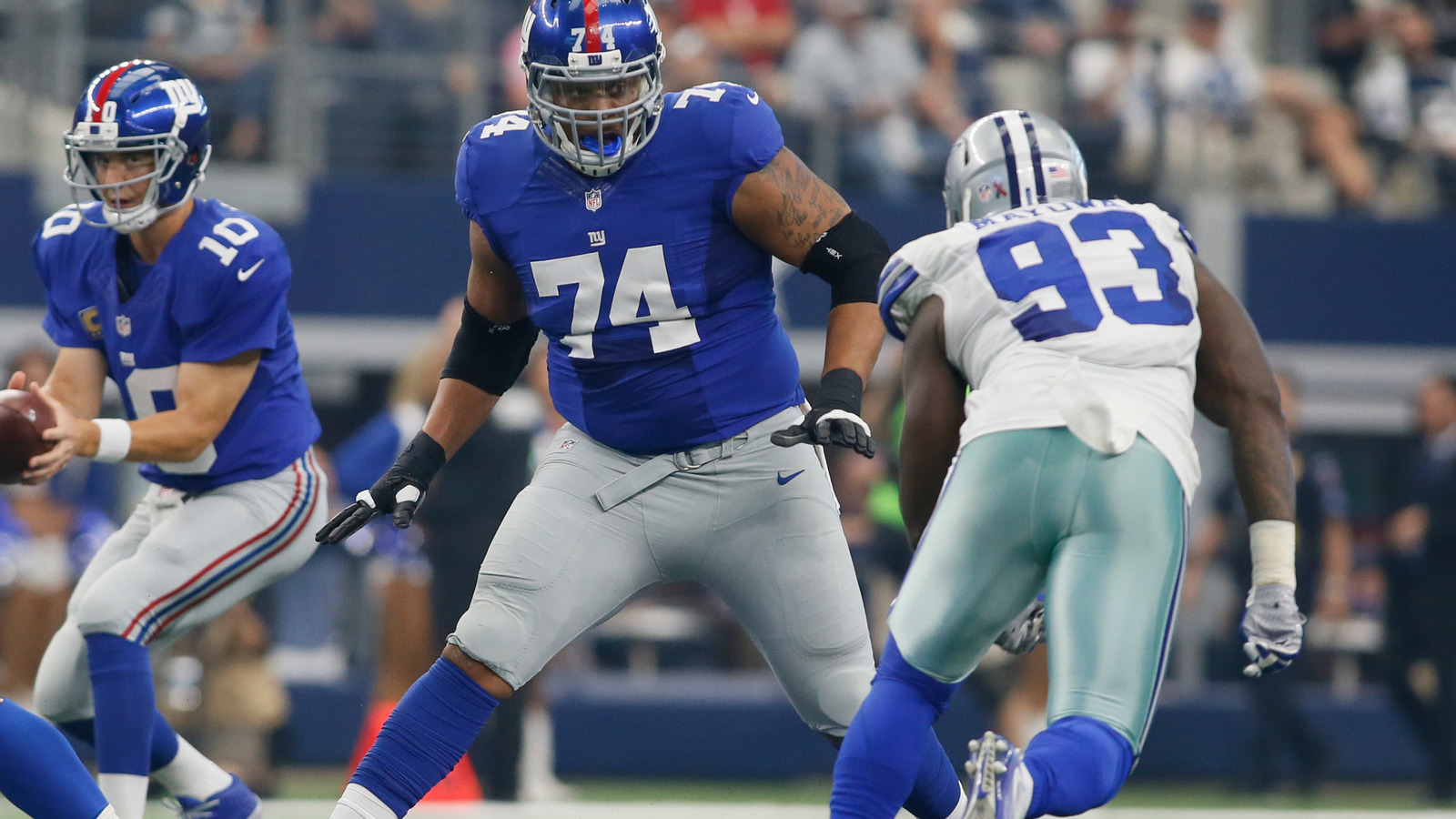 New York Giants offensive tackle Ereck Flowers (No. 74) has faced scrutiny early in the 2017 NFL season.
Tim Heitman-USA TODAY Sports
Despite a rough outing during Monday's game against the Lions, Ereck Flowers will remain the starting left tackle for the Giants.
The Giants fell to 0-2 after a 24-10 loss to the Giants. As is generally the case when a team is winless, there is plenty of blame to go around. Flowers has seemingly had a target on his back with criticism hurled at him from nearly every direction. Here's a sampling of what people have been saying.
I'm crying at how terrible Ereck Flowers is

— #RavensFlock 2-0 (@1R0TIMI) September 19, 2017
During Monday's game, Jon Gruden discussed Flowers' poor play, which you can hear below.
Despite Flowers' struggles, Giants head coach Ben McAdoo backed his player and said Flowers will remain the team's starting left tackle.
"Absolutely," McAdoo said, via NJ.com. "Ereck is a young player. He did some good things in the ball game yesterday. He gets singled out and that's the way it goes in this league. But again, the breakdowns are spread out. It's not just one player making breakdowns. The breakdowns are spread out and I'm included. Throw me in there."
Flowers was selected No. 9 overall in the 2015 NFL Draft and has started all 33 games he has appeared in as a pro. As McAdoo stated, the Giants have problems that extend beyond Flowers. However, he's the one who seems to be getting the lion's share of the blame right now.
MORE FROM YARDBARKER
Giants News

Delivered to your inbox

You'll also receive Yardbarker's daily Top 10, featuring the best sports stories from around the web. Customize your newsletter to get articles on your favorite sports and teams. And the best part? It's free!