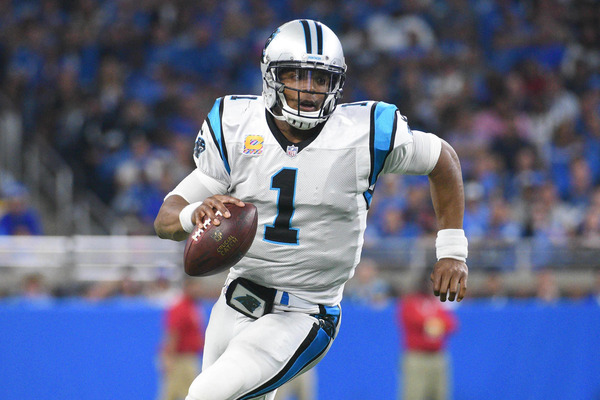 Newton got some zip in his throws again, making for an interesting matchup against Philadelphia.
Tim Fuller-USA TODAY Sports
Last week: 7-7 as the rash of Any Given Sunday outcomes continues to snuff out survivor fantasy entries everywhere. 41-37 on the season. 
Thursday Night
- Philadelphia Eagles at Carolina Panthers (-3): The best game on the Week 6 slate is the first one, with two 4-1 teams facing off in Charlotte. Both teams played excellent football all-around last week in scoring impressive wins.
The manner in which Carolina dispatched a good Detroit team makes me bullish on the home team here. Even though the Panthers committed some uncharacteristic penalties, they still dominated the action on both offense and defense. I suspect their defense will be able to dictate what Carson Wentz and the Eagles' offense can do as well. The way to beat Carolina's defense is to throw over the top or get them in between layers and hope for a missed tackle. While Wentz is throwing more down the field than in his rookie year, he's not particularly good at it.
On the flip side, Cam Newton was as crisp with his ball placement and as sharp with his decisions as I've ever seen him last week. The Eagles pass rush isn't good (26th in sack percentage) and they are vulnerable right where Newton likes to attack. Bad matchup for the Eagles, though if they can create turnovers they still have a solid chance to pull the upset.
Panthers 26, Eagles 21 
Sunday Games
- New England Patriots at New York Jets (-10): First place is on the line in the AFC East. Really. Despite the disparity in success of these two rivals, the games between them are usually close. While the Patriots are a pretty safe bet to win, the 10-point spread is no lock; 8 of the last 10 meetings have been decided by a touchdown or less. The Jets pass defense has some teeth, and the Patriots pass defense remains vulnerable to even the most pedestrian of attacks. That gives the Jets a fighting chance.
Patriots 28, Jets 27
- Miami Dolphins at Atlanta Falcons (-12): This game opened with the Falcons just 9-point favorites at home. It's grown quickly, adding another field goal to the advantage. I'm afraid that's still not enough for the Dolphins, who are the most inexplicably successful 2-2 team in NFL history.
Falcons 33, Dolphins 9
- Green Bay Packers at Minnesota Vikings (+3): If we've learned anything about the Packers in the Aaron Rodgers era, it's that it doesn't matter who he has around him or where the game is played; if it's close, the Packers will win. Minnesota's defense gives them a chance, but playing the statue that is Sam Bradford at QB takes away any chance. The Packers have won 3 of the last 4 in Minnesota. Make it 4 of 5…
Packers 24, Vikings 17
- San Francisco 49ers at Washington (-10): Washington comes off a bye with a home game and an early kick time against a winless West Coast team coming off an overtime loss. If you are somehow still alive in any survivor fantasy pools, this is your easy choice for the week.
Washington 30, 49ers 13
- Chicago Bears at Baltimore Ravens (-6.5): The Ravens have been good enough to smoke Cincinnati, Cleveland and Oakland (last week) by a combined score of 74-27. They lost to Jacksonville and Pittsburgh by a combined score of 70-16. In those losses, Joe Flacco was largely terrible. So the question you have to ask yourself is, can the Bears' defense make him look terrible? I think they can, but Baltimore's own defense will be a rough second outing for Mitchell Trubisky too. The Ravens end their streak of blowouts and squeak past Chicago.
Ravens 20, Bears 17
- Detroit Lions at New Orleans Saints (-5): The Lions have a problem. Detroit cannot win against NFC South teams. For whatever reason, Matthew Stafford & Co. play their worst football with their southern foes. I like how the Lions match up against the Saints offense, but Detroit's own offense is too predictable and lacks dynamic playmakers being put in position to succeed. I sense real trouble for the visitors here.
Saints 31, Lions 16
- Cleveland Browns at Houston Texans (-10): Does the change to Kevin Hogan help the Browns? Absolutely, and the injury attrition on the Houston defense is severe. Aside from losing J.J. Watt and Whitney Mercilus to season-ending injuries, four other projected starters missed practice on Wednesday. The Browns defense looked a lot better with Myles Garrett in the lineup, and they get Jamie Collins back at LB too. I doubt the Browns win but they've got a better shot here than the oddsmakers would have you believe.
Texans 24, Browns 17
- Tampa Bay Buccaneers at Arizona Cardinals (+2.5): Adrian Peterson heads west, traded to the Cardinals. Arizona fans will quickly learn why this is his third team in 10 months. Enjoy the 46 yards on 17 carries, Cards fans…
Buccaneers 30, Cardinals 23
- Los Angeles Rams at Jacksonville Jaguars (-2.5): In their three wins, the Jaguars have looked like a legit contender to win multiple playoff games. That includes last week's thrashing of the Steelers in Pittsburgh. They're hard to trust, however; the Jacksonville defense doesn't yet have the consistency it needs to match the talent level. The same is true of the Rams offense, however. Seattle showed the blueprint for how to adjust to the improved Jared Goff offense, and the Jaguars have the players to execute. I don't expect many points in this one.
Jaguars 20, Rams 12
- Pittsburgh Steelers at Kansas City Chiefs (-4.5): This inconsistent Steelers team is not going to hang the first loss on the Chiefs, not in Kansas City, unless Ben Roethlisberger suddenly gets everything back on track. Le'Veon Bell and Antonio Brown need to both have a big day at the same time, something that just isn't happening in 2017. The Chiefs offense is dynamic enough to outscore them even if it does happen.
Chiefs 31, Steelers 20
- Los Angeles Chargers at Oakland Raiders (NL): The team which nobody wants to claim in Los Angeles hosts the team which everybody in L.A. seemingly wants the most. I'll give the edge to the Raiders playing at home for pride in an area ravaged by deadly wildfires. This is the game forecast I'm least confident in for the week.
Raiders 28, Chargers 24
- New York Giants at Denver Broncos (-12): An increasingly immobile and skittish Eli Manning facing what might be the league's best defense, and doing so without Odell Beckham Jr. or Brandon Marshall? Yeah, good luck with that, Giants fans…
Broncos 26, Giants 6
Monday Night
- Indianapolis Colts at Tennessee Titans (NL): The questionable status of Titans QB Marcus Mariota makes this forecast a cloudy one. I expect him to play, but he needs to be better than just on the field. Tennessee has quietly dropped two in a row, including an embarrassing loss to Miami where the expected AFC South front-runners were badly outclassed on both sides of the ball. The Colts are sufficiently bad enough that they have a pair of 3-point wins over winless teams, though Jacoby Brissett has flashed enough competence at QB that they're dangerous. I'll hedge this forecast…
If Mariota plays, Titans win 23-17
No Mariota, Colts prevail 20-12
QUIZ: Name the last Pro Bowl QB for each NFL team
An invitation to the Pro Bowl recognizes great play throughout the season. Can you name the last Pro Bowl quarterback for each NFL team?
CLUE: TEAM / YEAR
NFL News

Delivered to your inbox

You'll also receive Yardbarker's daily Top 10, featuring the best sports stories from around the web. Customize your newsletter to get articles on your favorite sports and teams. And the best part? It's free!
PLAYERS:
Aaron Rodgers
,
Ben Roethlisberger
,
Eli Manning
,
Marcus Mariota
TEAMS:
Green Bay Packers
,
Pittsburgh Steelers
,
New York Giants
,
Tennessee Titans
,
Philadelphia Eagles
,
Carolina Panthers
,
New York Jets
,
Miami Dolphins
,
Atlanta Falcons
,
Minnesota Vikings
,
Chicago Bears
,
Baltimore Ravens
,
Detroit Lions
,
Cleveland Browns
,
Houston Texans
,
Arizona Cardinals
,
Jacksonville Jaguars
,
Oakland Raiders
,
Denver Broncos
,
Indianapolis Colts
,
New England Patriots
,
New Orleans Saints
,
Tampa Bay Buccaneers
,
Los Angeles Rams
,
Kansas City Chiefs
,
Los Angeles Chargers
MORE FROM YARDBARKER
NFL News

Delivered to your inbox

You'll also receive Yardbarker's daily Top 10, featuring the best sports stories from around the web. Customize your newsletter to get articles on your favorite sports and teams. And the best part? It's free!