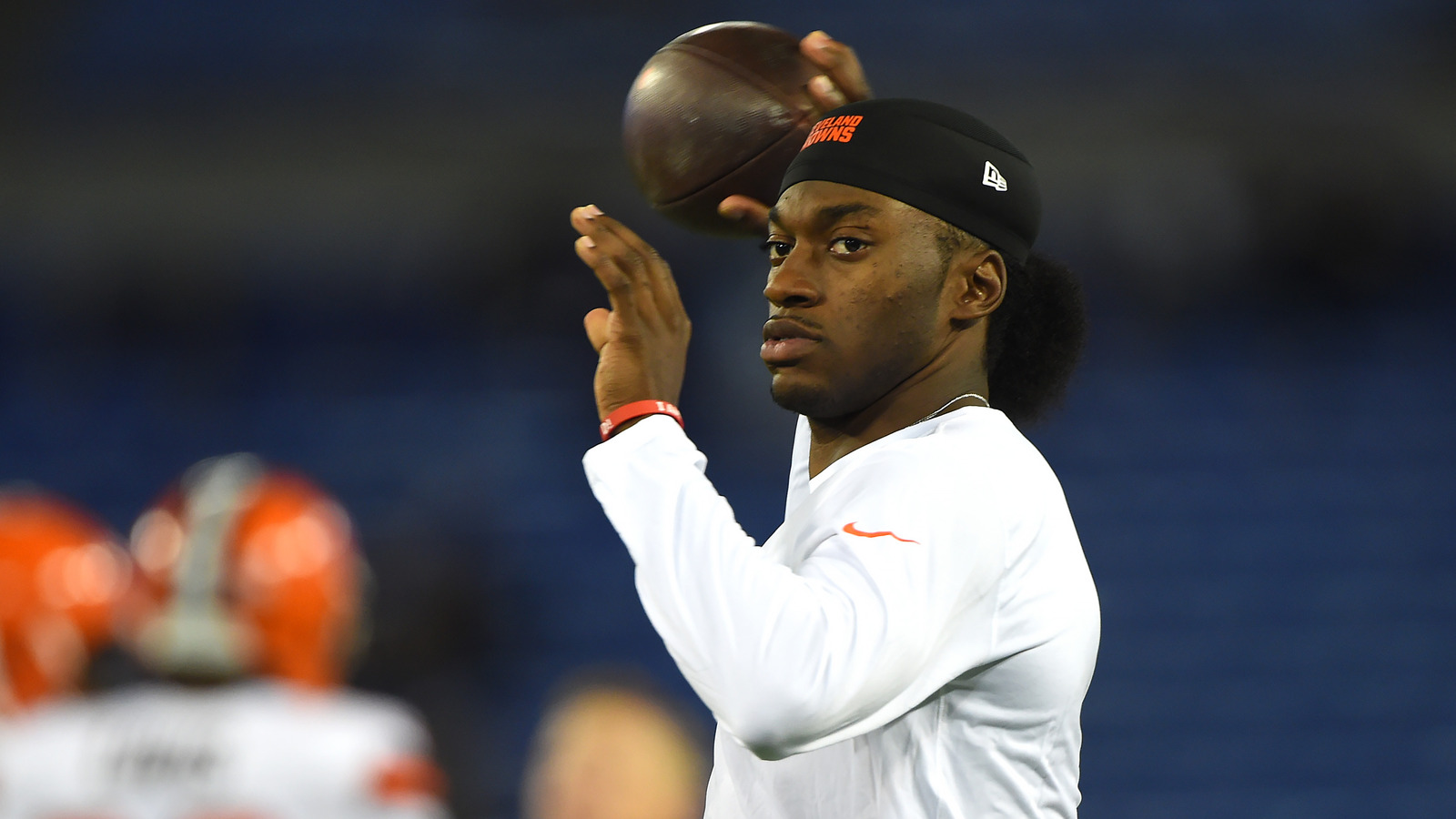 Robert Griffin III still hasn't received any interest as a free agent.
Tommy Gilligan-USA TODAY Sports
NFL training camps are quickly approaching and a quarterback nobody seems to be talking about is Robert Griffin III. Instead, all the buzz about free agent quarterbacks has involved Colin Kaepernick.
But the fact is, RG3 appears to have vanished from football. He is garnering zero interest from any NFL teams with a potential need.
"We at PFT monitor every single report about player signings around the NFL, and we haven't had a post about Griffin since the day he was cut by the Browns, on March 10," said Michael David Smith of Pro Football Talk. "We've mentioned Griffin a handful of times, but generally in passing when listing veteran quarterbacks who are available. There hasn't been so much as a rumor of a team that might bring him in for a workout, or a visit, or offer him a league-minimum contract."
Other than a brief mention by Seattle Seahawks head coach, Pete Carroll, Griffin has not been discussed. Back in May, Carroll said the Seahawks considered both Griffin and Kaepernick as potential backups to Russell Wilson. Obviously, nothing has come of that.
The former Heisman-winning first-round draft pick from 2012 last suited up with the Browns. Unfortunately, injuries limited him to only five games in 2016.
Prior to that, Griffin rode the bench the entire 2015 season as a backup to Kirk Cousins in Washington. Griffin's playoff run from 2012 seems like decades ago.
Considering the lower-grade crop of NFL quarterbacks who have found work as backups in the league, it is somewhat baffling that absolutely no one has reached out to Griffin. At a mere 27 years old, Griffin can still be a contributor should a team eventually reach out to him.
For now, all we know is Griffin recently announced the birth of a new baby daughter, Gloria, who entered the world on July 2.
Should any news break on a professional level for Griffin, we will cover it here. NFL training camps begin kicking off on July 19.
MORE FROM YARDBARKER
Redskins News

Delivered to your inbox

You'll also receive Yardbarker's daily Top 10, featuring the best sports stories from around the web. Customize your newsletter to get articles on your favorite sports and teams. And the best part? It's free!