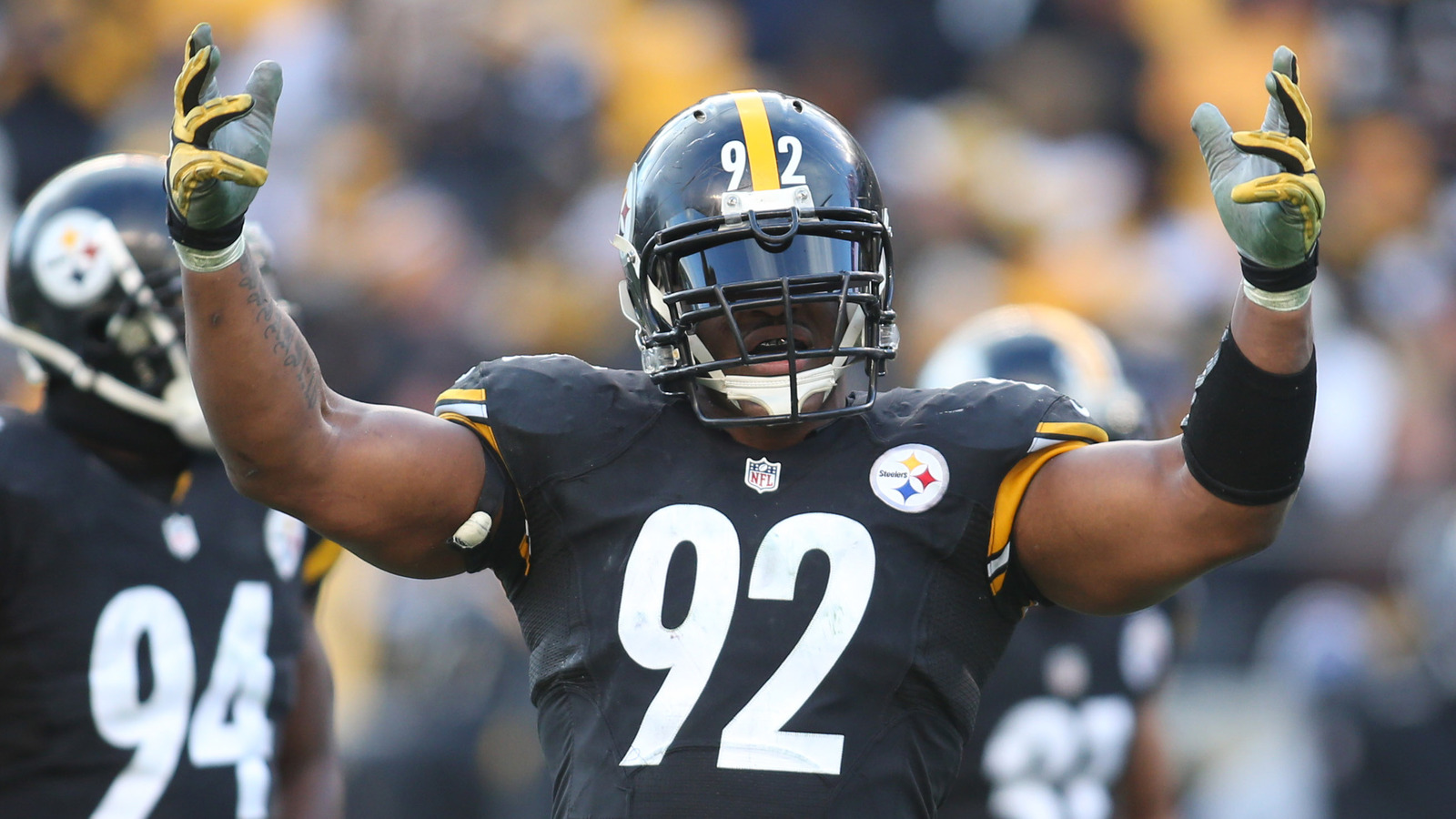 At 39, linebacker James Harrison could come off the bench for the Steelers.
Charles LeClaire-USA TODAY Sports
James Harrison claims he's "fine" with how the Pittsburgh Steelers appear intent on having him play the role of backup to rookie T.J. Watt at outside linebacker.
Steelers outside linebackers coach Joey Porter announced earlier this week that Watt will start with Harrison, 39, spelling him in certain situations.
Steelers head coach Mike Tomlin hasn't yet confirmed that's the plan going forward. Harrison also remains atop the official depth chart, for what that's worth.
Still, Harrison appears to read the writing on the wall and claims the assumed reduced role doesn't bother him.
"I just found this out when you all (in the media) told me," Harrison said late Wednesday morning. "That's fine…. I'm not worried about that; whatever (the coaches) want me to do. Thirty-nine years old, still playing football."
Harrison started the past few seasons designated as a backup at the outside linebacker position, only to see his name ultimately atop the depth chart as the season progressed.
"That's what (coaches) felt at the time," Harrison said of the situation in years past. "So that's what it was going to be. Turned out not to be that.
"Things changed."
The veteran linebacker continues to defy Father Time through a combination of an awe-inspiring workout regimen and arguably some luck. Even if Harrison, the Steelers' all-time sack leader, is in fact relegated to a backup role, there's no reason to believe he can't still produce when the opportunity presents itself.
And it goes without saying that if Watt does struggle a bit in his rookie campaign, Harrison is one phenomenal backup plan, even at his advanced age.
MORE FROM YARDBARKER:
QUIZ: Name every Pittsburgh Steelers Defensive Pro-Bowler in the Super Bowl Era
The Pittsburgh Steelers have fielded 37 different defensive players to make it to the Pro Bowl at least once in the Super Bowl Era. How many of these defensive stars can you name?
Clue: Number of Pro Bowls - Position/Years with team
MORE FROM YARDBARKER
NFL News

Delivered to your inbox

You'll also receive Yardbarker's daily Top 10, featuring the best sports stories from around the web. Customize your newsletter to get articles on your favorite sports and teams. And the best part? It's free!