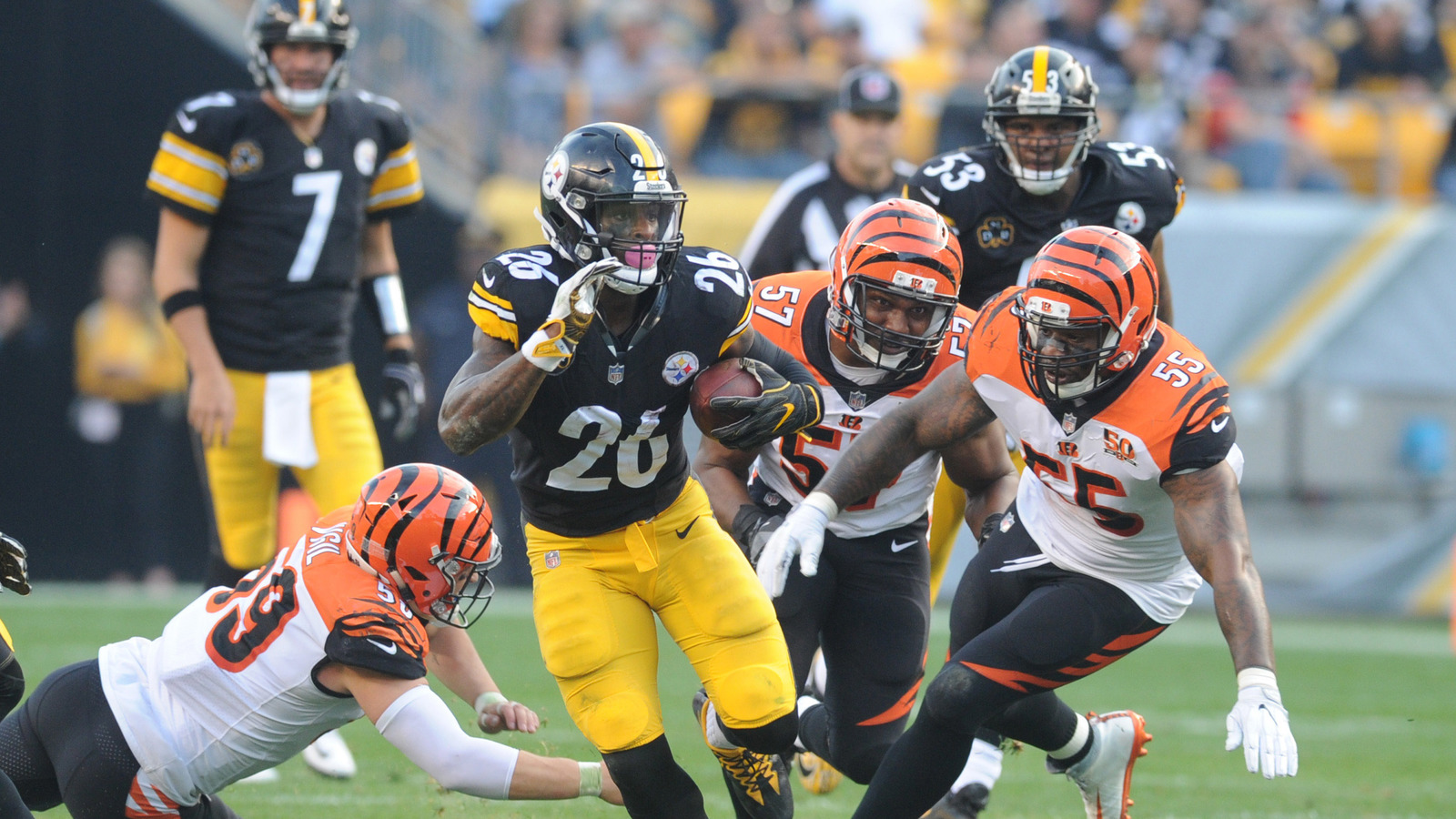 Philip G. Pavely-USA TODAY Sports
It's been an interesting ride so far for the 2017 Pittsburgh Steelers. We've seen the team blown out by a fledgling Jacksonville Jaguars club. Then a surprise loss to the Chicago Bears. We've also seen the team come out and allow just 13 points against the surging Kansas City Chiefs, taking the AFC by surprise and ending their winning streak.
For longtime fans, this is a trend. The Steelers typically compete with the top teams in the league. But once in a while, they'll slip in a loss to one of the struggling franchises. They love to remind us that they're human, after all.
On the surface, the Pittsburgh Steelers record of 5-2 is an impressive one. It's good enough for a piece of the AFC lead alongside powerhouse teams like the New England Patriots and Kansas City Chiefs.
But there's plenty to be concerned about in Pittsburgh, especially on the offensive side of the ball. The team currently sits 18th in points per game, averaging 19.9 points per contest. This is down from last year's mark of 24.4 per matchup. And while that's worrisome in itself, it's also how they are scoring these points that is not only concerning, but unsustainable.
Against the Browns in week 1, a game which the team edged 21-18, a punt block for a touchdown in the first quarter was the difference. Without it, they likely would have ended up on the losing side of things.
Week 2 saw the team produce only two offensive touchdowns again while settling for four field goals. In week 5, unquestionably the team's worst outing of the season, Roethlisberger threw two pick-six plays in a row. Meanwhile, the team was forced to settle for three field goals and no offensive touchdowns in a 30-9 thrashing by the Jacksonville Jaguars.
In touchdowns scored per game, the Steelers sit 23rd in the league with two per game. This is down from 2.8 per game in 2016. But the scariest part of all this? While the team has found a way in two of the past three weeks, they're trending downwards. Over the past three games, the team is averaging just 1.3 touchdowns per game, which ties them for second-worst mark in the league over that span.
Steelers fans are scratching their head about a team that was supposed to be an offensive juggernaut. After all, they finished 10th in points per game last season. So with a healthy Le'Veon Bell Martavis Bryant returning, fans had high expectations for an offense that has showed promise over the past few seasons.
So, where are the problems?
Well, it starts at the top. Quarterback Ben Roethlisberger is not producing at an elite level this season. Instead, he's seeing his numbers drop across the board.
The quarterback has nine touchdown throws through seven games. Maybe even more frightening, he has eight interceptions to go along with them. His yards gained per pass attempt ranks second-lowest in his entire career (7.2). Meanwhile, his yards gained per catch is rock bottom (11.6). His completion rate (61.9 percent) is amongst the worst in the league for full-time starting quarterbacks. And, it would be one of his worst seasons on record.
Roethlisberger can't shoulder all of the blame, though. Le'Veon Bell, who skipped the preseason because of contractual issues, has not been the running back the Steelers were hoping he'd be.
Through seven games, Bell has 169 rush attempts and is averaging just four yards per game—his lowest mark since his rookie season by nearly a full yard (4.9 in 2015, 4.9 in 2016). And while .9 of a yard may not seem like much, that is equal to a difference of 152.1 yards over 169 rushes. That's a fair bit of offense.
Bell is averaging 24.1 rushes per game, however, more than any of his previous seasons.
In fact, the team is averaging 66.1 offensive plays per game, good for fifth in the league. The offense simply isn't scoring.
So why, after all this, should Steelers fans have faith?
For one thing, the team hasn't lost their trust in Roethlisberger. Through seven games, he's on pace for more pass attempts per contest than at any point in his career. He averaged just 19.1 during his 2006 breakout season, a total which jumped to 34.2 during the team's Super Bowl run in 2010. But in 2017? A healthy 34.9 attempts. This team still believes in their quarterback.
Moreover, Bell seems to have found his footing over the past two games. If we consider the first four games a 'pre-season' for Bell, it looks as though he's ready to break out and become the back Steelers fans hoped he would be.
Against the Chiefs in week 6, Bell put up 179 yards on 32 rush attempts. That's good for 5.6 yards per carry. He had similar performances against Baltimore in week 4 (35 rushes for 144 yards, 4.1 YPC) and week 7 against Cincinnati (35 rushes for 134 yards, 3.8 YPC).
It's no coincidence that his worst game of the season, an absolute stinker against Jacksonville (15 rushes for 47 yards, 3.1 YPC) is when the team got dismantled.
If there's one thing we've learned about this offense over the past four weeks, it's that they find success when Bell is on his game. This offense runs through their star running back. Antonio Brown is painting another masterpiece, of course. And he's been one of the few bright spots on the team. But it's Bell that determines whether this team wins or loses.
Tonight, the Steelers take on the 3-3 Lions. What should Detroit expect? A healthy plate of Le'Veon Bell with a side of Ben Roethlisberger.
NFL News

Delivered to your inbox

You'll also receive Yardbarker's daily Top 10, featuring the best sports stories from around the web. Customize your newsletter to get articles on your favorite sports and teams. And the best part? It's free!
MORE FROM YARDBARKER
NFL News

Delivered to your inbox

You'll also receive Yardbarker's daily Top 10, featuring the best sports stories from around the web. Customize your newsletter to get articles on your favorite sports and teams. And the best part? It's free!