NFL Referee Hotline Bling: Austin Seferian-Jenkins drops a call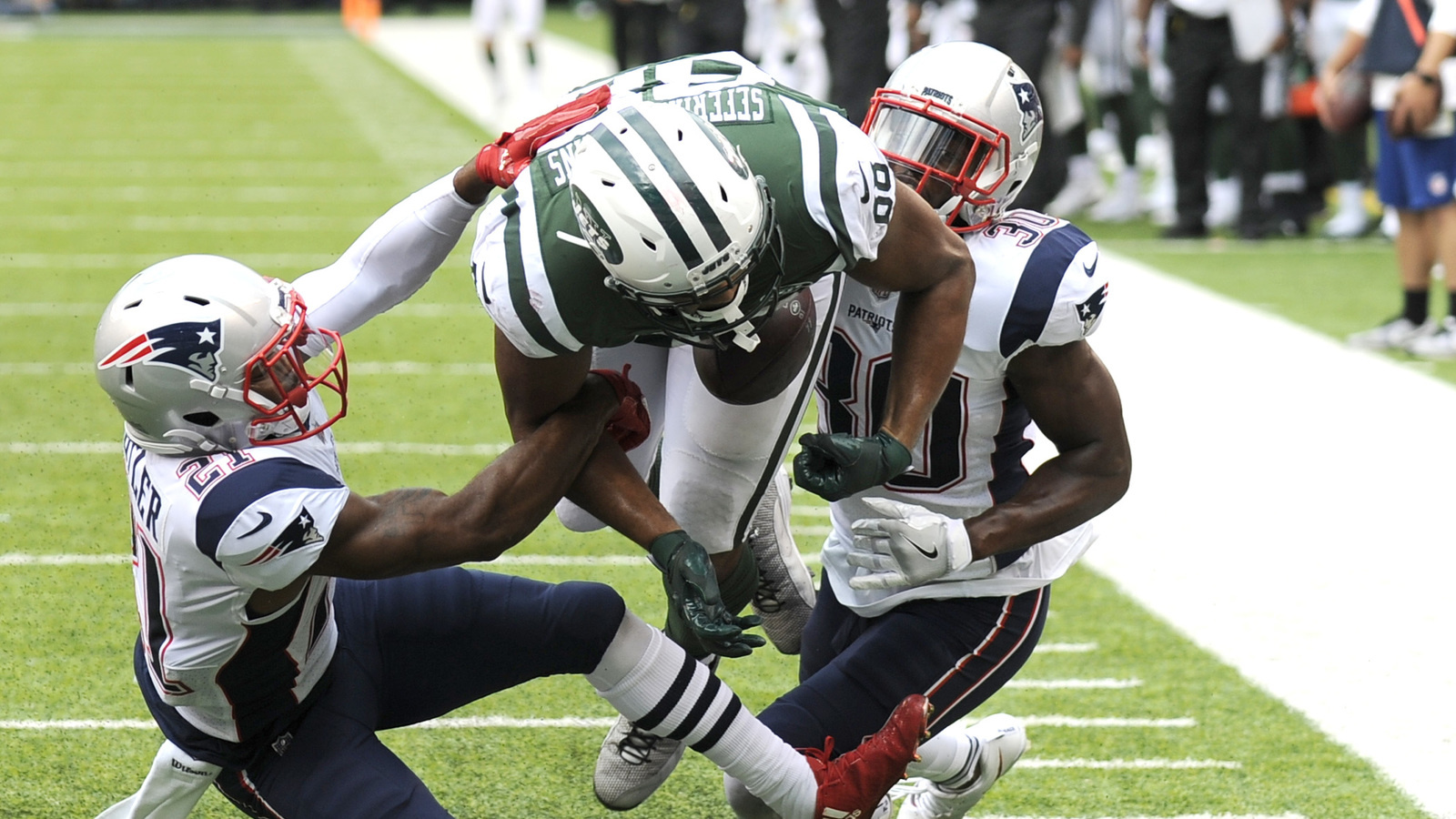 A call that Austin Seferian-Jenkins wishes he had back after Week 6. 
Alan Schaefer/Icon Sportswire via Getty Images
The NFL has instituted a new referee hotline, where players, coaches, and mascots can lodge complaints, ask for explanations, and whine about calls without fear of a fine. It's like 411 means 4th-and-11. Here, we've compiled the best of the week's questions and responses, which are about as authentic as Jay Cutler's love of football. We know when the hotline blings, that can only mean one thing – a Jets tight end is about to get his phone taken away.

Jets vs. Patriots 

Dear Austin Seferian-Jenkins,

We understand your frustration at having your touchdown reception taken away. However, the replay clearly shows there was a millisecond where you lost control of the ball, before you retained it, and thus the referees called a touchback and… I'm sorry we can't do this anymore. OF COURSE it was a touchdown! Anyone could see that in real time, and especially on replay. But you have to understand, we had no choice!

You see, you were playing the Patriots. That's Bill Belichick's team! And he's got dirt on everybody! You know how the Patriots got in trouble for taping other teams' signals on the sidelines? Well ever since then, they stopped taping on the sidelines, but they've continued taping everything else. Training camps. Dinners. Optional workouts. They tape trainers when they're taping ankles. They even tape the crew of "Hard Knocks" while they're taping other teams. But most of all, they tape the referees.

They've got everyone's secrets. They know all the "supplements" Ed Hochuli takes to get his arms to look like that. They know Walt Anderson has HBO and Showtime at his house, even though he just pays for basic cable. And it's rumored they've even got a tape of Pete Morelli's underground cockfighting bouts. Why do you think the Tuck Rule call went like that? It's because Belichick had footage of Walt Coleman parking in a red zone.

So don't blame Tony Corrente for this call. Belichick taped him illegally removing the label on his mattress, and since he can't re-attach the label, he had to reverse the call.

Ashamedly Yours, NFL Referee Hotline

Packers vs. Vikings 

Dear Mike McCarthy,

You called to complain about the third-quarter play in which Jerick McKinnon caught a pass for a first down. Yes, it did appear that McKinnon used the ground to trap the ball, but unfortunately, you were out of challenges. Sure, one of them was defensible – a 20-yard catch by Adam Thielen where he got a hand down inbounds. But the second challenge seemed emotional and inexplicable.

You threw the red challenge flag, and instead of arguing about a late hit or unnecessary roughness, you fell to your knees and screamed, "Nooooo! Why, God, why?" When the official asked what you wanted the replay officials to challenge, you said, "The fundamental unfairness of life." We checked the rulebook, and that is not reviewable, unless the fundamental unfairness of life occurs in the final two minutes of the half, or on a scoring play. However, you did stay within the rules even as you rent your garments and cursed the gods, because of this year's relaxed rules about sideline lamentations. Also, you used the challenge flag to wipe up your tears, and that is simply not hygienic.

Coach McCarthy, we are sorry for your loss. And you can tell Martellus Bennett that was the last pass he's ever going to get from Aaron Rodgers, and he dropped it. Smooth move.

Emotionally Yours, NFL Referee Hotline

Ravens vs. Bears 

Dear John Fox,

While we understand your confusion, Ravens' kick returner Bobby Rainey wasn't touched by any Chicago player on his kick return. He tripped over his own blocker, hit the ground untouched, and then ran for the end zone for a very confusing special teams TD. As surprising as that play was, perhaps more surprising was that there was no penalty flag thrown.

As you probably know, roughly 92% of all kickoffs and punts feature some kind of penalty, be it a clip, a block in the back, too many men on the field, too few men on the field, offsides, tax evasion, jaywalking, excessive celebration, personal fouls, impersonal fouls and illegal touching. It appeared your players expected a whistle to blow once Rainey hit the ground, or because of the expected penalty. In fact, one official had a flag out of his pocket, and almost threw one for illegal no-touching, before remembering that's not an infraction. Yet.

In addition, you're coaching a team from Chicago! And after that baloney call on the pickoff play against the Nationals, the Cubs have used up the entire city's replay review luck for the year.

Touchingly Yours, NFL Referee Hotline

Saints vs. Lions 

Dear Drew Brees,

Congratulations on making it to Week 6 before throwing your first interception! And it was a tough one. Michael Thomas kept his hands on the ball, and hit the ground, where he was also contacted, before Darius Slay wrestled the ball out of his hands. As you are well aware, a catch is never truly complete until a receiver catches the ball, is down by contact, leaves the field, showers, plays three-to-four more years, and eventually retires.

This play is quite close, and some would say obviously a reception, but you have to remember that officials are instructed to always give the benefit of the doubt to whoever is playing the New Orleans Saints. This was true during the Bountygate investigation, and it's still true today. Just ask the NFL's director of officiating, former FEMA head Mike Brown. Who dat conspiring against New Orleans? It's Roger Goodell.

We've also noticed that, just like when you're drinking, it's tough to stop once you've broken the seal on turnovers. You and Matt Stafford both got a little sloppy, but you were good wingmen the whole game. By which we mean, you really helped the defense to score.

Rams vs. Jaguars 
Dear Doug Marrone,

We're shocked that we have to say this, but in response to your question, field goals are still only worth three points. The Jaguars were trailing by ten points on Sunday to the Rams, when you had your kicker attempt a 53-yard field goal. Not only was there 1:12 remaining in the ball game, it was second down! You still had to onside kick and get a touchdown after! It was a moot point after the kick missed badly, but really, what were you thinking?

Even if the game were closer, why try such a long kick? Your kicker already missed once, and hasn't made a kick longer than 47 yards all season. Frankly, we're not sure why you trust a guy named Jason Myers at all - his name is a combination of the villains from Halloween and Friday the 13th. Don't trust that guy in October! It's not going to end well! Go with the nightmare you know and love – quarterback Blake Bortles.

Hauntingly Yours, NFL Referee Hotline
NFL News

Delivered to your inbox

You'll also receive Yardbarker's daily Top 10, featuring the best sports stories from around the web. Customize your newsletter to get articles on your favorite sports and teams. And the best part? It's free!
PLAYERS:
Jay Cutler
,
Bill Belichick
,
Jerick McKinnon
,
Adam Thielen
,
Martellus Bennett
,
Aaron Rodgers
,
John Fox
,
Drew Brees
,
Darius Slay
,
Roger Goodell
,
Matthew Stafford
,
Austin Seferian-Jenkins
TEAMS:
Miami Dolphins
,
New England Patriots
,
Minnesota Vikings
,
Green Bay Packers
,
Chicago Bears
,
New Orleans Saints
,
Detroit Lions
,
Baltimore Ravens
,
Jacksonville Jaguars
,
New York Jets
MORE FROM YARDBARKER
NFL News

Delivered to your inbox

You'll also receive Yardbarker's daily Top 10, featuring the best sports stories from around the web. Customize your newsletter to get articles on your favorite sports and teams. And the best part? It's free!