NFL Referee Hotline Bling: Nathan Peterman racks up some ugly Bills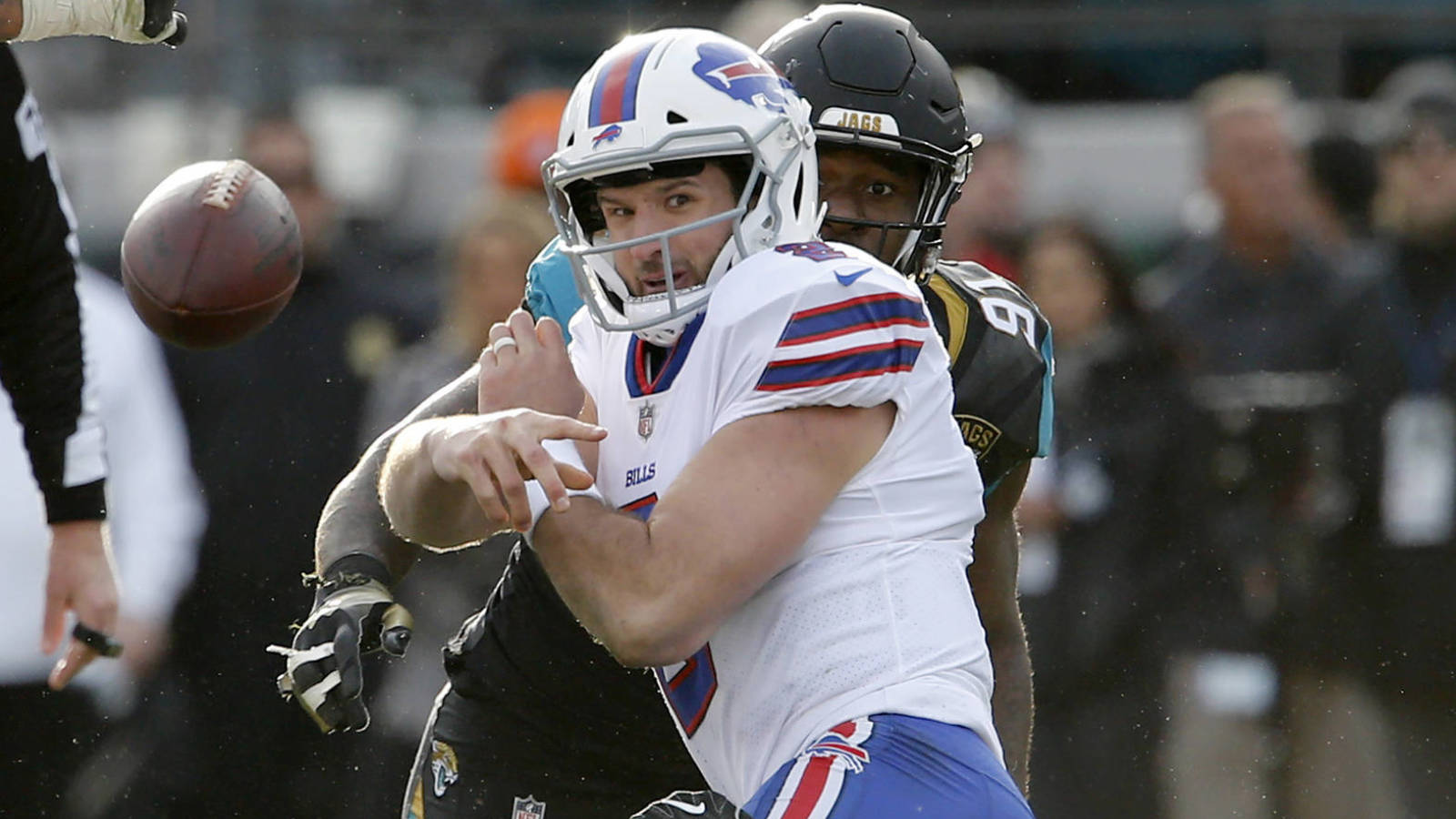 Buffalo quarterback Nathan Peterman racked up some unpaid bills during the playoffs. 
Reinhold Matay-USA TODAY Sports
Last year, the NBA created a hotline where players can vent about the officiating. Because the NFL doesn't have a line of their own, it's not unusual for the NBA hotline to field a few misplaced calls from other leagues as players look for any outlet to let go of a little steam. For the playoffs, we've obtained access to the hotline's responses, which are about as authentic as the supplements used in the TB12 training method. We know when that hotline blings, it can only mean one thing: a Buffalo Bill is missing his connections.
Dear Nathan Peterman,

To answer your question, the NFL rule book has no provision for a "do-over" after a bad interception. Even if you immediately shout "My bad!" the play still counts. We noticed that you tried a few variants; yelling "Whoopsie!" when you fumbled, and "Mulligan!" as Jalen Ramsey picked you off. It wouldn't have been valid anyway, as Ramsey shouted "No backsies!" as he went to the ground.

You were only in the game for four plays, and among those plays was a fumble, a game-ending INT, and an intentional grounding call. You do have an argument on the penalty, as no Nathan Peterman pass can truly be qualified as "intentional." But that's a lot of bad plays! In addition, you drew a 12 men on the field penalty by wandering off the sidelines, you farted in the huddle, and you left free tickets for every single member of Limp Bizkit.

However you did remain standing for the national anthem, so that's something. (Although you saluted with the wrong hand and messed up the words.) We realize you also took a knee, but that was only because you lost your balance.

We hope you've learned from this experience and enjoy your share of the playoff money. But please get direct deposit: there's no way you won't lose that check on the way to the bank.

Directly Yours, NFL Referee Hotline

Dear Mike Adams,

First of all, our compliments on a hell of a play stopping the Saints on fourth down. It was an athletic, clutch play, and you gave your teammates a chance to come back and win. But even though an incomplete pass would have given the Panthers much better field position, we have to uphold the interception because of the central tenet of the Catch Rule: The referee must call whatever screws over the receiver the hardest.

Yes, you were juggling the ball. Yes, it appeared you even intentionally lost control of the ball, knowing the state of the game. Yes, in any other situation, you have to make a football move, put your right foot in, take your right foot out, and also shake it all about. But it's right there in the rule book. "Rule 143.24: If a receiver does not maintain control of the football as he goes to the ground, it will be ruled incomplete unless (1) A reception would run out the clock; (2) A reception would give his team inferior field position; (3) The receiver plays for the New England Patriots."

It simply wouldn't be the NFL playoffs if the losing teams fans simply felt defeated, rather than confused, cheated, and robbed. To make absolutely sure of that, we also had the officials throw a baloney intentional grounding flag on Cam Newton a few plays later.

Groundedly Yours, NFL Referee Hotline

Blort Bakles

Dear Blort Bakles,

Thanks for your call, "Blort," which is definitely a real name, used by a person who called the hotline speaking in a totally-real high-pitched voice. We want to remind you that this hotline is for NFL players, and there's no one on a roster listed as Blort Bakles. But we will answer your question anyway: Yes, the forward pass will remain legal.

We know you said that the "handsome stallion" playing QB for the Jaguars was hampered by these barbaric rules. You also said that truly great QBs are like eggs at brunch: Cracking under pressure, scrambling, and disappointing a lethargic audience that just wants to get drunk. You also claimed that throwing for more than 100 yards in a game is just "showing off."

But maybe you have a point. Your friend Blake – "Adonis in shoulder pads" as you put it – did win a playoff game for Jacksonville, something that would have been unthinkable in the last five years. And maybe a terrible quarterback playing for a sad-sack Florida team with a great defense could go all the way! At least that's what we heard from another mysterious caller – someone named "Drent Tilfer."

Pseudonymously Yours, "FNL" Referee Hotline

Dear Marcus Mariota,

You called a few times to clarify that your touchdown pass to yourself was legal, and yes it was. We suspect you knew that, as you alternately asked if that "badass play" was legal, whether a "quarterback this awesome" could be an eligible receiver, and whether there was a rule against players "kicking ass too hard." To answer you, yes it's legal; no, it doesn't matter if a receiver is eligible if a pass is tipped; and technically this play is more like you tripped and kicked yourself in the ass.

We do have one question: Marcus, did you draft yourself in a playoff fantasy football league? Because that play alone earned you 13.2 points, as you get credit for the passing and receiving TD, and if you're in a PPR league, it's at least 14. You also insisted on going for two twice in the fourth quarter, another source of extra points, and our sources say you also asked if you could kick the PAT. You broke off a postgame interview to scream excitedly and check your phone when the Rams fumbled a punt – did you perhaps have Atlanta's defense and special teams. And your opponent clearly had Rishard Matthews, given that you only targeted him twice and appeared visibly upset when he made a catch.

We wish you good luck next week, but if it's a week-to-week league, you should probably pick up Tom Brady.

Fantastically Yours, NFL Referee Hotline

Dear Jeff Triplette,

We received your call submitting your resignation as an official, and we have to say, not accepted. You're fired. Pack your stuff and get out. And don't pack someone else's stuff, make us review the stuff for fifteen minutes while everyone waits, and then admit it wasn't yours. Just go.

And it doesn't matter that you blew a whistle in the middle of us firing you! It still counts! Yes, we did stop the forward progress of your career, but that doesn't matter. You are the worst NFL referee we've ever seen, and that Chiefs-Titans matchup was your worst game ever. Which is like being the highest member of Cypress Hill. The sleaziest used car salesman. We're going to throw your pink slip right in your eye.

Everyone who has seen the games you've worked is dumber as a result. We award you no pension, and may God have mercy on your soul.

Dismissively Yours, NFL Referee Hotline

+++ 
Dear Cole Beasley,

If you call us one more time and do a freestyle, we're kicking you out of the league.
Not Kidding, NFL Referee Hotline.
NFL News

Delivered to your inbox

You'll also receive Yardbarker's daily Top 10, featuring the best sports stories from around the web. Customize your newsletter to get articles on your favorite sports and teams. And the best part? It's free!
MORE FROM YARDBARKER:
MORE FROM YARDBARKER
NFL News

Delivered to your inbox

You'll also receive Yardbarker's daily Top 10, featuring the best sports stories from around the web. Customize your newsletter to get articles on your favorite sports and teams. And the best part? It's free!