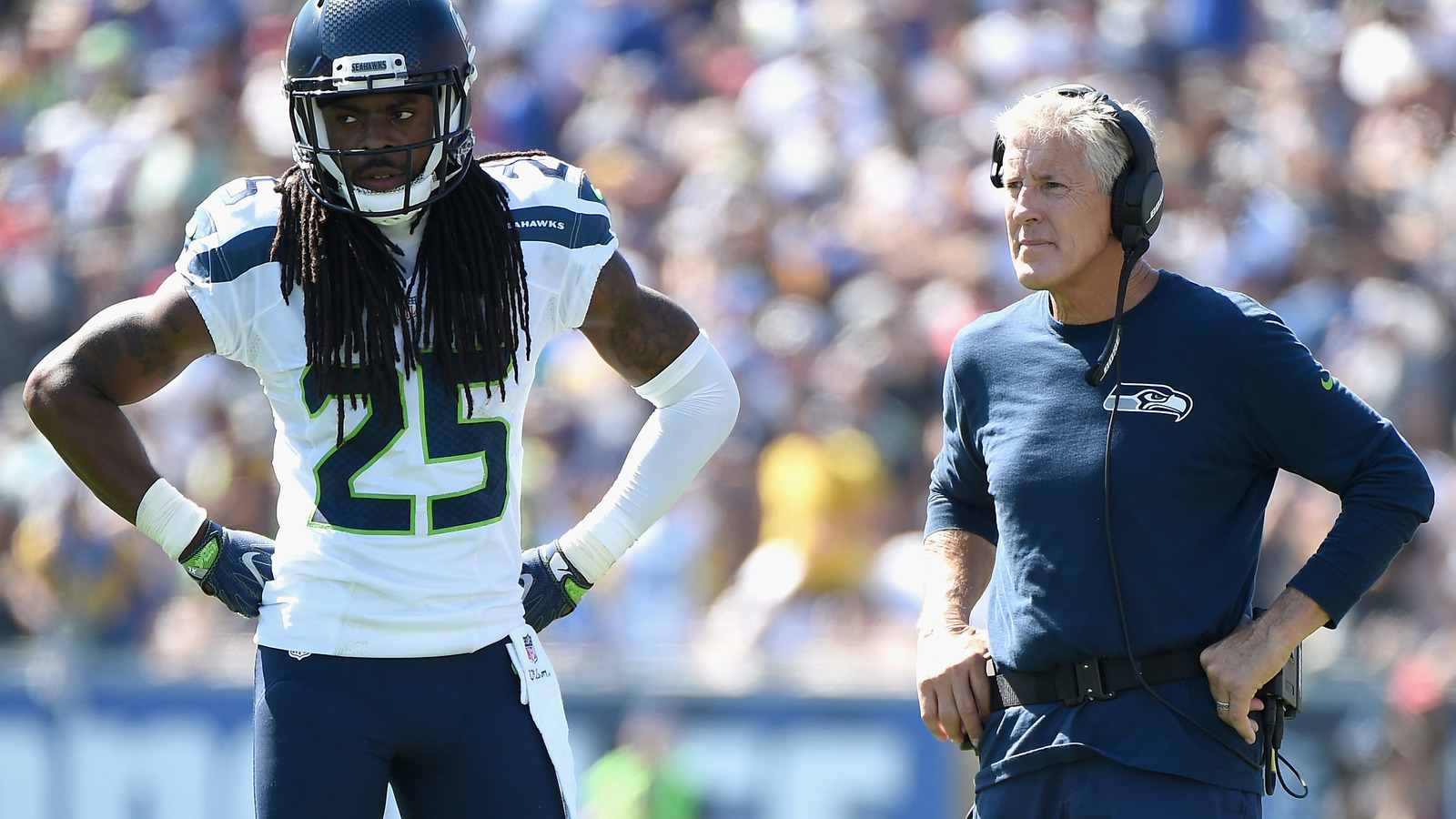 Pete Carroll is trying to leave all the Richard Sherman drama in the past.
Harry How/Getty Images
Pete Carroll would prefer it if the entire Richard Sherman saga that has plagued the Seattle Seahawks this offseason could be put in the rear view mirror. The Seahawks coach weighed in on all the drama while addressing the media Thursday, saying he's "really proud" of how Sherman "handled himself" while speaking to reporters on Wednesday.
Sherman has been the center of a firestorm over the past couple of months. It started when the Seahawks put the All-Pro cornerback on the trading block and it continued with conflicting reports as to whether or not Sherman requested a trade. 
The tumultuous offseason continued with the publishing of an ESPN The Magazine report that highlighted the purported rift between Sherman and the team, in particular his animosity toward Carroll and Russell Wilson.
Sherman, citing how the crux of the report was based on the comments from anonymous sources, called out those providing quotes as "cowards." And on Wednesday, Sherman continued to address the issues, highlighted by the cornerback telling reporters he never requested a trade.
And Carroll, despite being one of the alleged targets of Sherman's purported ire, praised the player for his recent handling of the media.
"Are we over that?" Carroll said of the fallout from the article, via Pro Football Talk. "Yeah, we're over that. I don't think that in any way dictated the offseason or we wouldn't base our offseason accomplishments based on that. I think [Sherman] spoke very well to the points and he answered your questions and did a really admirable job of making things clear to you guys."
Carroll went on to say he and Sherman, despite the drama, had "an incredibly profitable, beneficial offseason."
The Seahawks head coach clearly wants all the Sherman drama to end, obviously. It seems all interested parties — Carroll, Sherman and Wilson, not to mention other Seahawks players — are saying all the right things, something that will certainly help extinguish the flames of a fiery offseason.
MORE FROM YARDBARKER
Seahawks News

Delivered to your inbox

You'll also receive Yardbarker's daily Top 10, featuring the best sports stories from around the web. Customize your newsletter to get articles on your favorite sports and teams. And the best part? It's free!