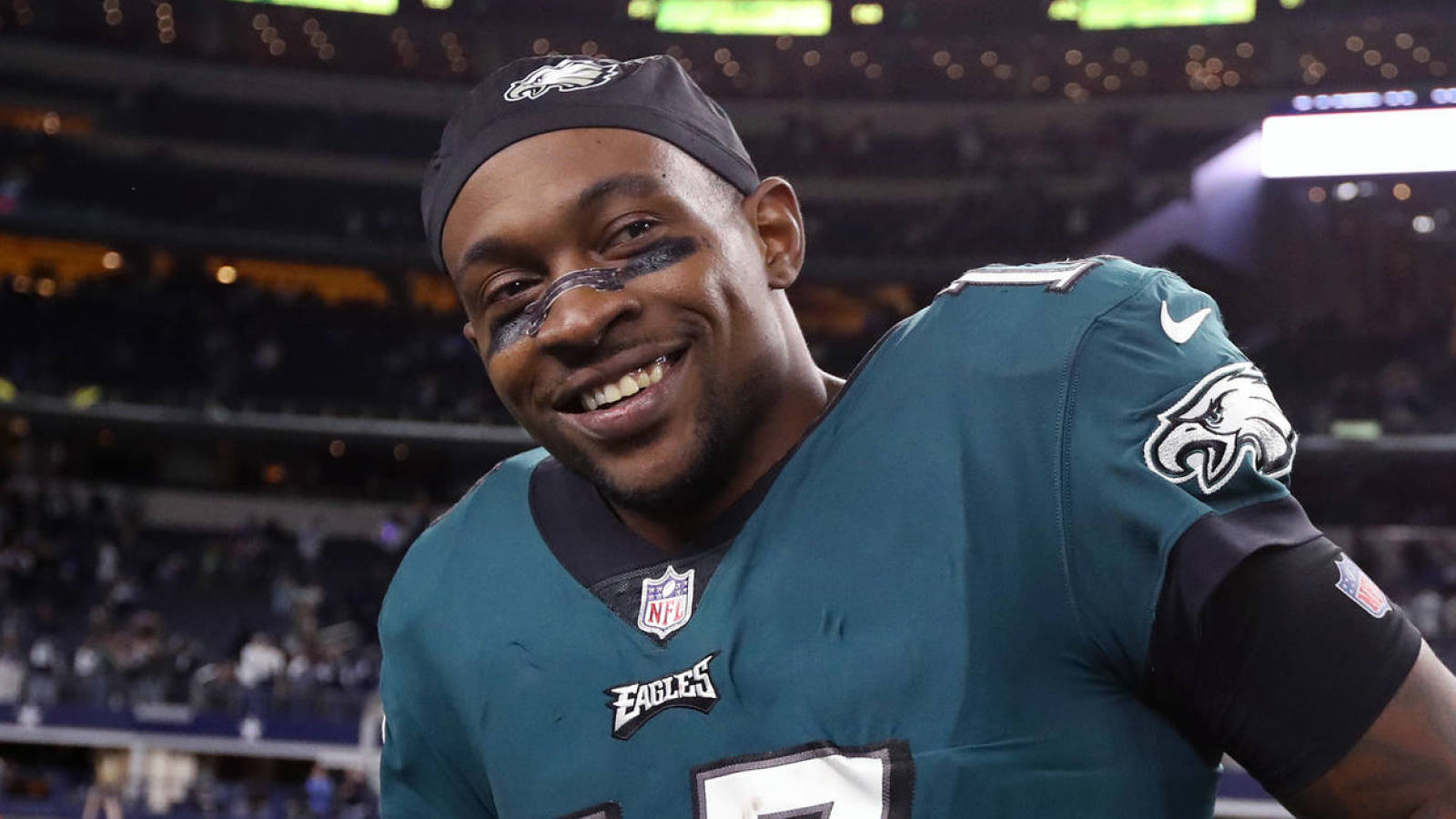 Nov 19, 2017; Arlington, TX, USA; Philadelphia Eagles receiver Alshon Jeffery (17) smiles after a victory against the Dallas Cowboys at AT&T Stadium. 
Matthew Emmons-USA TODAY Sports
When Week 15 kicks off, all 32 NFL teams will be putting forth their best efforts to help finish the season on a high note.
There is a thrilling AFC West matchup on tap that pits two 7-6 teams against one another. Who will rise and who will fall when quarterbacks Alex Smith and Philip Rivers square off?
On the east coast, the New England Patriots will attempt to move past Monday night's embarrassing loss to compete with the new top dog in the AFC — the Pittsburgh Steelers.
In the NFC, there will be no shortage of drama either. A divisional game between the Los Angeles Rams and Seattle Seahawks should make for must-see TV.
This leads us to our stud and dud predictions for NFL Week 15.
Stud: Philip Rivers, quarterback, Los Angeles Chargers
What is not to like about Rivers these days? The Chargers are on an exhilarating four-game winning streak and Rivers has passed for eight touchdowns and zero interceptions in this stretch. We love Rivers even more in Week 15 when the Chargers travel to play the Kansas City Chiefs. Kansas City is giving up 249 passing yards on average per contest, good for fifth-most in the league. Plus, a win for the Chargers would edge them into first place in the AFC West. This will be a competitive game that should keep Rivers throwing into KC's porous defense all day long.
Dud: Rob Gronkowski, tight end, New England Patriots
Gronk will return from his one-game suspension in Week 15. He'll be at Heinz Field to take on the first-place Pittsburgh Steelers. It is not always easy for opposing defenses to slow down the 6-foot-6 tight end. But it is worth noting the Steelers have given up just two tight end touchdowns all season. Even worse, Pittsburgh has allowed only 41 receiving yards on average to opposing tight ends. From a fantasy standpoint, the Steelers have surrendered the fewest points to the tight end position. Even the jumbo-sized Gronk may have a difficult time defying these odds.
Stud: Alshon Jeffery, wide receiver, Philadelphia Eagles
Jeffery and the Eagles could not catch more of a bigger break heading into Week 15 without quarterback Carson Wentz. This is because the Eagles hit the road to take on the 2-11 New York Giants. The Giants cannot stop anybody these days and have given up the second-most receiving yards on the season. Plus, opposing wideouts are averaging a healthy 14.2 yards per catch. Even with quarterback Nick Foles under center, Jeffery is poised for a grand day.
Dud: Kelvin Benjamin, wide receiver, Buffalo Bills
In blizzard-like conditions, Benjamin scored his first touchdown as a Bill last Sunday. Benjamin plays at home again this week, and no matter what the weather brings, we are predicting he goes scoreless in this week's tilt against the Miami Dolphins. The Dolphins just held the New England Patriots in check and did not allow a single wide receiving touchdown. We can only imagine what havoc the Dolphins defense might create for whoever is under center for the Bills this week. No matter which quarterback suits up, this matchup spells trouble for Benjamin, who is also dealing with a knee injury.
Stud: Marshon Lattimore, cornerback, New Orleans Saints
Oh boy. Lattimore and the Saints should get back on their winning course when they feast on the New York Jets in Week 15. The rookie corner in particular should post one of his best performances of the season squaring off against quarterback Bryce Petty. Petty will be the man under center replacing quarterback Josh McCown, who broke his left hand. Lattimore made intercepting Atlanta Falcons quarterback Matt Ryan look easy last weekend. Just imagine what he has in his bag of tricks for Petty.
Dud: Lamar Miller, running back, Houston Texans
Over his last four games, Miller's highest yard per carry total has been a paltry 3.73. This week Houston heads to Jacksonville where Miller and his offense will be the underdogs. With or without quarterback Tom Savage under center (concussion), chances are the Texans will play from behind. Miller would then see limited carries as a result. Plus, the addition of pass-catching back Andre Ellington has done little to help Miller's personal stat lines the past couple of games.
Stud: Demaryius Thomas, wide receiver, Denver Broncos
Saddled to one of this season's worst teams, Thomas remains the 11th-most targeted wide receiver. He should have no problem adding to his stats when the Broncos travel to play the Indianapolis Colts in Week 15. This game is nearly meaningless to all involved, but Thomas stands to gain facing a defense that is allowing 268.3 receiving yards per matchup. The Colts are also giving up 13.4 yards per reception, a league-high. Plus, Thomas is on a roll after catching eight of his last 12 targets his last game.
Dud: Tyreek Hill, wide receiver, Kansas City Chiefs
This week pits Hill against a feisty Chargers secondary. The second-year wideout is more poised to stumble than shine against a Chargers defense that has given up zero wide receiving touchdowns in its last four games. Top receivers facing the Chargers in this stretch have looked nearly invisible. Since Hill's targets and catches vary so vastly from week to week, he is hardly a reliable staple for the Chiefs to lean on in such an unfriendly matchup.
Stud: Marcus Mariota, quarterback, Tennessee Titans
If Mariota can play through his knee injury, he should finally rebound after three sub-200 yard performances. In Week 15, the Titans head out to play the generous San Francisco 49ers defense. The 49ers are giving up 231 passing yards per game as well as a total of 23 passing touchdowns. Mariota also stands to add to his five ground scores against a defense that has allowed four quarterback rushing touchdowns. Only one other defense has surrendered more rushing scores to a quarterback.
Dud: Wayne Gallman, running back, New York Giants
Gallman was more reliable than fellow back Orleans Darkwa last game after carrying the ball 12 times for 59 rushing yards. This might lead folks to believe Gallman will continue rushing upwards of five yards per attempt in Week 15. The Giants host the Eagles however, and they boast the league's stingiest run defense. Philadelphia is giving up just 71.2 rushing yards on average at a pace of 3.7 yards per carry. Since the Giants' offense in general simply cannot be trusted, Gallman should not be either.
Stud: Tyler Lockett, wide receiver, Seattle Seahawks
The Seahawks, with their tails between their legs, return to their home field to host the Los Angeles Rams. We predict Lockett will keep pace with the big numbers he posted in his last game. The Rams defense had a heck of a time trying to stop the Eagles pass-catchers last week. That bunch combined for 29 receptions totaling 333 yards and four touchdowns. Lockett should thrive even while splitting targets with fellow receivers Doug Baldwin and Paul Richardson.
Dud: Joe Mixon/Giovani Bernard, running back, Cincinnati Bengals
Whether we see Mixon or Bernard or a combination of both against the Minnesota Vikings, we don't predict much success for the Bengals' run game. On the season, the Vikings have yielded only 3.8 yards per carry along with six running back rushing touchdowns. We realize Carolina Panthers running back Jonathan Stewart just gashed Minnesota for 103 yards and three touchdowns. However, the Vikings are back at home this week, bent out of shape after losing, and are not likely to give up the farm to another running back. Plus, Cincinnati's rushing offense has yet to impress and ranks 31st in the league.
Stud: Von Miller, linebacker, Denver Broncos
Miller leads the Broncos with 10 sacks and stands to add to that total in Week 15. The Broncos head out to Indianapolis to take on the Colts and the most-sacked quarterback in the NFL. Poor Jacoby Brissett has been sacked 48 times in his 12 starts with the Colts. Easy math shows Brissett is enduring an average of four sacks per game. Now Miller comes to town fresh off of a one-sack, four-tackle performance. At the end of the day, it would be shocking if Miller didn't add at least one more sack to his personal tally.
Dud: Marshawn Lynch, running back, Oakland Raiders
Lynch snapped his mid-season funk and has scored a rushing touchdown in each of his last three games. Up next for the Raiders is a home game against the Dallas Cowboys. The Cowboys have picked up their pace and have given up just two rushing touchdowns to opposing running backs in their last four games. On offense, the Cowboys are gaining speed as well which should force the Raiders to pass more to keep up. Lynch received only seven carries when his team fell behind to the Chiefs last week.
Stud: Devin Funchess, wide receiver, Carolina Panthers
Many predicted gloom and doom for Funchess last week facing a staunch Vikings defense. Instead, he defied the odds and turned three catches into 59 yards and one touchdown. This week, Funchess may surpass these numbers. He and the Panthers host the Green Bay Packers, whose defense has allowed 22 receiving touchdowns as well as 256.7 receiving yards on average per tilt. Funchess should thrive, along with quarterback Cam Newton. Don't forget that the Packers are allowing a 68.7 percent completion rate as well.
Dud: Eric Ebron, tight end, Detroit Lions 
Ebron has been pretty quiet up until his explosive 10-catch, 94-yard game last week. This might have some thinking Ebron has finally found his groove. Let's hold the presses. The Lions will host a Chicago Bears defense in Week 15 that has yielded only 4.5 receptions and 47 yards on average per game to opposing tight ends. Plus, the Bears have let only three tight ends find the end zone all season. Ebron is more likely to come back to reality than he is to build on last week's impressive outing.
Stud: Latavius Murray, running back, Minnesota Vikings
Murray should explode for a monster performance against Cincinnati in Week 15. This is because no team is giving away more rushing yards per game (132.1) on average than the Bengals. Particularly bad against the run, the Bengals have allowed 4.2 yards per carry and 10 rushing touchdowns. Even with fellow pass-catching back Jerick McKinnon in the mix, Murray should look like a kid in the candy store this Sunday.
Dud: Alex Collins, running back, Baltimore Ravens
Collins just rushed for a season-high 120 yards and one touchdown at a pace of 6.67 yards per attempt in his last game. The second-year running back should simmer down a bit when the Ravens head to Cleveland. The Browns just held the Green Bay Packers' top running back Jamaal Williams to 49 yards on 15 attempts. On the season, the Browns rushing defense is giving up only 3.3 yards per carry. Plus, we can never completely count on quarterback Joe Flacco to get his offense into a comfortable lead and allow Collins the luxury of running the ball.
Stud: Antoine Bethea, safety, Arizona Cardinals
Bethea has not recorded an interception since Week 6. But, he stands to add a fourth to his tally when the team heads to play Washington. Redskins quarterback Kirk Cousins has not been playing well and has thrown the ball into enemy hands four times in his last three games. Bethea should be tasked with covering tight end Vernon Davis, who Cousins leans on near the end zone. If anything, Bethea should play a hand in thwarting the efforts of Cousins, whose team has been a turnover machine as of late.
Dud: Mike Evans, wide receiver, Tampa Bay Buccaneers
Evans has not visited the end zone since Week 7 and he has yet to record a 100-yard game all season. So, there is little to suggest Evans finally delivers the fantasy goods in Week 15. Evans and the Bucs host the Atlanta Falcons whose defense has given up just three wide receiving touchdowns in its last four games. Plus, quarterback Jameis Winston can hardly be relied upon either on a week-to-week basis. He should be challenged to produce against a defense that is yielding just 212 passing yards on average per tilt. Evans looks to reap the collateral damage once again.
NFL News

Delivered to your inbox

You'll also receive Yardbarker's daily Top 10, featuring the best sports stories from around the web. Customize your newsletter to get articles on your favorite sports and teams. And the best part? It's free!
PLAYERS:
Philip Rivers
,
Josh McCown
,
Marshawn Lynch
,
Antoine Bethea
,
Kirk Cousins
,
Vernon Davis
,
Mike Evans
,
Jameis Winston
TEAMS:
Los Angeles Chargers
,
New York Jets
,
Oakland Raiders
,
Arizona Cardinals
,
Washington Redskins
,
Tampa Bay Buccaneers
,
Pittsburgh Steelers
,
Seattle Seahawks
,
Philadelphia Eagles
,
Buffalo Bills
,
Miami Dolphins
,
Atlanta Falcons
,
Houston Texans
,
Denver Broncos
,
Indianapolis Colts
,
Tennessee Titans
,
Cincinnati Bengals
,
Minnesota Vikings
,
Carolina Panthers
,
Dallas Cowboys
,
Detroit Lions
,
Chicago Bears
,
Baltimore Ravens
,
New England Patriots
,
Los Angeles Rams
,
Kansas City Chiefs
,
New York Giants
,
New Orleans Saints
,
Green Bay Packers
MORE FROM YARDBARKER
NFL News

Delivered to your inbox

You'll also receive Yardbarker's daily Top 10, featuring the best sports stories from around the web. Customize your newsletter to get articles on your favorite sports and teams. And the best part? It's free!