The shocking turn of events in Chicago has members of the Bears locker room in disbelief.
Brian Kersey/Getty Images
Chicago Bears head coach Marc Trestman announced on Wednesday that $100 million man Jay Cutler is being benched in favor of Jimmy Clausen. While one report indicates the Bears offensive players believe Clausen is going to "light it up" because he'll run the plays that are called, Jeff Dickerson of ESPN Chicago reports that there is "disbelief" inside the locker room that Cutler has lost his job.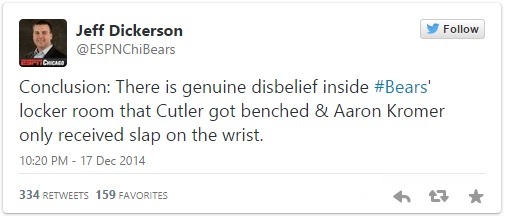 According to Dickerson, the way Cutler and offensive coordinator Aaron Kromer have been treated by Trestman are seen by the players as "extraordinarily inconsistent." He notes that there are plenty of Cutler detractors in the locker room, but the handling of the two situations has made things uncomfortable.
You can count me among the group who is stunned Kromer did not face any discipline for anonymously bashing Cutler. However, I don't think you can draw comparisons between a performance-based benching and a disciplinary move (or lack thereof).
The Bears ownership group reportedly met recently and may have come to the conclusion that Trestman will be fired after the season. One theory is that Trestman is starting Clausen in an attempt to prove his system works and Cutler has been holding the team back. Another theory is that benching Cutler is a financial move for the team.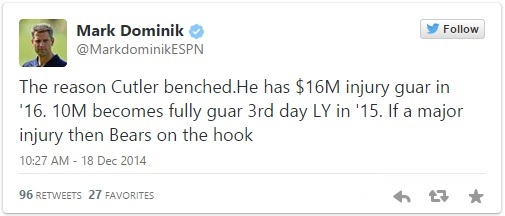 We all saw what happened when Cutler got hurt last year and Josh McCown took over. McCown played at a Pro Bowl level, which led many to believe Trestman's system can work with any decent quarterback. Is Clausen a decent quarterback? I have my doubts, but Sunday's game against an above-average Detroit Lions defense will be a good test for both him and Trestman.
MORE FROM YARDBARKER
Bears News

Delivered to your inbox

You'll also receive Yardbarker's daily Top 10, featuring the best sports stories from around the web. Customize your newsletter to get articles on your favorite sports and teams. And the best part? It's free!