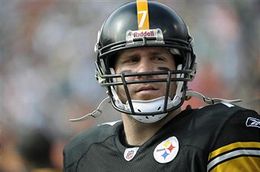 ESPN analyst Ron Jaworski is once again ranking the quarterbacks in the league right before the start of training camps opening and on Tuesday, he profiled Pittsburgh Steelers quarterback Ben Roethlisberger, who he has ranked seventh overall this year on his big board."Roethlisberger is the most unconventional quarterback in the league," said Jaworski about the quarterback he had ranked sixth overall last year. "His ability to play outside of structure with what always seems like a random and arbitrary feel, continually amazes me."Despite dropping him one spot down in his rankings this year, Jaworski still thinks Roethlisberger is elite."I still believe is an elite quarterback because he's equally capable of beating from the pocket," he said. "Improvisation without pocket efficiency does not produce consistency in the NFL. That's just the way it is. I would best describe Roethlisberger as more of a finesse passer who can drive the ball when it's absolutely necessary, as opposed to having

Read the rest of this story...
PLAYERS:
Ben Roethlisberger
,
Joe Flacco
,
Eli Manning
,
Matt Schaub
,
Jay Cutler
,
Tony Romo
,
Philip Rivers
,
Carson Palmer
,
Michael Vick
,
Mark Sanchez
,
Kevin Kolb
,
Robert Griffin III
TEAMS:
Pittsburgh Steelers
,
Baltimore Ravens
,
New York Giants
,
Houston Texans
,
Chicago Bears
,
Dallas Cowboys
,
Los Angeles Chargers
,
Arizona Cardinals
,
Philadelphia Eagles
,
Buffalo Bills
,
Washington Redskins
MORE FROM YARDBARKER
NFL News

Delivered to your inbox

You'll also receive Yardbarker's daily Top 10, featuring the best sports stories from around the web. Customize your newsletter to get articles on your favorite sports and teams. And the best part? It's free!