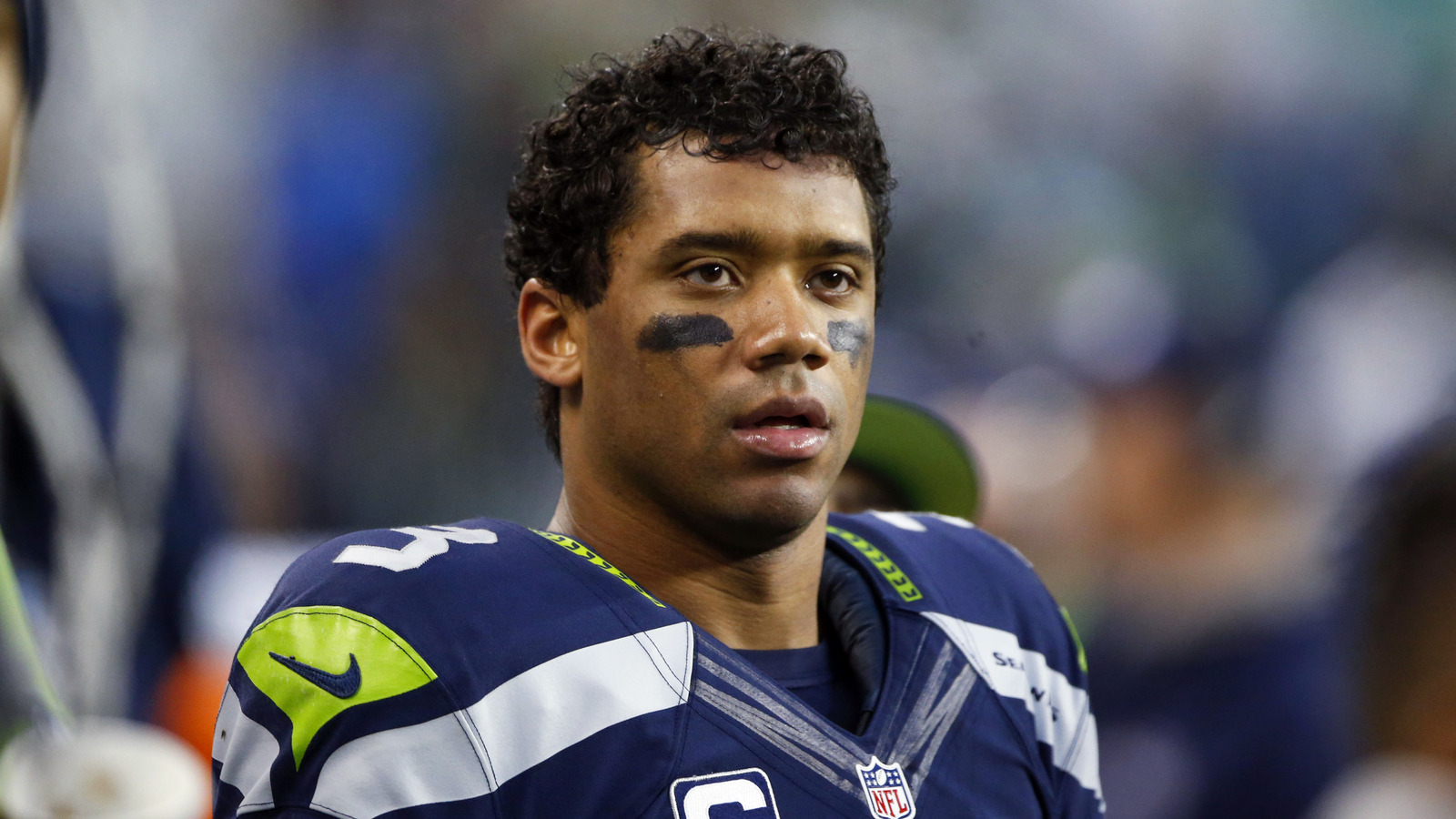 Seahawks quarterback Russell Wilson has radically changed his diet in a bid to lose weight.
Joe Nicholson-USA TODAY Sports
It may seem counter-intuitive, but Russell Wilson has upped his daily caloric intake this offseason in a bid to cut weight. In fact, the Seattle Seahawks superstar quarterback increased his intake to a whopping 4,800 daily calories while spreading them over nine meals.
Wilson, at the suggestion of wife Ciara and former trainer Gunnar Peterson in March, met with Philip Goglia, who refers to himself as a "food coach," not a nutritionist. Still, Goglia, after working with the likes of Chris Pratt and Kim Kardashian, has been bestowed the moniker of "Nutritionist to the Stars."
And Wilson is drawing raves from Goglia for his commitment to improving his diet.
"He was an animal about it," Goglia said of Wilson, via ESPN. "The [expletive] guy buried himself in this, and it's epic to see, because that really validates him as a complete athlete."
Wilson suffered through an injury-riddled season in 2016 and felt worn out and beaten up. Changing up his eating habits has been part of his recovery.
"He came in feeling as though he was too heavy and not mobile enough," Goglia said. "And he wanted to get his weight down. He was over 225. He felt as though he needed to be leaner and stronger and more agile. And that's my wheelhouse."
Wilson's reformed diet is a strict one, with dairy and gluten almost completely getting cut out.
Here's how Wilson's daily dietary intake shakes out, via ESPN:

Pre-breakfast: Tablespoon of almond butter and a tablespoon of jam
 Breakfast: Two cups of cooked oatmeal, six whole eggs, fruit, chicken breast
 Snack 1: Fruit and 12 almonds
 Lunch: Eight ounces of protein with a yam or a cup of rice or a potato and a vegetable
 Second lunch: Eight ounces of protein with a yam or a cup of rice or a potato and a vegetable
 Snack 2: Fruit and 12 almonds
 Snack 3: Fruit, 12 almonds and whey protein
 Dinner: Fish or steak and vegetables or salad
 Snack 4: Fruit and a tablespoon of molasses or shredded wheat, applesauce, almond butter and jam

Although Wilson does get to indulge once a week.
"I love cheese — hence Wisconsin," Wilson, a Badgers alum, said with a laugh. "I love cheese, so that's always something that you've got to be careful of."
But the radical new approach seems to be paying dividends. Wilson weighed in at 225 pounds with 16 percent body fat when he first met with Goglia. He recently was measured at 214 pounds with 10 percent body fat.
In other words, look out, NFL.
MORE FROM YARDBARKER
Seahawks News

Delivered to your inbox

You'll also receive Yardbarker's daily Top 10, featuring the best sports stories from around the web. Customize your newsletter to get articles on your favorite sports and teams. And the best part? It's free!