Originally posted on
Sportsnaut
| Last updated 2/21/15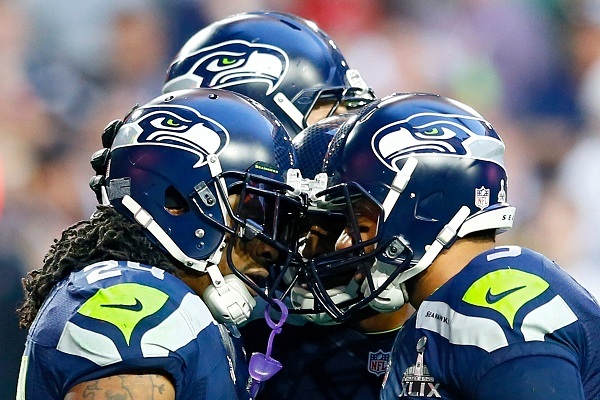 A former Seahawks WR posited that some players suspect that the final play was designed to deny Marshawn Lynch a chance at being Super Bowl MVP.
Kevin C. Cox/Getty Images
It was probably the worst play call in Super Bowl history. Instead of handing the ball off to Marshawn Lynch with the game on the line from the one-yard line, the Seattle Seahawks decided to let Russell Wilson throw the rock .
We know how that turned out. And it's going to be a topic of conversation for decades to come.
Among conversations buzzing around about the purpose behind the botched play call is one former Seahawks' wide receiver Ben Obomanu discussed with Radio KJR 950 in Seattle. Obomanu claims that some of the players suspect that the play was called so that Wilson would earn the MVP instead of giving Marshawn Lynch that prestigious award.
Obomanu further elaborated:
I've heard a couple people express that sentiment. I think though some guys have expressed that same concept of actually believing that the organization in some kind of way was trying to allow Russell Wilson to be the star.

With the whole thing with Marshawn and interviews and not giving interviews and the MVP conversation and cars and all those things that happen on the field, the guys have expressed ideas of it being easier to handle Russell Wilson accepting those kind of things and having that kind of thrust upon him as opposed to the possibilities that are unknown with Marshawn.

I don't know if guys actually believe it. I don't know if they're hearing it from family and friends but that's one, I don't know if you guys have heard it, but that's one of the craziest kind of things that I've heard in my conversations with guys trying to process this whole thing.
Following the game, Seahawks players openly questioned the game-ending play call. Both head coach Pete Carroll and Wilson took blame for the call.
Whether there is any fact to this theory, no one will ever really know. Who in their right mind would ever fess up to this?
MORE FROM YARDBARKER
Seahawks News

Delivered to your inbox

You'll also receive Yardbarker's daily Top 10, featuring the best sports stories from around the web. Customize your newsletter to get articles on your favorite sports and teams. And the best part? It's free!