Originally posted on
BroncoTalk
| Last updated 5/22/12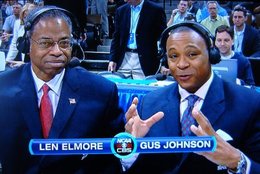 Wide receiver Brandon Stokley during practice on Monday, May 21st at Dove Valley. (Image courtesy of Stuart Zaas/Denver Broncos)
On Monday, fourteen-year veteran wide receiver Brandon Stokley, now 35 years old, was out on the practice field in Dove Valley doing what he's done best for most of his career — running routes for Peyton Manning as a slot receiver.
This was confirmed by Manning himself, who played with Stokley for four years in Indianapolis.  "Stokley runs his slot option routes just a little bit different than Eric Decker does," Manning noted on Monday.
Manning's point was that every receiver does things a little differently and practicing with each one of them and developing a cohesive connection during the offseason is vital if the team is going to have success through the air during the season.  Stokley may not be running option routes from the slot position any better than Decker, he simply runs them differently — perhaps the way Manning prefers (which seems likely considering the great rhythm Stokley and Manning have developed over the years).
Stokley will have heavy competition to make the final cuts this summer, with ten other wide receivers on the roster.  Fortunately for Stokley, he is a familiar target to Manning, which will help make himself look good during offseason practices.  When Manning visited Denver earlier in the offseason, Peyton stayed at Stokley's home and threw passes to the veteran receiver at a local park, which attests to the great relationship the two players have.
Broncos' Offensive Coordinator Mike McCoy has been installing Denver's offensive scheme over the past few months and Stokley noted on Monday that the team is  "pretty far along for this early in the year."  Stokley has experience with both Manning (Ind., '03-06) and McCoy (Den., '09).
Stokley has spent time with the Ravens, Colts, Broncos, Seahawks and Giants, winning two Super Bowl rings (XXXV and XLI) while catching 339 passes for 4,680 yards and 34 touchdowns during his career.  Often referred to as The Slot Machine, Stokley's easy going personality and hard-working mentality has made him a fan favorite in Denver.
Stokley's Immaculate Reflection catch and run against the Cincinnati Bengals in 2009 may be one of the most popular season opener plays in franchise history.  Throughout the rest of the '09 season, Stokley went on to catch only 18 more passes, many of them on third downs.  Though reliable when thrown to, Stokley has never been a mega-catch numbers receiver, with a career high of 68 catches (2004), Stokley has caught 31 or fewer passes in nine different seasons throughout his career.
When it's third-and-four though, there's probably not another receiver out there that Manning would be more confident in than Stokley.  "He's a quality football player you want on your team," said Manning last month.
It's great to see Stokley back in Denver and it will be fun to see him catching passes again from Manning during the offseason.  Stokley can also help the younger receivers on Denver's roster learn the routes and formations that come with a Manning-led offense.  Is it September yet?

Read the rest of this story...
MORE FROM YARDBARKER
Broncos News

Delivered to your inbox

You'll also receive Yardbarker's daily Top 10, featuring the best sports stories from around the web. Customize your newsletter to get articles on your favorite sports and teams. And the best part? It's free!