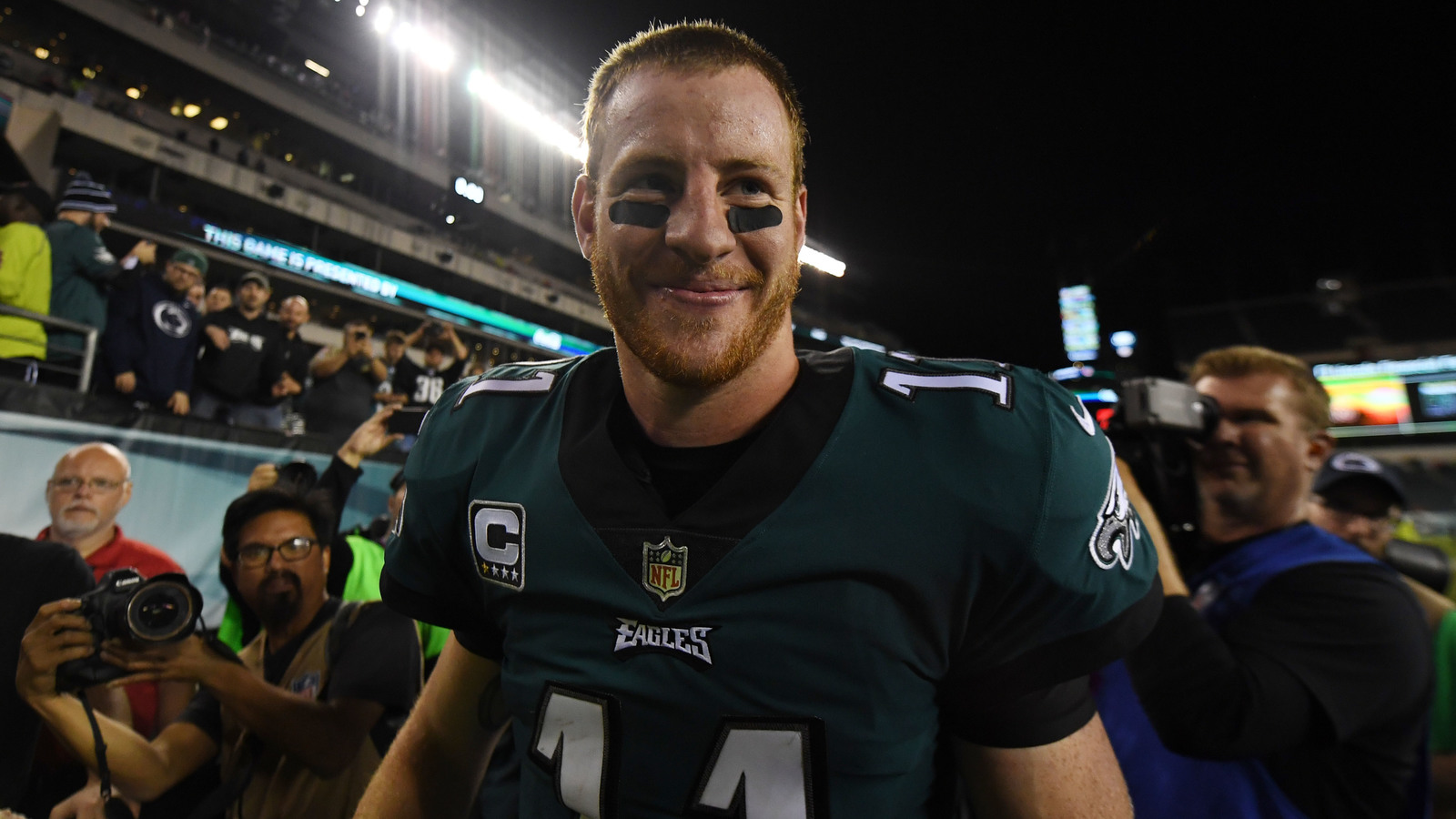 Are Carson Wentz and the Eagles on a collision course with the Vikings?
James Lang-USA TODAY Sports
At the halfway point, the 7-1 Philadelphia Eagles have the best record in the NFL. Buoyed by the stellar play of second-year quarterback Carson Wentz, Philly is looking like the team to beat in the NFC. Meanwhile, the Minnesota Vikings are a game behind at 6-2 and looking to stake their claim to a hometown Super Bowl appearance in February.
At the beginning of last season, the two team's paths crossed when the Eagles traded their starting quarterback to a desperate Minnesota team. And now, their paths may be destined to meet again come January.
The two teams got together eight days before the 2016 season because the Vikings starting quarterback Teddy Bridgewater exploded his knee in a non-contact play at practice. The Vikings were in dire straits and in need of a starter. So the Eagles, flush with the second overall draft pick (Wentz) on their roster, shipped 2015 starter Sam Bradford to Minnesota for a 2017 first-round pick and a 2018 fourth-rounder.
In what could be considered a not-totally-unrelated move, Vikings offensive coordinator Pat Shurmur had emigrated from Philadelphia in January 2016 to be the Minnesota tight ends coach. And his experience with Bradford (in Philly and St. Louis) helped grease the skids for Sam coming aboard. It might even have helped Shurmur with his battlefield promotion to Vikings OC last season.
The trade was a slightly controversial move at the time, however. Since Bradford, a former number one overall pick himself, was the Eagles presumptive starter. Many thought that Wentz would apprentice for a while before taking the reins. Still, Bradford bristled at the drafting of Wentz. But soon he would show up at Eagles headquarters to fight for his starting spot.
Yet when Minnesota came calling (perhaps crawling on their knees since Bridgewater's injury was so horrific—similar to what Chicago Bears tight end Zach Miller experienced this past weekend—and he was considered the Vikings' quarterback of the future), the deal was too good to pass up. Suddenly, the Wentz era had begun in Philly.
The trade, therefore, set in motion the subsequent 2016 seasons for both teams. And of course, brought them to where they are today—the top two teams in the NFC. But plenty went on last year for the Vikings and Eagles—including a game between them. And the rise to the top has been anything but smooth.
Giving up a one (the 14th overall pick) for Bradford was a difficult decision for Vikings GM Rick Spielman, but one he was forced to make. The Vikings defense under head coach Mike Zimmer had improved to a top-five unit and was positioning the team for a deeper playoff run than they had in 2015 (eliminated in the first round on a last-second missed field goal). In fact, the Vikings started out the 2016 season 5-0. They were even the last undefeated in the league when they traveled to Philadelphia in Week 7.
Meanwhile, the intrepid Eagles installed Wentz as the starting signal-caller and haven't looked back. The Eagles jumped out of the gate with three straight wins, including a 34-3 trouncing of the Pittsburgh Steelers. Suddenly it looked like the Vikings had made a great decision. Wentz threw five touchdown passes versus zero picks in those three games and the future became the now in Philly.
But the Eagles dropped the next two games in anticipation of the meeting with the Vikings, and the rookie appeared to be human.
With all eyes on the return of Bradford to the city that didn't exactly love him like a brother, Vikings safety Andrew Sendejo intercepted Wentz early and took it down to the Eagles' two. But, Bradford threw a pick in the end zone and gave it right back. Then the two teams traded fumbles—still no score. Wentz then threw another interception. Again, his inexperience was exposed.
But once again, Bradford and the Vikings couldn't capitalize. This moment may have been where everything turned for Minnesota.
They ended up losing a winnable game 21-10 and the dominoes began to fall. They lost a host of offensive linemen in subsequent weeks (and somehow Bradford remained uninjured). During the next game in Chicago, Zimmer injured the retina in his eye (which required eight surgeries to date). Then with a patch on his eye, Zimmer announced that Norv Turner had retired in the middle of the season.
Not surprisingly, in retrospect, the Vikings proceeded to lose eight of the final 11 games to finish at .500 and outside of the playoffs. Talk of a Super Bowl appearance disintegrated into questions of the fitness of the head coach. A season of great promise became an aftermath of dread.
The Eagles didn't fare much better after the Vikings game, losing seven of the final 10 games. Meanwhile, Wentz earned his rookie lumps. They finished 7-9, and had traded their 2017 first-round pick (number 12 overall) to the Cleveland Browns to acquire Wentz in 2016. So the Vikings' pick (14) came in handy.
The Eagles would use it on former Tennessee defensive end Derek Barnett, who has not started yet in 2017. But, has already contributed (2.5 sacks in eight games) to an improved Eagles defense.
Which brings us to this season. The Eagles are on top of the league. That has been primarily due to the play of Wentz, who is being discussed as the mid-season league MVP. His rookie season of baptism by fire has helped the former North Dakota State product to learn on the job. Now he's succeeding with flying colors.
Wentz is tied (with Texans rookie Deshaun Watson) for the league lead in touchdown passes (19), but has only thrown four interceptions in the process (Watson has eight picks). His quarterback rating of 101.6 is ranked seventh in the league and his 258 passing yards per game is 10th. And at 6-5, 237 pounds, he presents a Cam Newton/Ben Roethlisberger-like difficulty in bringing him down—showing great escapability in highlight throws this season.
Add great arm strength, touch on short passes and speed for a big man, and it's not hard to see why Philly started the Wentz era immediately.
The Eagles defense is also playing well—ranking number one in the league against the run (70.4 yards per game) and 10th in points allowed (19.5). Plus the Eagles running game LeGarrette Blount and Wendell Smallwood ranks fifth in the league, racking up 129.3 yards per game. Now they acquired Jay Ajayi from the Dolphins ahead of the trade deadline to bolster it.
But in Philly, the whole story is about the quarterback. The same can be said about Minnesota this season. However, just in a much different manner.
Bradford, set to play behind a healthy line in 2017, had arguably the best of game of his career on opening Monday Night in a Vikings' victory over New Orleans. He would complete 27 of 32 passes for 346 yards and three touchdowns. Good for a 143.0 quarterback rating, in fact. With the rookie Dalvin Cook running behind him, the dormant (and doormat) Vikings offense of 2016 was looking like a juggernaut. They had fans thinking of a Super Bowl appearance on their own ground.
But the next day, Bradford came up lame with a mysterious ailment on his twice surgically-repaired knee. He's only played one more half of a game this season. Meanwhile, backup Case Keenum has led the team to a five wins. Bradford has sought second opinions, unconventional healing methods and probably the stars in attempt to get back on the field. After all, he is in the final year of his contract.
In the meantime, Keenum has managed things behind a greatly improved offensive line from 2016—putting the team in first place of the NFC North.
Add to the mix that Bridgewater, whose career and leg were threatened by injury over a year ago, is now practicing again, and with the Vikings on a bye this week, the speculation over an impending decision at quarterback is ramping up to a fever pitch in Minnesota.
"Hopefully, I have a decision to make," Zimmer said about his quarterback situation. "I don't know. We've got two days of practice next week, got another day of practice on Monday. We'll sit down, evaluate everything. Case has done an unbelievable job. He's done what we have asked him to do, he's come out and kept things rolling, and we'll just figure it out as we go. We'll see. I hope I have to make a decision."
The Vikings survived the loss of rookie running back sensation Cook thanks to the play of backups Jerick McKinnon and Latavius Murray. They have weathered the quarterback shuffle with serviceable play thus far thanks to a defense that has played even better than last season's version. They are ranked third in yards per game allowed (282.1). And, fourth in points allowed (16.9). But, it just may be this decision at quarterback that will seal the fate of this team's 2017 campaign.
The Vikings have until Nov. 8 to either activate Bridgewater from PUP list or let him remain there for rest of the campaign. Suddenly, it sounds like Teddy returning is a very real possibility.
The Vikings have a tough schedule remaining. Five out of their eight games are on the road. The Eagles, whose only loss was to the Kansas City Chiefs on the road, have a tough row to hoe themselves, however. Two games versus the Dallas Cowboys.he Denver Broncos at home. Then, at Seattle. They have also lost their left tackle, Wentz protector Jason Peters for the season, which could impact their path to the NFC Championship game.
But injuries in the NFL are always a huge factor, and there are likely some waiting out there for both of these teams. The next shoe dropping is the fear of every fan of each of these long-suffering franchises. After all, they know it all too well. They have six Super Bowl appearances between them but no wins. Eagles and Vikings fans always fear the worst.
For the Vikings, it's things like Brett Favre throwing across his body for an interception in the 2009 NFC Championship game. Or Gary Anderson missing his only field goal all season in the 1998 NFC title game. Or four Super Bowl failures. For the Eagles, the sense of doom is similar but comes from somewhere else:
"If you live in Philadelphia, you understand that you're living in a Roadrunner cartoon, and you're always looking up for the big anvil falling because you know it's coming," Ray Didinger, the award-winning longtime Philadelphia journalist and unofficial Eagles historian, told The Athletic. "I've always traced a lot of it back to the [collapse of] '64 Phillies, and the sense that it's too good to last, so it won't."
Unless…
"But there's a huge sense of excitement and the fans really feel like something special is happening here," Didinger said. "You really felt it Monday night [Week 7 against Washington]. Some people were on the fence about this team, like, 'Well, I don't know. I'm not so sure.' But everybody walked out of there that night feeling like, 'No, this is it. They've got the guy [Wentz] now. I think this is genuine. I think this isn't lightning in a bottle, this is just lightning."
So, if these two teams can continue along their current trajectories, secure the first and second-round playoff seeds and meet in the title game, perhaps at least one of these woebegone fan bases will finally reach the promised land, right? At least someone goes home happy.
Well, at least until the Super Bowl, anyway.
NFL News

Delivered to your inbox

You'll also receive Yardbarker's daily Top 10, featuring the best sports stories from around the web. Customize your newsletter to get articles on your favorite sports and teams. And the best part? It's free!
MORE FROM YARDBARKER
NFL News

Delivered to your inbox

You'll also receive Yardbarker's daily Top 10, featuring the best sports stories from around the web. Customize your newsletter to get articles on your favorite sports and teams. And the best part? It's free!