We've updated our Privacy Policy.
By continuing to use this site, you are agreeing to the new Privacy Policy.
Unlike Thursday's event, Alex Smith arrives in Washington not as a slick production but a steady veteran. Yet he still provides needed excitement.
Here's five takeaways from new Redskins quarterback Alex Smith's introductory press conference that took place on Thursday, March 15, 2018.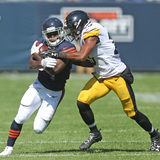 There was a report earlier this week that Pittsburgh Steelers safety Mike Mitchell was fined nearly $50,000 for a dirty hit to the knees of Alex Smith Sunday.For many, that fine wasn't nearly enough punishment, as Mitchell clearly went after Smith's legs well after the play was over — it was as blatantly dirty as hits go in the NFL these days (watch here).So, as if that weren't enough...
LIKE WHAT YOU SEE?
GET THE DAILY NEWSLETTER: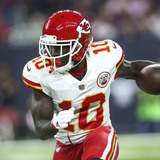 It took Kansas City Chiefs wide receiver Tyreek Hill until midway in the second quarter to make his first catch against the Oakland Raiders on Thursday Night Football. And, boy was it a beautiful catch. Watch as quarterback Alex Smith hits up Hill for this incredible 64-yard touchdown. This makes for Hill's third touchdown on the season. Up until this game, Hill had 30 catches for...
Alex Smith did not mince words bemoaning a hit by Mike Mitchell during the Kansas City Chiefs' 19-13 loss to the Pittsburgh Steelers last Sunday, referring to what many have deemed a cheap shot to be "about as flagrant as it gets."The play in question occurred during a play in the third quarter. Smith had stepped up in the pocket to avoid the rush, only to have Mitchell appear to...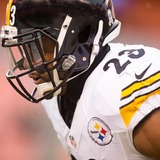 Pittsburgh Steelers safety Mike Mitchell attempted to clarify what many believe was a dirty hit on Alex Smith during Sunday's 19-13 victory over the Kansas City Chiefs. Mitchell claims the shot to the back of Smith's knees came as a result of him "tripping" and "being pushed."The play in question occurred during a play in the third quarter. Smith had stepped up in the pocket to avoid...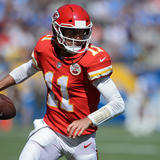 There's no room in the game of football for this. As we saw with Aaron Rodgers earlier on Sunday, quarterbacks are already vulnerable to injury. It doesn't help matters much when defensive players go with the dirty hit.That's exactly what happened when Pittsburgh Steelers safety Mike Mitchell laid a hit on Alex Smith late in the third quarter of Sunday's game.With his team dominating...
Alex Smith and Sam Bradford weren't just good as they led the Kansas City Chiefs and Minnesota Vikings to Week 1 wins. They were historically good.Mike Florio of Pro Football Talk noted that each of the two did something that no other quarterback in NFL history had done in a season opener."According to the NFL, Bradford and Smith became the only quarterbacks in league history to...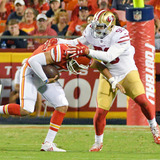 Patrick Mahomes will eventually be replacing Alex Smith, it's really just a matter of when.Smith is a solid game manager, and rarely turns the football over, but the Chiefs now have more speed on offense, and they'll eventually favor a quarterback with a strong arm that can make the offense more dynamic and less predictable.While Smith may avoid throwing downfield, Mahomes seems...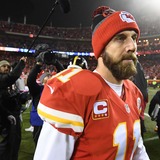 You'd think an NFL quarterback would be really good at dodgeball.Kansas City Chiefs quarterback Alex Smith might be an exception.Just watch this clip from the NFL Pro Bowl skills competition on Thursday: What kind of form is that? His awkward, sidearmed throw predictably bounced harmlessly off the ground.Come on, Alex Smith. Just throw the ball. Dodgeball isn't third down.
MORE STORIES >>
Redskins News

Delivered to your inbox

You'll also receive Yardbarker's daily Top 10, featuring the best sports stories from around the web. Customize your newsletter to get articles on your favorite sports and teams. And the best part? It's free!