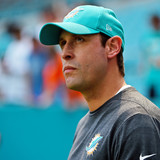 In advance of March 14, the start of free agency in the NFL, Pro Football Rumors will detail each team's three most glaring roster issues. We'll continue this year's series with the Miami Dolphins, who missed the playoffs with a disappointing 6-10 record. Depth Chart (via Roster Resource) Pending Free Agents: Walt Aikens, CB Nate Allen, S Lamin Barrow, LB Jake Brendel, C (ERFA...
The New York Jets thought they had batted a Alex Smith pass down at the line. But sometimes, life just isn't that simple—in fact, it never is for the Jets. Instead, the ball slapped off linebacker Calvin Pace's hands and into the grips of a seated Anthony Fasano. With no one close enough to get their hands on the Chiefs tight end, Fasano spun on his backside and stretched the football...
This might be one of the best catches that you will see all year. Kansas City Chiefs tight end Anthony Fasano was able to get a hand on the ball but couldn't quite bring it in. Then somehow he loses sight of the ball and was able to still reel in the ball. [@gifdsports] The post Anthony Fasano Makes Ridiculous One-Handed No-Look Catch appeared first on Diehardsport.
With his team trailing in the fourth quarter, Anthony Fasano made what will likely be the play of the week, snagging a Ryan Tannehill pass for a touchdown, getting his team back in the matchup against the San Francisco 49ers. As it stands, the Dolphins trail by 7, late in the game, and it may take another borderline miraculous catch to get it done for Miami. [follow]
It's never too early to start finding divisions in a locker room or between players and team administrators. It seems that the Dolphins have their own internal dispute. Tight end Anthony Fasano told Bob Papa and Ross Tucker of SeriusXM NFL Radio that he wasn't happy when he heard that his team would be the subject of HBO's popular series, Hard Knocks. Fasano told the pair, "I wasn...
Since the show first began more than 10 years ago, it seems that HBO has an increasingly difficult time finding a suitor for "Hard Knocks" each NFL season. No matter how you look at it, "Hard Knocks" is a distraction. It brings people and cameras inside your offseason training facilities that don't need to be there. It exploits people like Antonio Cromartie and makes them look like...
Tight end Anthony Fasano was diagnosed with a mild concussion Thursday, raising the possibility the Dolphins could be without one of their key offensive weapons when they face the Patriots Saturday. Fasano did not participate in practice all week, but his absence wasn't considered a major concern until coach Todd Bowles revealed the diagnosis in [...]
MIAMI GARDENS — The Dolphins will have their top tight end and the Bills will have their best receiver when the two teams square off today at a wet, muggy Sun Life Stadium. Anthony Fasano, who has three touchdown catches in his last four games, is active and will play today despite being listed as [...]
Tight end Anthony Fasano was the only player not participating as the Dolphins went back to work Wednesday to begin preparations for Sunday's game against Buffalo at Sun Life Stadium. Fasano, who 16.7-yard average on his 15 receptions leads the team, had his right ankle heavily taped and was working with a trainer on the [...]
Three Miami Dolphins talking points to jumpstart your Victory Monday: 1. Anthony Fasano making the most of his limited opportunities. Anthony Fasano makes the most of his limited opportunities, like this one-handed catch in the fourth quarter Sunday / Bill Ingram, Post staff His stats aren't exactly sexy – just 15 catches through nine games, [...]
MORE STORIES >>
Dolphins News

Delivered to your inbox

You'll also receive Yardbarker's daily Top 10, featuring the best sports stories from around the web. Customize your newsletter to get articles on your favorite sports and teams. And the best part? It's free!