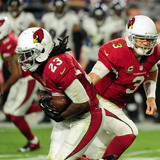 Chris Johnson has seemingly discovered the Fountain of Youth with the Arizona Cardinals, as the 30-year-old veteran ranks second in the NFL with 567 rushing yards through seven games. How did he get here after an incredibly disappointing season with the New York Jets last year? By not allowing a measly bullet to get in the way of his preparation. Jay Glazer told TMZ this week that...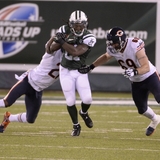 Chris Johnson has finally found a new place to call home. And, after a tumultuous offseason, the troubled running back signed a one-year deal with the Cardinals on Monday. Following a disappointing season with the Jets, Johnson was a free agent after New York declined to pick up its option on the running back in February — but that was far from the worst part of his offseason...
By Rachel Wold. Former New York Jets running back Chris Johnson was caught out on the town with his former quarterback Vince Young. The two were hanging out at Katsuya, a popular sushi restaurant in Hollywood. Not wasting any time with small talk, a reporter from TMZ Sports asked Johnson if he could see himself playing with the Dallas Cowboys this season. Johnson enthusiastically...
Breaking news from Ian Rapoport… Ex-#Jets RB Chris Johnson is recovering at an Orlando hospital after being shot in the arm last night, source said. He is going to be OK — Ian Rapoport (@RapSheet) March 8, 2015 Chris Johnson was back home, riding around with friends and his car took gunfire, source said. There were casualties, including a friend — Ian Rapoport (@RapSheet) March 8, 2015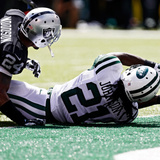 By Kevin Causey In April of 2014, the New York Jets landed free agent running back Chris Johnson. Here's what Johnson had to say about the signing at that point in time…. "I think I'm going to fit in pretty well. Just talking to him (Mornhinweg) and to Rex, who's a guy that likes to run the ball, I think I'm going to fit in very well. We talked about all those things, catching...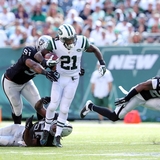 Just a few days after being cut by the New York Jets after completing one season with the team, running back Chris Johnson appears to have departed on a bitter note. Speaking about his feelings and the way the season played out, Johnson shared these comments on how he felt he was lied to by former general manager John Idzik. Basically, it was a situation where I was going there to...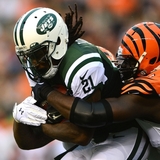 At one time Chris Johnson appeared to be the next big thing. When the East Carolina product ran for 2006  yards and 14 touchdowns during his second season with the Titans he appeared destined for greatness. A big dip in production and an extremely surly attitude led to his departure in Tennessee and eventually to the New York Jets.The attitude remained and at times flashes of the...
On Friday evening, New York Jets running back Chris Johnson was arrested for carrying a weapon in a public space. Open carry is banned in Florida, but Johnson's crime is still a misdemeanor, so he probably won't get much more than a slap on a wrist – which could cause him to fumble, but that's neither here nor there. Despite his lack of productivity on the field, Johnson has mostly...
After he was virtually a non-factor in the early part of the season, New York Jets running back Chris Johnson has picked things up a bit the past two weeks. The Jets are so bad that it hasn't mattered, of course. Johnson has carried the ball just 109 times this season, but his 4.6 yards per carry is actually the third-best mark of his career. CJ?K has averaged roughly 6.0 yards...
The New York Jets have done barely anything right this season, but at least they seem to have figured out what they got when they acquired Chris Johnson — a speedy back who gives 100% effort 10% of the time. With the exception of last week's game against the New England Patriots, Johnson has carried...Read More
MORE STORIES >>
Cardinals News

Delivered to your inbox

You'll also receive Yardbarker's daily Top 10, featuring the best sports stories from around the web. Customize your newsletter to get articles on your favorite sports and teams. And the best part? It's free!