Green Bay Packers All-Pro linebacker Clay Matthews recorded his first sack in six games Sunday against the Baltimore Ravens.Almost immediately after taking down Joe Flacco, Matthews pulled up lame with what appeared to be a serious groin injury.He's now been ruled out for the remainder of the game. There's no reason to believe this won't be a long-term injury. The simple fact that...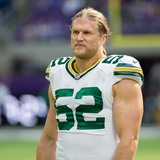 Several Packers players have come to the defense of team doctor Pat McKenzie since Martellus Bennett made some alarming accusations against him, and one Green Bay star says the situation has provided the team's locker room with some quality humor.Bennett claims McKenzie tried to force him to play through a shoulder injury that required surgery, but now the tight end feels well enough...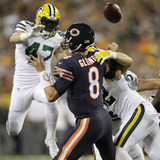 The Bears tried to be sneaky on their first play from scrimmage in Thursday night's game against the Packers, and that really wasn't a good idea.Rather than run the ball, the Bears elected to go play-action, and it backfired big-time. Quarterback Mike Glennon held onto the ball too long, and Clay Matthews made him pay for it. Matthews drilled Glennon, who fumbled the ball, and the...
While Aaron Rodgers and the offense have received a lot of the publicity for the Green Bay Packers' five game winning streak, their win over Minnesota may have reestablished an equally important dynamic. Linebacker Clay Matthews, who has been playing the last month with a separated left shoulder, looked much more like his old self on Saturday against the Vikings, sacking Sam Bradford...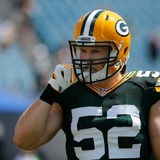 The Green Bay Packers will be without Pro Bowl linebacker Clay Matthews for the third consecutive game on Sunday against the Tennessee Titans. Matthews is still recovering from a hamstring injury. McCarthy: We're going to list Clay Matthews as out this week. #GBvsTEN — Green Bay Packers (@packers) November 11, 2016 "I had a chance to talk with Clay," head coach Mike McCarthy...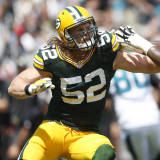 The NFL has fined Clay Matthews to the tune of $18,231 for a sack in which he led with the crown of his helmet — a hit ESPN's Rob Demovsky believes led to Brian Hoyer's broken arm. Hoyer broke his arm last week on a play in which he was the ham in a sandwich between Clay Matthews and Julius Peppers. It wasn't pretty, and Hoyer immediately left the field, unable to move his left...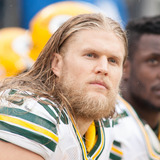 Clay Matthews is not happy with the NFL's enforced interview process as part of their Al-Jazeera investigation. Matthews spoke out against the NFL on Thursday, saying that he's not comfortable that the league could successfully coerce players into submitting for interviews despite no credible evidence linking them to PED usage. "That's why we stuck strong with the [players' association...
Following the Green Bay Packers' 26-20 overtime loss at the hands of the Arizona Cardinals in the NFC Divisional Playoffs Saturday night, linebacker Clay Matthews showed his frustration with the current NFL overtime rules. Arizona scored a touchdown on the first possession of overtime to win the football game. Matthews is in favor of changing the NFL rules to what college football...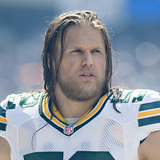 Facing one of the biggest games of the season, Green Bay Packers linebacker Clay Matthews realizes he needs to step his game up to another level. Credited with just one assisted tackle by his coaches the past two games (none by national statisticians), Matthews still obviously has the support of his coaches. Head coach Mike McCarthy called him "clearly our most disruptive player...
The Green Bay Packers have reinvented All-Pro Clay Matthews, transforming the once terrorizing edge rusher into the NFL's most versatile and disruptive inside linebacker. He's now a new breed of defender, an offense-destroying cyborg sent from the future to revolutionize the position. A little heavy? One Packers coach doesn't think so. "Clay has evolved into something completely...
MORE STORIES >>
Packers News

Delivered to your inbox

You'll also receive Yardbarker's daily Top 10, featuring the best sports stories from around the web. Customize your newsletter to get articles on your favorite sports and teams. And the best part? It's free!