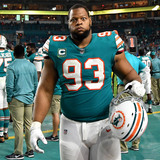 Colin Kaepernick's choice to work out in Houston this week raised some eyebrows in the football world, and we now know why he was in town. Texans owner Bob McNair was deposed on Friday in Kaepernick's collusion lawsuit against the NFL and Kaepernick sat in on the deposition, according to Charles Robinson of Yahoo Sports (on Twitter).Kaepernick, who was ranked as one of my ten best...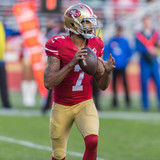 NFL quarterback Colin Kaepernick would be seen in Houston on Thursday, as he was attending Bob McNair's deposition. Kaepernick would file a grievance against commissioner Roger Goodell and NFL owners back in October. In said grievance, Kap would accuse the NFL of conspiring to keep him out of the league. This stems, of course, from his protests during the national anthem before games...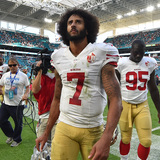 According to a photo captured by TMZ Sports, free agent quarterback Colin Kaepernick was spotted smiling after attending a deposition hearing involving Houston Texans owner Bob McNair.This news here also clears up why Kaepernick was seen working out in Houston earlier this week. It was also reported that McNair had no idea that Kap would be present in the deposition. The deposition...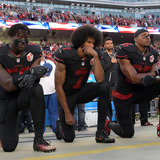 Jim Brown is not the only legendary NFL running back who disagrees with national anthem protests as a form of political demonstration.In a wide-ranging interview with Tim Graham of the Buffalo News, O.J. Simpson said he does not feel that kneeling during the national anthem is an effective way of protesting racial inequality."I think Colin made a mistake," Simpson said. "I really...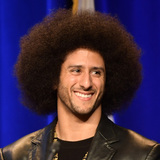 Former NFL quarterback Colin Kaepernick has been watching a number of other quarterbacks get signed in free agency, but he continues to be passed over.That doesn't necessarily mean he's not in playing shape, though.Kaep has been working out — both on the practice field and in the weight room — which we now know from some videos that have hit social media. It's almost like Kap is...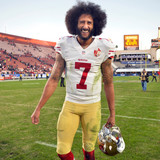 Season 2 of "will any teams reach out to quarterback Colin Kaepernick in free agency?" has officially begun. Everyone has their opinions as to why Kap remains unsigned when quarterbacks less talented are inking deals across the country.Campaigning on behalf of Kaepernick is Denver Broncos linebacker, Brandon Marshall. Marshall told TMZ Sports that when it comes to player support...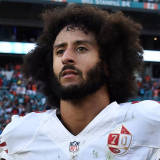 Colin Kaepernick remains one of the most polarizing players in the NFL, even though he hasn't been signed with a team since the end of the 2016 NFL season. Obviously this stems from the fact that Kaepernick started the movement in which NFL players knelt during national anthem to protest police brutality.Most people either praise him or disparage him for this. It's safe to say former...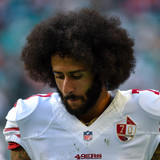 A high-ranking U.S. military official reportedly warned the Baltimore Ravens against signing quarterback Colin Kaepernick, according to a report.TMZ Sports reported Monday that Ravens coach John Harbaugh sought advice from friends, one of whom is a high-ranking American military official, when the team was considering signing Kaepernick as a backup prior to the 2017 season. While...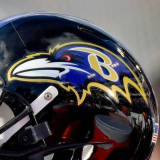 According to TMZ Sports, the Baltimore Ravens consulted with a high-ranking U.S military official when they considered signing free agent quarterback Colin Kaepernick in 2017.The report says that this official advised head coach John Harbaugh to "seriously consider" if Kaepernick's anthem protests would go against the team's "core values." Per TMZ, the official never directly said...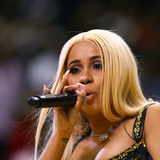 Cardi B probably isn't on the NFL's short list to perform at next year's Super Bowl, but the league does not need to bother calling the rapper and songwriter if Colin Kaepernick remains a free agent next season.TMZ briefly caught up with Cardi B as she was heading into the Maxim Party in Minneapolis on Saturday night, and a photographer asked her when we will see her performing during...
MORE STORIES >>
NFL News

Delivered to your inbox

You'll also receive Yardbarker's daily Top 10, featuring the best sports stories from around the web. Customize your newsletter to get articles on your favorite sports and teams. And the best part? It's free!