One of the saddest stories of the 2014 NFL preseason was the forced retirement of New York Giants running back David Wilson. The 23-year-old had to hang up his cleats after re-injuring his neck during training camp. Well, now Wilson has his eyes on a new career and he's still going to try and be an athlete. Wilson will turn to track and field, as he intends to train in the triple...
At just 23 years old, Giants RB David Wilson has retired from the NFL after doctors advised him to do so because of a chronic neck injury. On Wednesday, he officially announced his retirement and gave a heartfelt speech during his final press conference with the team. Over the past two seasons, the former 2012 first-round pick rushed for 504 yards and five TDs in his career. And...
Football is cruel. It's cold, it's unforgiving, and it can be absolutely crushing. Soon, we may look back on today as the day that brutal nature of the game finally ended David Wilson's career, at the ripe of 23. There's nothing definitive quite yet saying he's played his last snap, but the New York Giants running back is facing far more darkness that optimism. He suffered a "burner...
New York Giants running back David Wilson, who suffered a "burner" in practice last week, has already been ruled out for the 2014 season and there is a chance that his career could be over.  Breaking: Source. Giants doctors are shutting down RB David Wilson due to the neck injury that he sustained (cont) http://t.co/wxmJecnYcK — Josina Anderson (@JosinaAnderson) August 4, 2014 A...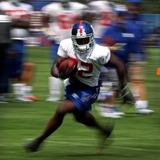 New York Giants running back David Wilson suffered a setback during Tuesday's practice in his recovery from spinal fusion surgery. The 23-year-old is scheduled to meet with a doctor on Monday, and one report is anticipating that he may not receive good news. According to Jordan Raanan and Conor Orr of NJ.com, a person with […]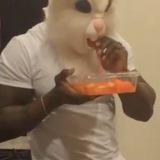 In October, David Wilson posted some bizarre videos in which the New York Giants running back donned a rabbit head to walk around New York City and show off Domino's chicken wings.After post-neck surgery last month when Wilson mooned New York City from the hospital, the rabbit head is back — and freakier than ever. The video below comes from Wilson's entertaining Instagram account...
MORE STORIES >>
Cowboys News

Delivered to your inbox

You'll also receive Yardbarker's daily Top 10, featuring the best sports stories from around the web. Customize your newsletter to get articles on your favorite sports and teams. And the best part? It's free!