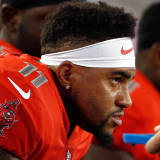 An investigation surrounding a Christmas Eve crash that involved a car owned by Buccaneers wide receiver DeSean Jackson is now inactive, the Tampa (Fla.) police told Greg Auman of the Tampa Bay Times on Thursday (Twitter link). Jackson claimed a friend was driving a Chevy Silverado registered to him when it struck a tree and was abandoned near a mall in Tampa. Police also found two...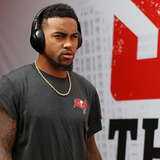 The potential legal trouble that DeSean Jackson was in at the end of the 2017 season has a different look to it.While the car in question belonged to the Tampa Bay Buccaneers receiver, police now believe that he played no part in any wrongdoing."The case involving Buccaneers wide receiver DeSean Jackson's wrecked vehicle found abandoned with bullets and marijuana inside is currently...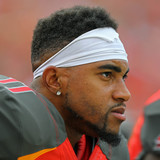 DeSean Jackson found his name in the news for the wrong reasons back in December when drugs and ammunition were discovered in a car that was registered under his name, but it sounds like the Tampa Bay Buccaneers wide receiver will avoid legal trouble.Ian Rapoport of NFL Network reported on Thursday that police are no longer investigating the incident. The details surrounding the...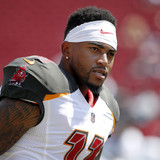 According to the Pewter Report, former Eagles wide receiver DeSean Jackson went on record to blame former head coach Chip Kelly for him not being part of Philadelphia's Super Bowl celebration parade.Jackson also lumped in former teammate, running back LeSean McCoy, in his complaint. Neither player meshed well with Kelly, who was eventually fired after the 2015 season.Jackson has...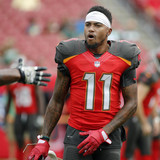 DeSean Jackson's first season with the Tampa Bay Buccaneers has not gone according to plan. The team sits at 4-11 heading into its season finale against New Orleans on Sunday and Jackson himself is currently in the midst of what would be the worst season of his career.News isn't getting much better for either Jackson or the Buccaneers. According to NFL Media's Mike Garafolo, police...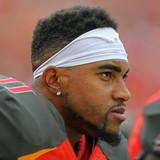 A vehicle registered to Tampa Bay Buccaneers wide receiver DeSean Jackson is the subject of a police investigation after a one-car accident.In a police report obtained by NFL.com, Tampa police responded to a one-car accident Sunday night and found an abandoned vehicle registered to Jackson. A search found hollow-point bullets and marijuana in the car.Police contacted Jackson and...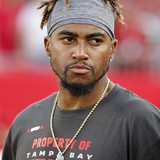 Increased national anthem protests are expected on Sunday in response to President Trump's comments made on Friday.Speaking at a rally in Alabama, President Trump termed anyone who does not stand for the national anthem a "son of a b—-" and said NFL owners should fire those players. His comments sparked the strongest of responses from athletes, as well as from the NFL commissioner...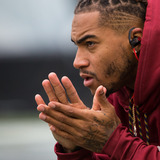 The Tampa Bay Buccaneers signed DeSean Jackson to a three-year, $33.5 million contract this offseason, and they want to make sure he is as focused as possible heading into his first season with the team.Bucs offensive coordinator Todd Monken is expecting Jackson to be a "great player" given how much money the 30-year-old wide receiver is making, and he has not been shy about stating...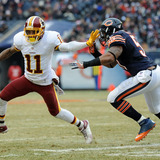 Rumored to be heading to the Tampa Bay Buccaneers, wide receiver DeSean Jackson is surely having some fun with this whole free agency thing.With free agency itself set to start on Thursday, we should learn exactly where the former Pro Bowler will land. But Jackson himself seems to think it's a good idea to joke around on social media as he nears a payday. Okay, that was some legit...
DeSean Jackson returning home to the Philadelphia Eagles is one of the more underrated possible story lines this offseason.Jackson has spent the last three years with the Washington Redskins in the NFC East, but was drafted by the Eagles back in 2008 and put on a show during his time there. An ugly split led to his staying within the division.Things have changed in Philadelphia,...
MORE STORIES >>
Buccaneers News

Delivered to your inbox

You'll also receive Yardbarker's daily Top 10, featuring the best sports stories from around the web. Customize your newsletter to get articles on your favorite sports and teams. And the best part? It's free!