We've updated our Privacy Policy.
By continuing to use this site, you are agreeing to the new Privacy Policy.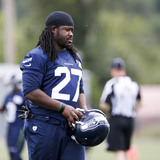 Eddie Lacy was surprisingly a healthy scratch from the Seattle Seahawks' game against the San Francisco 49ers last Sunday, which may have signaled that he is on the verge of being released. Head coach Pete Carroll insists he is still in the team's plans, however, and Lacy is trying not to think too far into the future.After practice on Wednesday, Lacy said he is focused only on what...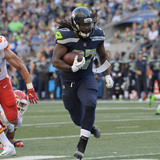 This would be the ultimate troll job after his career with the Green Bay Packers came to an abrupt end following last season.In talking about his first regular season game as a member of the Seattle Seahawks, former Packers Pro Bowler Eddie Lacy indicated that he's contemplating doing the famed Lambeau Leap should he score in his return to Green Bay Sunday. Now, that would be a whole...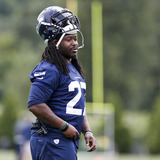 Eddie Lacy was scheduled to weigh in with the Seattle Seahawks last week to determine if he could earn another $55,000 bonus, and the lack of information about the weigh-in led some to believe the running back was not where he should have been. According to Pete Carroll, that was not the case.Carroll was asked on Monday if Lacy has gotten under his latest benchmark of 250 pounds...
LIKE WHAT YOU SEE?
GET THE DAILY NEWSLETTER: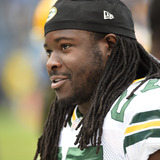 Seattle Seahawks running back Eddie Lacy just became $55,000 richer for sticking to his weight loss plan. Lacy signed an incentive-laden, one-year deal with the Seahawks which pays out salary bonuses for keeping his weight in check. This is the second reported pay out Lacy has received for passing his scheduled weigh-ins. Lacy earned another $55,000 in May for weighing in at 253...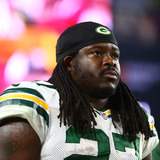 Eddie Lacy held a charity garage sale in Wisconsin on Friday, and it was a huge success.Lacy signed with the Seattle Seahawks this offseason after spending the first four years of his career with the Green Bay Packers. Knowing that he would be moving, Lacy decided to hold a garage sale in which he'd sell many of his belongings and tons of gear. He said all the money was going to...
It was explicitly spelled out to Eddie Lacy by the Green Bay Packers organization that he needed to shed some weight this offesason. Mike McCarthy has essentially declared an end to such discussions by proclaiming the running back fit enough for training camp. The Packers reported to camp on Monday and McCarthy, while hesitant to discuss at any length the exact fitness level of...
Green Bay Packers running back Eddie Lacy has been working to drop the extra weight that caused him to post record-low numbers in 2015. Even though Lacy had reportedly lost 15-18 pounds when the Packers began their offseason in April, head coach Mike McCarthy indicated that Lacy hasn't quite reached an ideal weight. "Eddie will be fine," McCarthy said per Rob Demovsky of ESPN...
Eddie Lacy seems to have committed himself to getting in better shape this offseason, and the results are already starting to show. P90X creator Tony Horton reached out to Lacy after the season and offered to work with him, and the Packers running back took him up on it. On Tuesday, a photo surfaced on Facebook that features Lacy looking pretty cut up. Crushing Shoulders...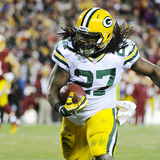 The Green Bay Packers want running back Eddie Lacy to lose a substantial amount of weight this offseason. According to Ian Rapoport of NFL.com, the Packers hope Lacy will shed at least 30 pounds ahead of the 2016 season. The former second-round pick is currently listed at 234 pounds, but he likely played at a far heavier weight this past season. Setting the bar at 30 pounds would...
MORE STORIES >>
Seahawks News

Delivered to your inbox

You'll also receive Yardbarker's daily Top 10, featuring the best sports stories from around the web. Customize your newsletter to get articles on your favorite sports and teams. And the best part? It's free!