We've updated our Privacy Policy.
By continuing to use this site, you are agreeing to the new Privacy Policy.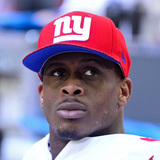 We're really starting to wonder what type of science some colleges around the United States are teaching. Duke University already has us questioning its science department after Boston Celtics guard Kyrie Irving proved himself to be a flat Earth truther. It was one of the craziest stories of the time, one that led to Irving getting ridiculed on an never-ending loop.Joining Irving...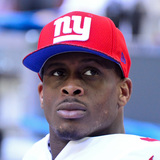 Geno Smith has one thing in mind as he heads toward free agency this offseason — landing another starting job in the NFL.Smith, who signed a one-year deal with the New York Giants last year, has appeared in just five games over the last three seasons. He's had very few chances to prove himself, but the 27-year-old believes he has done enough to earn a first-string role."Yeah, I think...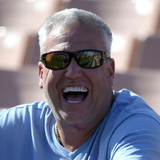 Geno Smith and Rex Ryan have been engaged in a battle of words recently, and the former head coach did his best to get in the last shot Sunday.It all started before Smith started for the New York Giants instead of Eli Manning in Week 13. Ryan said of Smith, "I love Geno Smith. Great guy. I just don't want him playing quarterback for me."Smith pointed out that (in his eyes) he saved...
LIKE WHAT YOU SEE?
GET THE DAILY NEWSLETTER: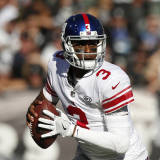 Eli Manning and his family weren't the only ones to endure a rough time among New York Giants quarterbacks last week. Geno Smith and his family did, too. In fact, Smith's father received a death threat over his son starting.Geno Smith Jr., the father of Geno Smith III, told NJ.com that he received a call on his cell phone last week after the announcement that his son would be starting...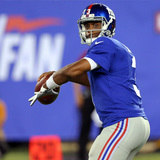 The New York Giants announced their surprising decision on Tuesday to bench Eli Manning for the remainder of the season, and you have to wonder how Manning's teammates feel about the move. According to Geno Smith, some of them are excited.Smith has been named the starting quarterback for Sunday's game against the Oakland Raiders. When Giants head coach Ben McAdoo informed the team...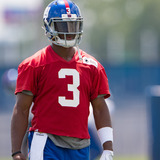 Geno Smith may still be playing at MetLife Stadium, but the change of scenery and new team he plays for has caused him to take on a new look.And new workout and nutrition regimens, as well, because he's now jacked.Check out this new workout video of him getting some cable work in, and yeah, he's pretty ripped.https://twitter.com/GenoSmith3/status/88637672161592115Smith has been working...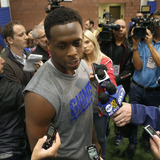 When Geno Smith is looking at his iPad, chances are he's binge-watching.No, he's not viewing episode after episode of some TV series. He's binge-watching Brett Favre, and that's connected to the reason he signed on to be part of the Giants' quarterback depth chart.Giants head coach Ben McAdoo was the Packers tight ends coach from 2006-2011. So he's familiar with Favre."Brett Favre...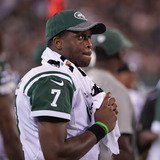 Geno Smith had a front-row seat to Ryan Fitzpatrick's disastrous six-interception performance during the New York Jets' 24-3 loss to the Kansas City Chiefs last Sunday. The Jets backup quarterback then appeared to take a shot at the team's starter with a seemingly sardonic post to Instagram that has since been deleted. Smith took to the social media site Wednesday and posted a...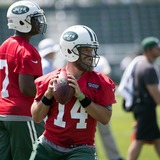 With the stroke of a pen, quarterback Geno Smith found himself relegated to second string behind Ryan Fitzpatrick on the New York Jets depth chart. Not surprisingly, he's not exactly happy about the development. "I'm not disappointed. I'm kind of pissed off, but it's not a detrimental thing," he said, via Rich Cimini of ESPN.com. "It's not something where I'm pissed off at anyone...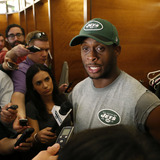 Despite all evidence to the contrary, New York Jets head coach Todd Bowles believes Geno Smith is capable of running an NFL offense. Speaking with the New York Daily News, Bowles downplayed the importance of the quarterback position as it pertains to winning but threw some support behind Smith as a potentially "good starter." "I think Geno can be a good starter, but he's got to...
MORE STORIES >>
Giants News

Delivered to your inbox

You'll also receive Yardbarker's daily Top 10, featuring the best sports stories from around the web. Customize your newsletter to get articles on your favorite sports and teams. And the best part? It's free!