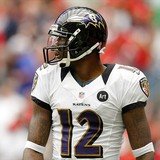 In a less-than-surprising move, the Baltimore Ravens have released wide receiver and return specialist Jacoby Jones. Best known for a Super Bowl record 108-yard kickoff return against the San Francisco 49ers back in February of 2013, Jones also earned first-team All-Pro honors that season as a return specialist. With a $3.3 million cap hit next season and the Ravens looking to cut...
Jacoby Jones and Mike Tomlin controversy (NBC, twitter.com) The biggest takeaway from the Baltimore Ravens 22-20 win over the Pittsburgh Steelers was Jacoby Jones' unlikely defender during his 3rd quarter kickoff return. Steelers head coach Mike Tomlin appeared to be on the field during Jones' 73-yard kickoff return. Jones weaved downfield, untouched by the Steelers. But Jones was...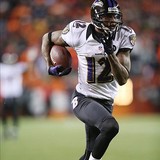 Baltimore Ravens wide receiver and return specialist Jacoby Jones was sidelined on Sunday against the Houston Texans, but that did not stop him from taking part in birthday festivities with teammate Bryant McKinnie later that night. Jacoby Jones (Ronald Martinez/Getty Images) The Washington, D.C. Metropolitan Police Department reported that law enforcement officials responded to...
MORE STORIES >>
Ravens News

Delivered to your inbox

You'll also receive Yardbarker's daily Top 10, featuring the best sports stories from around the web. Customize your newsletter to get articles on your favorite sports and teams. And the best part? It's free!