We've updated our Privacy Policy.
By continuing to use this site, you are agreeing to the new Privacy Policy.
Baltimore hasn't selected a quarterback with their top pick since drafting Joe Flacco in 2008.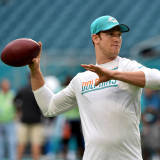 NFL free agency and the draft are soon approaching. This will introduce a new class of rookies to the league as well as put some new faces in new places. When these events happen, the trickle-down results will be significant.It's inevitable that some rookies will oust veterans from their jobs. Meanwhile, players signed to new teams in free agency will threaten other guys' jobs that...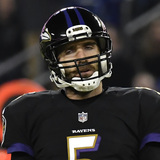 Joe Flacco and the Baltimore Ravens squared off against the Houston Texans on "Monday Night Football." As part of its coverage, ESPN rolled out a bizarre graphic in which Flacco sprouted raven's wings and strutted and danced and stuff. Wow. Talk about an "elite" graphic. A disturbing one to boot as well.The Ravens came out of Monday night with a much-needed 23-16 victory, moving...
LIKE WHAT YOU SEE?
GET THE DAILY NEWSLETTER: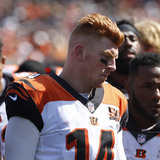 Andy Dalton has played a lot of bad football since what many believed was a breakout season in 2015, and Cincinnati Bengals fans are clearly growing tired of it.On Sunday, Dalton completed 16-of-31 passes for 170 yards, no touchdowns, and a whopping four interceptions. His poor play was one of the main reasons the Bengals were shut out 20-0 by the Baltimore Ravens. As he was heading...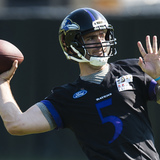 The Baltimore Ravens welcomed Joe Flacco back to practice on Saturday, a week ahead of next Sunday's Week 1 game against the Cincinnati Bengals. Flacco has been out of commission since late July when he was diagnosed with a mild back injury. The team's offense has suffered badly without its starting quarterback, with backup Ryan Mallett putting on a clinic of what not to do as an...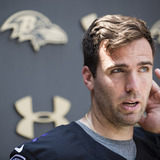 Baltimore Ravens quarterback Joe Flacco has not played in the preseason due to a back injury, but it sounds as though he is on track to be ready for Week 1.On Wednesday, Ravens coach John Harbaugh announced that Flacco has resumed throwing and is close to making a return to practice. Flacco injured his back in late-July, and the initial timetable for his recovery was three to six...
Joe Flacco hasn't been able to practice with the team since the start of training camp when it was revealed he was dealing with a back injury. Since then, backup Ryan Mallett has made a big mess of things, both in practice and in games. Not surprisingly, Baltimore Ravens fans and the media have big questions about when Flacco will finally make his return.Head coach John Harbaugh...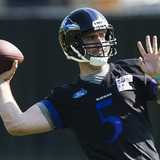 Joe Flacco is not expected to play in any preseason games this year, but the Baltimore Ravens expect to have him available in Week 1.The Ravens shared an injury update on several players Friday, including Flacco. Their starting quarterback has been out with a back injury.The Ravens say Flacco's back rehab is going well and that he should return to practice with the team in the preseason...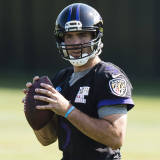 Baltimore Ravens quarterback Joe Flacco's status remains up in the air as preseason games loom.Ravens offensive coordinator Marty Mornhinweg admitted Friday that the team has yet to come up with a plan for the quarterback's return as he remains sidelined with a back problem."The important thing is there will come a time where we have a plan for him, and we're not quite there yet...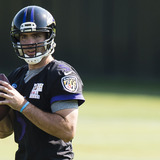 The Baltimore Ravens finally received some good news in a summer that's been filled with news of the opposite variety. According to CBS Sports NFL insider Jason La Canfora, a second opinion on Joe Flacco's injured back confirmed that it's a minor ailment.There's no telling one way or another how long Flacco might be out, but this is much better news than what original reports suggested...
MORE STORIES >>
Ravens News

Delivered to your inbox

You'll also receive Yardbarker's daily Top 10, featuring the best sports stories from around the web. Customize your newsletter to get articles on your favorite sports and teams. And the best part? It's free!