We've updated our Privacy Policy.
By continuing to use this site, you are agreeing to the new Privacy Policy.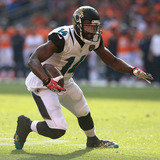 Justin Blackmon was sentenced in an Oklahoma court on Wednesday for his DUI arrest in Dec. 2015. Blackmon, who is still under contract with the Jacksonville Jaguars, received a one-year suspended sentence and probation, according to the Tulsa World's Mark Cooper. Action News Jacksonville says the sentence involves 100 hours of community service and a year of district attorney supervision...
Jacksonville Jaguars wide receiver Justin Blackmon is a perfect case study of a college football star that failed to make the most of his abilities due to off-field issues. Blackmon, a first-round pick of the Jaguars back in 2012, has not suited up in the National Football League since 2013. He's been under indefinite suspension by the league due to multiple violations of the NFL...
Jacksonville Jaguars wide receiver Justin Blackmon was arrested for driving while under the influence — again — over the weekend, and it appears he had more than a couple beverages before getting behind the wheel. A video of the arrest that was obtained by TMZ shows Blackmon telling an officer he had two drinks before badly failing a field sobriety test. The 25-year-old could hardly...
LIKE WHAT YOU SEE?
GET THE DAILY NEWSLETTER:
If you thought it was possible that Justin Blackmon would return to play for the Jacksonville Jaguars or some other NFL team one day, it is probably safe to close the book on that now. Blackmon was arrested once again over the weekend for driving while under the influence. He is listed on the Carter County Sheriff's Office website as having been arrested Saturday morning at 4:45...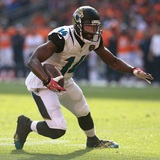 By Jesse Reed Justin Blackmon's once-promising NFL career appears to be over before it ever got off the launching pad. Blackmon entered the league with tremendous expectations, but the troubled wideout quickly earned himself a permanent spot in the league's doghouse, much to the chagrin of the Jacksonville Jaguars. He had earned some red flags for arrests in college, but his dark...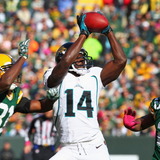 By Vincent Frank While the Jacksonville Jaguars weren't really relying on former top-five pick Justin Blackmon to return to the team, this has to be seen as another bit of bad news for the downtrodden organization. According to Mark Long of the Associated Press, the National Football League has denied Blackmon's request for reinstatement from an indefinite suspension he received...
Jacksonville Jaguars' wide receiver Justin Blackmon has not been on an NFL field since early in 2013. Currently serving an indefinite suspension for violating the NFL's Substance Abuse Policy, Blackmon's status remains in limbo. Back in January, Jags' owner Shahid Khan had reported that he was "very optimistic" that Blackmon would return to play for the 2015 season. However, offseason...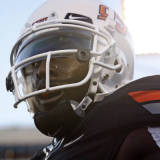 By Steve DelVecchio Jameis Winston is not the first incredibly talented NFL prospect who has turned teams off with his off-field behavior. And, as such, he is not the first NFL prospect who has been spied on by teams leading up to the draft. Earlier this week, Winston's quarterback coach revealed that the former Florida State star was told he was secretly shadowed by an NFL team...
Justin Blackmon has the talent to be mentioned in the "best WR" conversation but he can't seem to get out of his own way. He's barely been in the NFL for a cup of coffee and of-the-field transgressions have forced […]
MORE STORIES >>
Jaguars News

Delivered to your inbox

You'll also receive Yardbarker's daily Top 10, featuring the best sports stories from around the web. Customize your newsletter to get articles on your favorite sports and teams. And the best part? It's free!