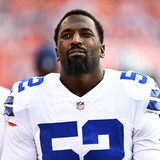 Now that the Cowboys are no longer in contention for a playoff spot, the team has decided to cut veteran linebacker Justin Durant, reports David Moore of the Dallas Morning News (Twitter link). The Cowboys have promoted linebacker Tre'Von Johnson from the practice squad to replace Durant on the active roster. Durant, 32, was in his fourth year as a member of the Cowboys. He signed...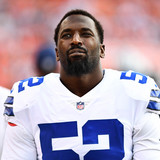 The Dallas Cowboys were eliminated from playoff contention after falling to Seattle in a mistake-filled performance on Christmas Eve.It now looks like they're already attempting to move on from some of the veterans who played a role in the team's struggles this season.According to the Cowboys themselves, they have released former starting linebacker and 11-year pro Justin Durant...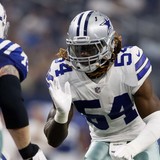 One NFL player who's been around the league for a while has some serious praise for Jaylon Smith.Justin Durant, who is entering his 11th NFL season and second straight with Dallas, thinks Smith is "going to be special". Those comments from Durant are telling, especially when he says Smith sees things like a vet and has "crazy" instincts.The Cowboys took a major risk drafting Smith...
NBA teams in Texas might not have been able to land the more popular sports figure with this namesake. That didn't stop the Dallas Cowboys from making a solid move on Monday by reportedly signing veteran linebacker Justin Durant. #Cowboys signed LB Justin Durant to a 1-year deal to fill the void created by Rolando McClain's suspension, as @MikeGarafolo said they would — Ian Rapoport...
The Dallas Cowboys will head off to Oxnard, California to start training camp on July 24th. There are many questions to be asked about who will be on the starting lineup for their week one matchup against the San Francisco 49ers. Many things are uncertain heading into camp but one thing is for sure. The Cowboys will have some very important and intriguing positional battles in training...
Like many others across the NFL, former Detroit Lions linebacker Justin Durant is still looking for work. We are only three days into the official free agent signing period and plenty of dominos have yet to fall. When they do, Durant is hoping he will be one of them. Until then, it appears the 27-year old is out looking for work elsewhere. Durant tweeted the photo you see above on...
TIMES ARE TOUGH
Detroit Lions LB Justin Durant has been a free agent for three days now, and has not worked out a new contract with the Lions or any other team.  After tweeting about Chick-fil-A quite often during the season, Durant tweeted out a picture of his name on a job application. Rough outchea bruh twitpic.com/cbatys — Justin Durant (@JDurant52) March 14, 2013 I gotta say, if you're not...
Some folks love their Chick-fil-A so much they wouldn't let anything stop them from eating it. Take Lions linebacker Justin Durant for example. The former second-round pick said on Twitter he'd still eat Chick-fil-A even if the restaurant's owners supported slavery. Durant began the Chick-fil-A conversation on Wednesday by asking his Twitter followers what the situation was with...
GOOD EATS, BAD TWEETS
On Wednesday, Detroit Lions linebacker Justin Durant, who originally had no idea what all the hullabaloo was about, came out in defense on Twitter of the yummy deliciousness that apparently is Chick-fil-A sandwiches — I would not know, I have never had one — and after he was informed, stood by the chicken he so [...]
MORE STORIES >>
NFL News

Delivered to your inbox

You'll also receive Yardbarker's daily Top 10, featuring the best sports stories from around the web. Customize your newsletter to get articles on your favorite sports and teams. And the best part? It's free!