Former first-round draft pick Knowshon Moreno is planning a comeback. The running back didn't play at all in 2015 and played sparingly in 2014, but made it clear that he has a lot left in the tank. "I plan on coming back. I feel good. I feel healthy," Moreno said, via an interview with TMZ Sports. "I'm fully recovered. So I'm just doing the things I have to right now, just staying...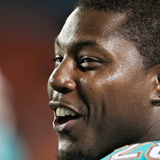 By David Kenyon Running back Knowshon Moreno is one of the top free agents still available at the running back position, but a report on Wednesday provided some clarity as to why he hasn't been signed. According to Omar Kelly of the South Florida Sun Sentinel, Moreno won't be available in 2015 due to his knee. "@TIEMEEco_75: would it be smart now to bring back Moreno?"» Moreno...
During the media session of Miami Dolphins general manager Dennis Hickey on Tuesday afternoon at the league meetings, it was revealed that the front office is keeping tabs on running back Knowshon Moreno and they are open to bringing him back for the 2015 season under the right circumstances.Moreno provided fire and energy to the Dolphins offense in week one of the 2014 season against...
The offseason can be tricky. We have seen teams make moves on free agents that haven't worked out; for example, Knowshon Moreno going to the Miami Dolphins. We have also seen teams make moves on free agents that have worked out great; for example, Emmanuel Sanders going to the Denver Broncos. There are a lot of talented free agents on the market this offseason among a lot of talented...
Miami Dolphins running back Knowshon Moreno made his preseason debut for his new team this past weekend in a victory against the Dallas Cowboys. While head coach Joe Philbin had both Knowshon Moreno and Lamar Miller playing snaps over the weekend, Moreno clearly shined playing the first half of the game and finishing with 64 yards on 10 touches. Of Moreno's 64 yards, his biggest...
This offseason has been a busy one for the Miami Dolphins. Miami has finally released the ghosts of Christmas past (Jonathan Martin and Richie Inc0gnito), and have signed multiple people to help on both sides of the field. Defense To begin, the already solid defense seems to have gotten even better. Early into the offseason, the Dolphins decided to re-sign Pro Bowl cornerback Brain...
MORE STORIES >>
NFL News

Delivered to your inbox

You'll also receive Yardbarker's daily Top 10, featuring the best sports stories from around the web. Customize your newsletter to get articles on your favorite sports and teams. And the best part? It's free!