We've updated our Privacy Policy.
By continuing to use this site, you are agreeing to the new Privacy Policy.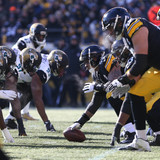 Steelers center Maurkice Pouncey was lucky to have not been ejected during Sunday's AFC divisional playoff game, as he committed an act that has had others in his situation kicked out of games.A skirmish broke out in the first quarter of the game, and that's when Pouncey was seen shoving an official. Surprisingly, the ref kept his cool and didn't even throw a flag to penalize Pouncey...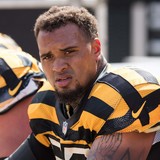 NFL officials are rarely shoved in altercations. When they are, the offending players are almost always ejected. With that in mind, it's safe to say that Pittsburgh Steelers lineman Maurkice Pouncey was quite lucky after he shoved an official and wasn't even penalized. To be fair, Pouncey was looking at his Jacksonville Jaguars opponents. So, it's possible that out of the corner...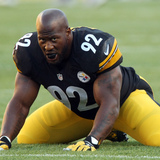 All is apparently not forgiven in Pittsburgh Steelers land. A day after veteran pass rusher James Harrison signed with the New England Patriots after 14 seasons in Pittsburgh, Pro Bowl center Maurkice Pouncey is letting his feelings known.And he's not holding back. "It blows my mind," Pouncey said. "James Harrison wanted out. It's funny to read the stories like…this is something...
LIKE WHAT YOU SEE?
GET THE DAILY NEWSLETTER: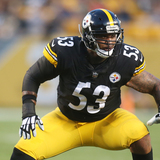 Maurkice Pouncey was not at all happy with James Harrison's decision to leave the Steelers and join the Patriots.On Tuesday, the Patriots announced they had signed the veteran linebacker after he was released last weekend. It was a decision that angered fans to the point where they trashed their No. 92 jerseys. The news also did not sit well with Pouncey.On Wednesday, Pouncey went...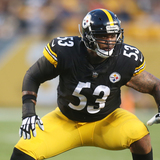 Pittsburgh Steelers rookie wide receiver Juju Smith-Schuster will not be present when the Baltimore Ravens come to town on Sunday evening. Instead, Smith-Schuster will be serving his one-game suspension for a dirty hit on Cincinnati Bengals linebacker Vontaze Burfict last Monday night.The suspension has of course drawn some outrage from Smith-Schuster's teammates. One disgruntled...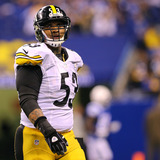 Pittsburgh Steelers running back Le'Veon Bell has the staunchest support of his teammates, who are going to various extremes to get him to come to training camp.The latest effort comes from center Maurkice Pouncey, who says he is willing to give up some of his own pay to pad Bell's bank account. Erasing a year off his contract (average of $8.8 million per year) is quite generous...
CBS 4 in Miami aired an interview on Tuesday with Mike and Maurkice Pouncey that included some comments that were seen as harsh in nature towards Mike Wallace regarding his time with the Dolphins. Maurkice played with Wallace during his time with the Steelers and Mike spent the last two seasons with Wallace in Miami...Read More
We could find out as early as today if Pittsburgh Steelers center Maurkice Pouncey will be charged for playing a role in an incident that took place last month in a Miami nightclub, but we do know now that it won't be a felony charge, according to WPXI in Pittsburgh. "In regards to the Pounceys, there […] Report: Steelers C Maurkice Pouncey Not Facing Felony Charges Per Miami Police...
It didn't take long for the alleged victims of a Pouncey brothers melee to take their grievances to court, as the trio of self-described socialites filed a joint suit against Pittsburgh Steelers center Maurkice Pouncey, his brother Mike Pouncey, and the nightclub that hosted the twins' birthday celebration for failing to protect its patrons from […] Pouncey Twins Birthday 'Bash...
According to a Friday report by the Associated Press, Pittsburgh Steelers center Maurkice Pouncey and his twin brother Mike Pouncey have been sued by the three people who have accused them of attacking them a few weeks ago at the Cameo nightclub in Miami Beach. A lawsuit was reportedly filed Friday in Miami-Dade Circuit Court […] Report: Trio Files Lawsuit Against Pouncey Brothers...
MORE STORIES >>
Steelers News

Delivered to your inbox

You'll also receive Yardbarker's daily Top 10, featuring the best sports stories from around the web. Customize your newsletter to get articles on your favorite sports and teams. And the best part? It's free!