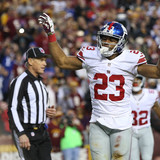 Rashad Jennings is one of a small group of rushers to overcome below-average track speed while earning a starting role in the NFL. Despite never rushing for 1000-plus yards in a season, Jennings played in 93 games and only lost four fumbles over an eight-year journey that ended with the New York Giants in 2016.Lately, Jennings is overcoming jock-stereotypes. The Liberty University...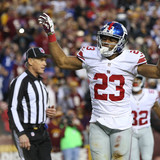 After not playing a snap in 2017, Rashad Jennings will call it a career.The veteran running back announced his retirement on a video he posted to Twitter. He ends an eight-year career that had him playing for the Jaguars, Raiders and Giants. In his career, he started 54 games while running for 3,772 rushing yards. After his release from the Giants in February, Jennings joined Dancing...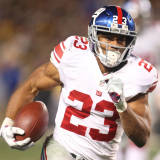 Rashad Jennings is calling it a career. The running back took to Twitter on Friday morning to announce his retirement.  "If good things don't come to an end, then how can better things begin? I'm truly humbled. I'm truly excited.. More to come on this. But for now, I just want to say thank you. Thank you to everyone!," Jennings wrote.That next step could be a move to broadcasting...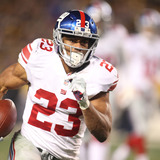 Rashad Jennings is on tour with "Dancing with the Stars" after winning the Mirror Ball Trophy with partner Emma Slater in the show's 24th season, but he remains hopeful about returning to the NFL in 2017.Early in the offseason, Jennings, an eight-year veteran, was released by the New York Giants after three seasons with the team. And although he's generated little interest to date...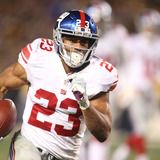 The New York Giants were in cost-cutting mode on Monday. Just minutes after news broke that Victor Cruz was being released, reports surfaced indicating the Giants will also release starting running back Rashad Jennings. Neither move is all that surprising. Cruz ended up being overshadowed by other receivers not named Odell Beckham Jr. this past year. Jennings, 31, averaged a measly...
For the first time in many years, the New York Giants backfield appears to be developing a clear identity. According to Ralph Vacchiano of SportsNet New York on Tuesday, the Giants are ditching the four-man running back committee they employed last season with Rashad Jennings emerging as the lead option in training camp. Listening to Giants RB coach Craig Johnson it's clear:...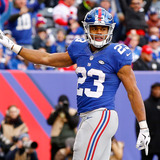 If you want to know how fierce the rivalry is between the New York Giants and Philadelphia Eagles, just ask Rashad Jennings why he left his chiropractor. Earlier this week, Jennings claimed on Twitter that he made an appointment with a chiropractor but ended up leaving in the middle of it. Why? Because the guy said he's an Eagles fan. I went to see a chiropractor. He said he...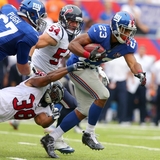 New York Giants running back Rashad Jennings recently hooked his mom up in one of the biggest ways possible. Jennings surprised his mom by driving her to an unknown location and covering her eyes. When she opened them, she was looking at a house. What she didn't know was that Jennings had purchased it for her, and the two shared a great moment, which you can watch below. Mom… (words...
Mario Williams is a bad, bad man. The Buffalo Bills defensive end was a freak of nature when he was drafted No. 1 overall back in 2006. Based on what he did to New York Giants running back Rashad Jennings, it's clear he still is. Just watch him pick Jennings up off his feet and then slam him back down to earth: Mario Williams was angry. Very, very angry. #ouchmyback https:/...
Running Back Mark Ingram with the New Orleans Saints   The New York Giants experienced another disappointing season, finishing 6-10 and missing the playoffs for a third straight year. The team only displayed mediocre (at best) offensive numbers. They were 13th in the league with points scored per game (23.8 points), and 10th in total yards per game (367.2 yards). The statistic that...
MORE STORIES >>
Giants News

Delivered to your inbox

You'll also receive Yardbarker's daily Top 10, featuring the best sports stories from around the web. Customize your newsletter to get articles on your favorite sports and teams. And the best part? It's free!