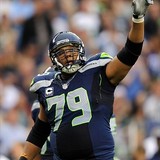 It's been almost a month since the Seattle Seahawks won the Super Bowl, but with the start of the new league now less than two weeks away, they were forced to make some business moves on Friday that included the anticipated release of defensive lineman Red Bryant. Now that he is a street free agent, many Pittsburgh Steelers fans are wondering if the black and gold will have interest...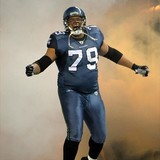 Pete Carroll has already established a reputation as a coach who can turn disappointing players around, develop them and help them realize their full potential. One of his biggest reclamation projects was defensive lineman Red Bryant. Now it looks like the Seahawks will be forced to cut Bryant in order to save money. Bryant was a huge disappointment after being selected in the fourth...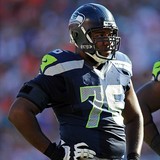 Red's Return to Form In what we can all hope was the ugliest game in the Seattle Seahawks 2013 season, should any of us be surprised that it was Red Bryant that led the charge on defense? You didn't misread that, and it certainly wasn't a typo. Red Bryant came to play on Sunday, and was a pivotal player on the Seahawks defensive front. While I still find it difficult to comprehend...
Big Red Bryant is a beast of a man. He can't jump to high. Today I bet he's wishing he could jump just a couple inches higher though. HE chipped his tooth last night jumping, no wait, head-butting Jaye Howard after his 4th qtr safety. Howard got the end zone sack for a safety to slap an exclamation point on the final quarter. It was a hell of a play. He then ran to the sidelines...
Just because Red Bryant is comfortable doesn't mean the Seahawks defensive end is satisfied. With a four-month-old son at home, Bryant is happy to have the security of the new five-year contract he agreed to with Seattle in March. But Bryant still feels that he has plenty to prove on the field. ''You've always got something to prove,'' Bryant said. ''A lot of guys get big contracts...
MORE STORIES >>
NFL News

Delivered to your inbox

You'll also receive Yardbarker's daily Top 10, featuring the best sports stories from around the web. Customize your newsletter to get articles on your favorite sports and teams. And the best part? It's free!