We've updated our Privacy Policy.
By continuing to use this site, you are agreeing to the new Privacy Policy.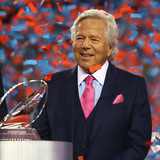 The New England Patriots have taken to Twitter to honor the memory of Stephen Hawking, the renowned theoretical physicist who passed away Wednesday at the age of 76. Interestingly, the Patriots and Hawking have previously crossed paths, so the tribute was not as strange as it may seem. Hawking met Patriots owner Robert Kraft back in 2016. The iconic scientist was in Boston for a...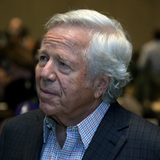 Robert Kraft's longtime girlfriend Ricki Lander recently gave birth to a child, but the New England Patriots owner says he is not the father.After a bombshell report surfaced Wednesday night claiming Kraft and Lander secretly had a baby together last year, the Kraft family issued a statement on Thursday saying Kraft is not the biological father. The original report from Page Six...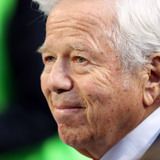 New England Patriots owner Robert Kraft is 76 years old. His on-again, off-again girlfriend–Ricki Noel Lander–is 38. But now she has a child. Not only that, but rumors suggest that Kraft is the owner. However, that doesn't seem to be true."Last fall, Ricki Noel Lander became the proud mother of a beautiful, healthy baby. While Robert Kraft is not the biological father, he is thrilled...
LIKE WHAT YOU SEE?
GET THE DAILY NEWSLETTER: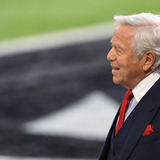 New England Patriots owner Robert Kraft has a child with his girlfriend Ricki Lander, according to a report.The New York Post's Page Six reported on Wednesday night that Lander secretly had a baby last year. There was some speculation that the two had broken up because they hadn't been seen together publicly for a while, but Page Six believes that is because Lander was pregnant....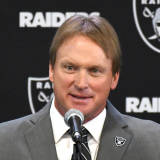 New Oakland Raiders head coach Jon Gruden on Wednesday admitted to being "envious" of the New England Patriots due to the organization's longstanding commitment to excellence, which of course is a slogan used by the Raiders.Speaking Wednesday from the NFL scouting combine in Indianapolis, Ind., Gruden showered praise upon the Patriots, pointing out how the organization is unparalleled...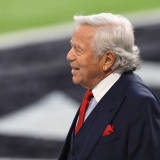 New England Patriots owner Robert Kraft loves himself some Nike shoes. This is by now well known. Following the fifth championship of his tenure as the Patriots' owner last February, Nike created these awesome Air Force 1's as a tribute to the Patriots. That came after Kraft's initial infatuation with this Nike product, when former Patriots corner Ty Law commissioned two custom-made...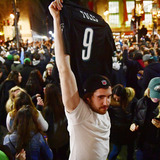 For the final time, Yardbarker takes a look at the NFL's referee hotline, a number set up for players' questions and concerns about officiating. We've obtained access to the responses, which are about as real as Justin Timberlake's affection for Prince. We know when that hotline blings, it can only mean one thing: The government of Philadelphia is calling for backup. Philadelphia...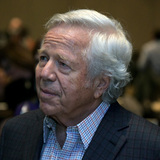 New England Patriots fans attending the team's Super Bowl afterparty in Minneapolis got a personal mea culpa from owner Robert Kraft.Kraft appeared onstage to apologize to everyone in attendance after New England couldn't hold on to a fourth quarter lead and lost 41-33 to the Philadelphia Eagles in Super Bowl LII."I'm really sorry we didn't close it out tonight," Kraft told the audience...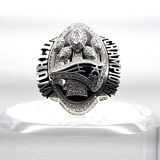 Atlanta Falcons owner Arthur Blank was "pissed off" over the New England Patriots' Super Bowl ring, and you can probably guess where this one is going.New York Times Magazine's Mark Leibovich wrote an article that was published on Thursday title, "Where Does theN.F.L. Go After a Season of Division?" The article opens about a meeting between Blank and Patriots owner Robert Kraft to...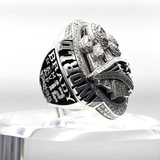 NFL owners often collectively agree on decisions that affect their clubs, but that doesn't necessarily mean they all like each other.Falcons owner Arthur Blank clearly was not happy with Patriots owner Robert Kraft during this time last year, when the Patriots came back from a 28-3 deficit to win Super Bowl LI.Not only that, Kraft rubbed some salt in the wound with the championship...
MORE STORIES >>
Patriots News

Delivered to your inbox

You'll also receive Yardbarker's daily Top 10, featuring the best sports stories from around the web. Customize your newsletter to get articles on your favorite sports and teams. And the best part? It's free!