We've updated our Privacy Policy.
By continuing to use this site, you are agreeing to the new Privacy Policy.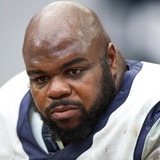 Vince Wilfork on Wednesday officially retired as a member of the New England Patriots organization with an emotional ceremony. The most touching aspect of the ceremony — which was attended by owner Robert Kraft and head coach Bill Belichick, among many others, and featured a video montage — was when Wilfork revealed his only regret from his outstanding 13-year NFL career."My parents...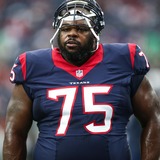 It's been real, and it's time for legendary defensive tackle Vince Wilfork to move on to his next adventure. Wilfork, who spent the last two seasons playing with the Houston Texans and previous 11 with the New England Patriots, shared this farewell message on Monday."No more cleats. I'm moving on to smoked meats."In this ever-so-clever video, Wilfork chooses a set of tongs versus...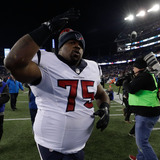 Vince Wilfork said a few months back that he was unsure if he wanted to play in the NFL in 2017, but he has officially made up his mind. And the way he announced his decision could not have been more perfect.Wilfork, an avid fan of smokers and all things grill-related, has partnered with Kingsford for an endorsement deal. The charcoal and grilling company helped the defensive tackle...
LIKE WHAT YOU SEE?
GET THE DAILY NEWSLETTER: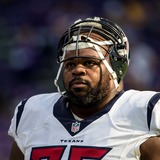 If Vince Wilfork does end up deciding to retire from football, the five-time Pro Bowl defensive tackle has found himself another hobby he appears to be quite good at — reeling in trophy fish.On Tuesday, Wilfork shared a photo on Twitter of himself posing with a massive fish. For reference purposes, keep in mind that Wilfork's playing weight is about 325 pounds. That is one mammoth...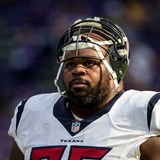 Vince Wilfork has already had an incredible 13-year NFL career, but the veteran defensive tackle is still contemplating whether he wants to add a 14th season to his resume.Wilfork, 35, told SiriusXM NFL Radio on Wednesday that he has not ruled out playing in 2017. Wilfork played the past two seasons for the Houston Texans after spending the previous 11 with the New England Patriots...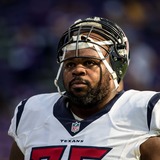 Vince Wilfork is hoping he has four more games left in his NFL career, but the star defensive tackle may be calling it quits after that. Wilfork, whose Houston Texans are preparing to host the Oakland Raiders in the opening round of the playoffs, said Tuesday that he has thought about retiring after the postseason. "It's something I've been thinking about," Wilfork said, according...
Vince Wilfork arguably is one of the most compelling athletes appearing in this year's edition of the annual ESPN The Magazine Body Issue. Not only that, the 325-plus-pound Houston Texans nose tackle has landed on one of the issue's covers. time for number.Here's @wilfork75's @ESPN the Magazine cover for the 'Body' Issue. (h/t Peter Hapak). pic.twitter.com/rDUBii3niH — Houston...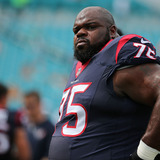 Vince Wilfork is among the high-profile athletes who will appear in the buff in the upcoming edition of ESPN The Magazine's Body Issue, which may come as a surprise to many given his sturdy 325-pound frame. But the 34-year-old Houston Texans defensive lineman hopes his decision to appear in the issue helps inspire people who don't fit into what typically is considered "conventional...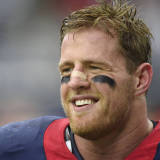 The Houston Texans are pulling out all of the stops against the Kansas City Chiefs. We've seen J.J. Watt line up as a receiving tight end or extra blocker on the goal line before, but we've never seen him as a quarterback. Well, we've never seen him as a quarterback until now. Wildcat QB JJ Watt with Vince Wilfork blocking?Didn't work, but admire the attempt pic.twitter.com/C4pScA5Owb...
Following the latest trend, a banner featuring Vince Wilfork was seen flying over Gillette Stadium Sunday before the big New England Patriots game against the hated New York Jets. The Patriots didn't pick up an option to keep Wilfork this offseason, and the stalwart defensive tackle ended up signing a deal with the Houston Texans instead. Needless to say, based on the banner seen...
MORE STORIES >>
Texans News

Delivered to your inbox

You'll also receive Yardbarker's daily Top 10, featuring the best sports stories from around the web. Customize your newsletter to get articles on your favorite sports and teams. And the best part? It's free!