Expectations are high for Golden Knights' inaugural season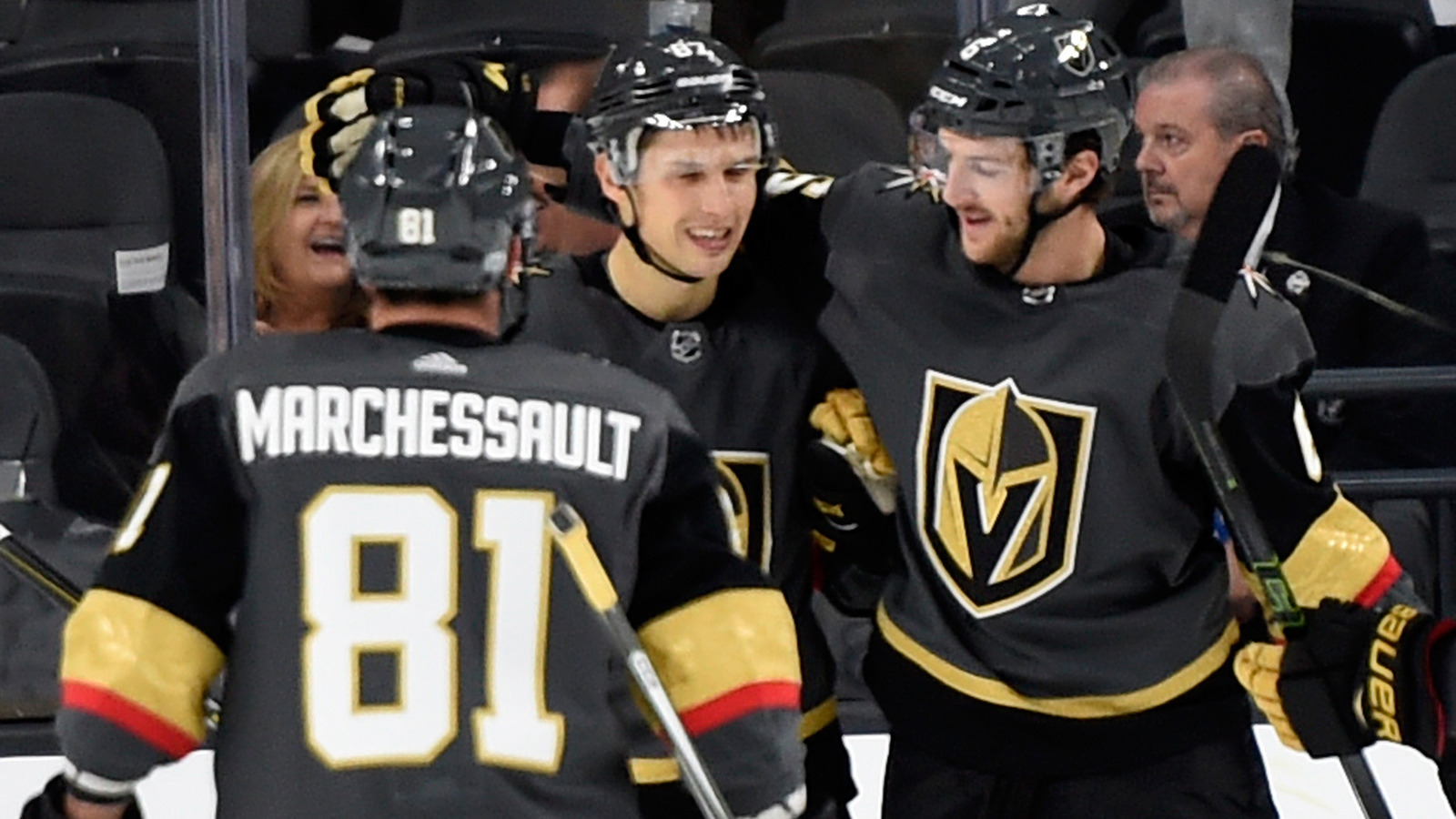 Jonathan Marchessault, Vadim Shipachyov and Colin Miller the Vegas Golden Knights celebrate a goal against the Colorado Avalanche during a preseason game at T-Mobile Arena on September 28, 2017. Does a solid preseason mean the team could be geared for a playoff run in its inaugural season? 
David Becker/NHLI via Getty Images
Typically, preseason games don't hold much weight. They're tune-ups and chances to get a look at the young aces from the NHL. But for the Las Vegas Golden Knights, this preseason has been about getting an idea of what kind of a hockey team they are going to be in their inaugural season.
Now for the most part, the Golden Knights have looked solid. But things weren't looking too promising for the NHL's new expansion team in their preseason with the San Jose Sharks this September. While Team Teal put a lineup made up of mostly AHLers on the ice, Las Vegas rolled out lines composed more of players expected to make the opening night roster. The Golden Knights were out-played, convincingly losing 5-2.
It was an interesting scene to see the Sharks, once the new expansion team themselves, face off against the new expansion squad in the Pacific. San Jose was the new kid on the block – er, ice – back in 1991, at the start of NHL expansion that spanned the 1990s. Now Vegas comes in, the first expansion team since 2000, facing a team completely changed from its earlier years. No, we can't make a full-blown prediction of how Las Vegas will fair this season, but it is interesting to look back at teams like the Sharks when creating expectations for the Golden Knights in their first season.
Granted, the expectations for this expansion team are a bit higher than in previous years given the talent the team snagged in the draft last June. Even so, the overall goal for the new Las Vegas team is for them to be "competitive" with the rest of the league. But just how competitive are we talking here? Heck, many expansion teams don't end their inaugural seasons over .500. Now, the Florida Panthers did well when they emerged on the scene in 1993, going 33-34-17 for the best inaugural record by any expansion team in any professional sport. Then again, there was the Washington Capitals who went an embarrassing 8-67-5 in their first campaign back in 1974. Somewhere in the middle there is the "competitive" level that the Golden Knights want.
If the new Las Vegas team is meant to be competitive, does that mean they're hoping for a playoff run out of the gate? Even that really good Florida Panthers team missed the playoffs by one point in their successful inaugural season. The quickest expansion team to a championship was the Flyers in six years, but that was when the league was significantly smaller and the system was different. The dynamic Wayne Gretzky-led Edmonton Oilers, one of a handful of expansion teams in 1979, won a Cup, but that was 10 years after their inaugural season. Admittedly, once the team reaches that decade-old marker, it's hard to consider it an expansion team anymore.
Perhaps that's the point in developing expectations for a new team – to think more long-term. In a round table interview with The Hockey News earlier this year, former San Jose Sharks captain Doug Wilson recalled that the goal when he was on the new San Jose squad wasn't to win a Stanley Cup. 
"It was to build a franchise, an organization, from Square 1 and start something that would go on to have long-term success." 
That makes sense, the concept of building the organization first. (Until you remember that the Sharks didn't even reach their first Cup Final for 25 years. That's taking many years of "competitive" to whole new level.)
But thinking long-term doesn't mean the team will do poorly. In fact, it could end up being a breakout season for any of the players on that newly-formulated roster. Think about how Scott Mellanby and John Vanbiesbrouck on that 1993 Panthers' team. Veteran netminder Marc-Andre Fleury has been in top form ahead of the regular season after two tough injury-riddled campaigns in Pittsburgh. Could 2017-18 with Las Vegas signal his resurgence? Then there's defenseman Shea Theodore who, contract issues aside, is primed to build off of the success he had for the Anaheim Ducks in last season's playoffs. Let's look ahead even farther – what about breakout players in the coming seasons? Prospect Tyler Wong may have been sent down to the AHL, but he has already created quite a bit of buzz.
It's tough to make a preseason prediction about the Golden Knights. (And really, making preseason predictions is pretty terrible.) All we can do is look back to expansion team's past to get an idea of just how this hockey team will thrive in its inaugural season.
Golden Knights News

Delivered to your inbox

You'll also receive Yardbarker's daily Top 10, featuring the best sports stories from around the web. Customize your newsletter to get articles on your favorite sports and teams. And the best part? It's free!
MORE FROM YARDBARKER:
QUIZ: Name every NHL goalie with 40+ wins in a season
As of the end of the 2016-17 NHL season, a goalie has notched 40 or more wins 57 times. How many of those 57 can you name in 10 minutes?
Good luck!
CLUE: YEAR / TEAM / WINS
MORE FROM YARDBARKER
Golden Knights News

Delivered to your inbox

You'll also receive Yardbarker's daily Top 10, featuring the best sports stories from around the web. Customize your newsletter to get articles on your favorite sports and teams. And the best part? It's free!