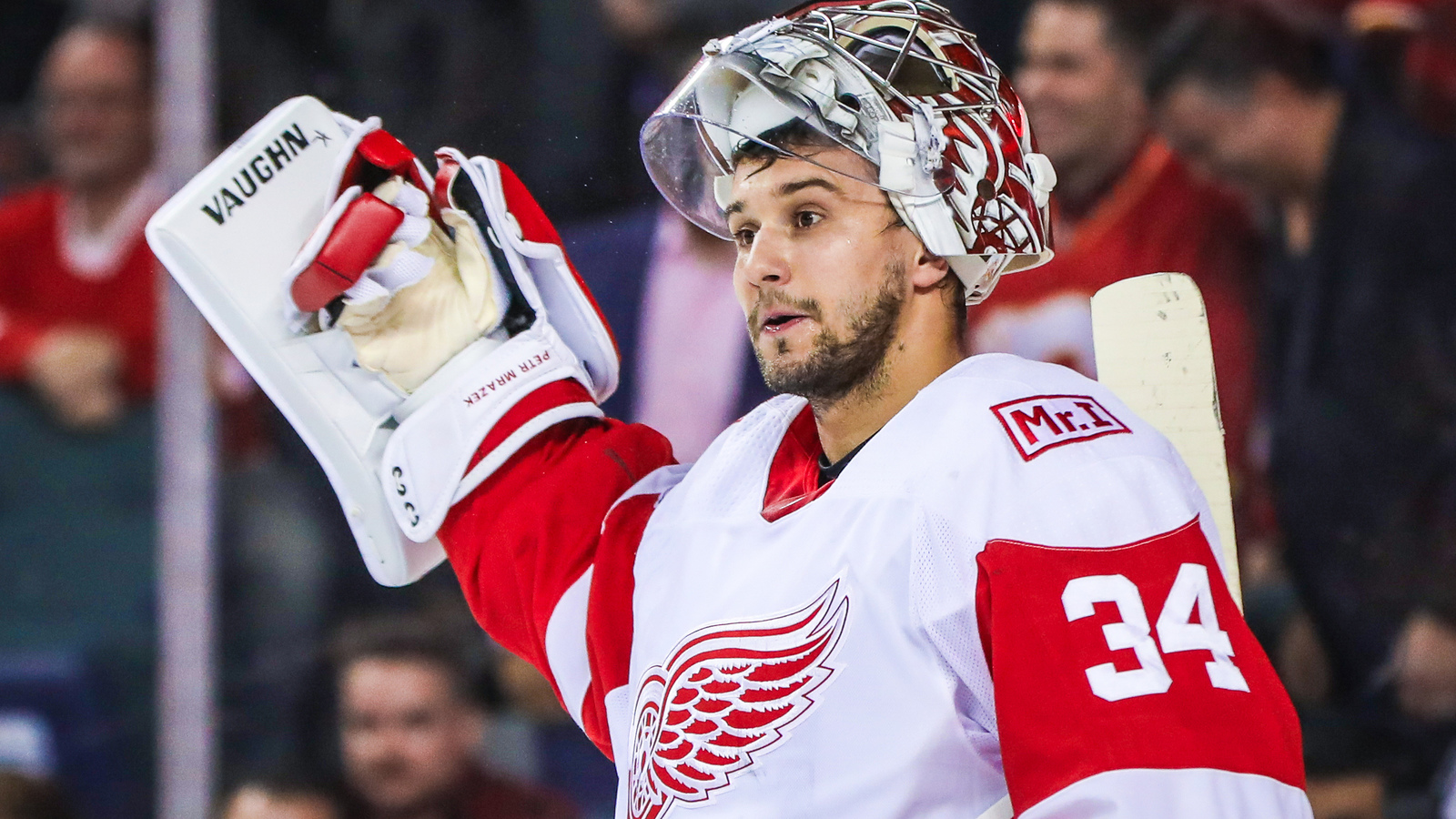 USA TODAY Sports
In Elliotte Friedman's latest 31 Thoughts column for Sportsnet, the venerable hockey insider reports that the Edmonton Oilers at one point had some interest in Detroit Red Wings goaltender Petr Mrazek. Friedman writes that Edmonton may have backed off after watching the 25-year old goaltender struggle recently, something that seems to be a common thread all around the league.
Several other teams are looking for goaltending help—Friedman himself mentions Florida and Pittsburgh—but there isn't a shining option on the market at the moment. Mrazek could have been that star, if the aforementioned struggles hadn't crept up on him again. Though he was once heralded as the goaltender of the future for Detroit, Mrazek has clashed with the front office in contract negotiations, and been generally outplayed by a resurgent Jimmy Howard over the past two seasons.
This year, Howard has taken the lion's share of the work in the Detroit net, starting 22 of the team's 29 games. He's recorded a .905 save percentage in those games which, while not even league-average, is quite a bit better than his counterpart. Mrazek's .888 mark is tied for fourth-worst in the league among goaltenders who've made at least 10 appearances. Only Maxime Lagace, Laurent Brossoit, Chad Johnson have been worse, while James Reimer clocks in at the same number.
Mrazek is young enough to improve, but his contract status as a pending restricted free agent that is already making $4.15MM is likely off-putting to many teams. A qualifying offer is likely too expensive for any team as a backup, and there is no guarantee he'd accept a lower number on a longer-term deal.
So, where else can you look around the league for goaltending help? Michael Hutchinson has been in the rumor mill lately, as the Winnipeg Jets get Steve Mason back healthy tonight. Unfortunately, Hutchinson injured himself in a minor league game this weekend (though the injury seems minor) and has been underwhelming at best during his NHL career.
Jonathan Bernier was signed by the Colorado Avalanche as potential trade deadline bait, but has been nearly as bad as Mrazek so far this year. His .891 save percentage doesn't inspire much confidence, as consistency continues to be Bernier's downfall.
Even a goaltender like Philipp Grubauer, who has been a potential trade target for some time due to a combination of outstanding play and clear role as the backup to Braden Holtby, hasn't played well enough to trust this season. He, like Scott Darling and Antti Raanta this offseason, was seen as a future starting goaltender in the league just waiting for the right opportunity.
There's not an easy answer here to the goaltending problems around the league. For teams like Edmonton and Florida, who already find themselves struggling to stay relevant in the playoff race, dealing assets for anything but a sure thing isn't very appealing.
PLAYERS:
Petr Mrazek
,
Jimmy Howard
,
Maxime Lagace
,
Laurent Brossoit
,
James Reimer
,
Michael Hutchinson
,
Steve Mason
,
Jonathan Bernier
,
Philipp Grubauer
,
Braden Holtby
,
Scott Darling
,
Antti Raanta
TEAMS:
Detroit Red Wings
,
Edmonton Oilers
,
Florida Panthers
,
Winnipeg Jets
,
Philadelphia Flyers
,
Toronto Maple Leafs
,
Washington Capitals
,
Carolina Hurricanes
,
Arizona Coyotes
,
Colorado Avalanche
MORE FROM YARDBARKER
NHL News

Delivered to your inbox

You'll also receive Yardbarker's daily Top 10, featuring the best sports stories from around the web. Customize your newsletter to get articles on your favorite sports and teams. And the best part? It's free!