Columbus Blue Jackets forward Nathan Horton is rumored to not be playing on Wednesday against the Dallas Stars, which has him in line to set an NHL record that will surely never be broken. Wednesday's Blue Jackets-Stars game is out of the ordinary. It was the game that was postponed following Rich Peverley's health scare. The NHL announced that the two teams will start over and play...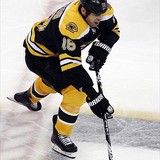 Boston, MA – While most of us were enjoying friends, family, food and fireworks in the spirit of celebrating the Fourth of July, Boston Bruins general manager Peter Chiarelli was hard at work reshaping his roster in preparation for what we all hope is another long Stanley Cup run in 2014. Part of the reason Chiarelli had to work so tirelessly through the holiday weekend was due to...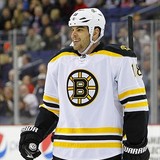 Boston, MA – It is a moment that many Bruins fans likely thought would not come so quickly. After Peter Chiarelli made a draft day deal that rescued Nathan Horton from the purgatory that is the Florida Panthers and brought him to a relevant, cup-contending hockey organization three years ago, it seemed like a match made in heaven. Horton, a big, skilled power forward with a goal...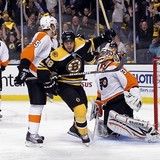 It appears a key piece in the Bruins' 2010-11 Stanley Cup run will not be back in 2013-14. Nathan Horton has told Boston he wants to explore free agency, according to Bob McKenzie of TSN, who spoke to the winger's agent, Paul Krepelka. "It's not a financial issue, just a decision to move on," Krepelka said. Horton's unrestricted free agency rights are now available in a trade...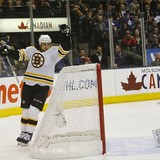 Forward Nathan Horton practiced with the rest of his Boston Bruins teammates at United Center on Friday, showing no major signs he's hobbled by what reportedly is a serious shoulder injury. Bruins coach Claude Julien said Horton remains day to day. "If he feels good, he's in the lineup," Julien said. "Simple as that." Horton left the ice in obvious pain in the first overtime of...
Boston Bruins forward Nathan Horton said he's ready to skate in Game 2 of the Stanley Cup Final on Saturday night at United Center. Just as crucial, his coach agreed hours before the puck dropped. "He feels really good, "Bruins coach Claude Julien said. "He looked really good out there, the last two days. There's absolutely no reason he shouldn't play tonight." Horton left the...
(Photo by Justin K. Aller/Getty Images) CHICAGO--  According to a report from Matt Kalman of CBSBoston.com,  Boston Bruins forward Nathan Horton suffered an undisclosed injury last night and his status is unknown. Horton left the game in the first overtime Wednesday night and did not return to the action. Although as the article notes his injury is still uncertain, he appeared to...
Boston Bruins head coach Claude Julien confirmed today that Nathan Horton is doing okay and he will suit up and play in the potential series clinching Game 5 against the Toronto Maple Leafs. Natahn Horton took a pretty big hit from Maple Leafs captain Dion Phaneuf shortly before David Krejci's game winner in overtime last night. Phaneuf landed the hit on Horton, but in the process...
MORE STORIES >>
Maple Leafs News

Delivered to your inbox

You'll also receive Yardbarker's daily Top 10, featuring the best sports stories from around the web. Customize your newsletter to get articles on your favorite sports and teams. And the best part? It's free!