With the Miami Open moving to the Miami Dolphins' stadium in 2019, Serena Williams participated in the groundbreaking ceremony on Monday.
Seeding rules are a "kind of punishment" for players after maternity leave and "should be changed", says the Miami Open tournament director.
KEY BISCAYNE, Fla. (AP) — It has never happened before: an opening-round match pitting a player who just won her first tennis title against a 23-time Grand Slam champion. Naomi Osaka, a rising star who won Indian Wells on Sunday, will face Serena Williams in the first round of the Miami Open on Wednesday. It's a freakishly difficult way for both players to start a tournament. The...
MIAMI GARDENS, Fla. (AP) — On the eve of the Miami Open on Key Biscayne, the tennis tournament is celebrating groundbreaking at its future site — the Miami Dolphins' stadium. Eight-time champion Serena Williams and Dolphins owner Stephen Ross were among those putting shovels in the ground to help convert the complex for tennis. The tournament has been held since 1987 on Key Biscayne...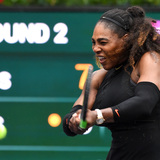 Tennis reporter Ben Rothenberg was at the center of a controversy on Saturday after he received backlash for his description of an exchange Serena Williams had with a different reporter on Thursday at Indian Wells.Williams on Thursday made her return to the court for the first time since giving birth to her daughter in January and won her match. Afterwards, she was faced with a question...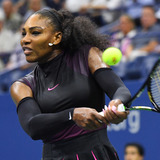 Tennis star Serena Williams brightened the day for a group of young girls on Thursday with a private screening of the hottest movie out right now.Williams and her husband, Alexis Ohanian, invited roughly 40 young girls who are members of Black Girls Code, a youth group based in San Francisco, to a private screening of "Black Panther." Not only that, Williams surprised them, as they...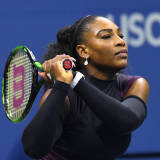 It's only been a few months since tennis superstar Serena Williams gave birth to her first child, Alexis Olympia Ohanian. The little one is already out there stealing hearts, as her Instagram account is followed by over 258,000 people.Of late, Serena Williams has been posting the cutest pics of baby Alexis, who has her momma's signature photogenic looks and light-up-the-room smile...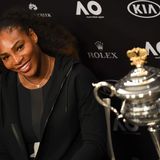 Serena Williams surfaced on social media Wednesday morning to share a photograph of newborn daughter, Alexis Olympia Ohanian Jr.The photo is an intimate image of the tennis icon holding the infant, who was born on Sept. 1. Williams reports that Alexis Olympia weighed in at 6 pounds, 14 ounces. "Meet Alexis Olympia Ohanian Jr. You have to check out link in bio for her amazing journey...
Serena Williams is on maternity leave from the WTA Tour, which has opened things up for new players to emerge in her absence. But if you think that just because she's not around and other women are taking the spotlight that she would be jealous, you would be wrong.On Friday, Williams sent multiple tweets expressing pride and happiness over Madison Keys and Sloane Stephens — two Americans...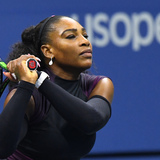 According to reports, Serena Williams is officially a mother.The tennis star and her fiance, Reddit co-founder Alexis Ohanian, welcomed a baby girl on Friday, according to WPBF-25 news producer Chris Shepherd. CBS 12 had reported that Williams was admitted to St. Mary's Medical Center in West Palm Beach, Fl. on Thursday night, when labor was induced. A source said Williams had the...
MORE STORIES >>
Tennis News

Delivered to your inbox

You'll also receive Yardbarker's daily Top 10, featuring the best sports stories from around the web. Customize your newsletter to get articles on your favorite sports and teams. And the best part? It's free!