We've updated our Privacy Policy.
By continuing to use this site, you are agreeing to the new Privacy Policy.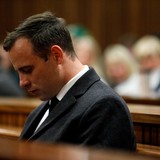 Oscar Pistorius was sentenced to six years in a South African prison on Wednesday for the murder of his girlfriend Reeva Steenkamp. Pistorius, who was found guilty of murder last year, was described as a "fallen hero" by Judge Thokozile Masipa. "Our courts are courts of law, not courts of public opinion," Masipa said during the ruling. "He's a fallen hero, he has lost his career...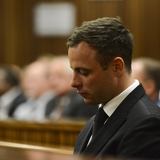 Oscar Pistorius was found guilty on Thursday of murdering his girlfriend Reeva Steenkamp after South Africa's Supreme Court of Appeal overturned the previous conviction of culpable homicide. Pistorius had previously been found not guilty of premeditated murder, but Judge Eric Leach has ruled that the six-time Paralympic gold medalist had to have known that firing his gun through...
Oscar Pistorius was involved in an altercation with another man at a bar in South Africa over the weekend. According to Pistorius, clothing company big wig Jared Mortimer aggressively accosted him and started the dust-up. Mortimer claims Pistorius was drunk and sparked the exchange by insulting his friends and South African President Jacob Zuma. As […]
LIKE WHAT YOU SEE?
GET THE DAILY NEWSLETTER:
The Oscar Pistorius murder trial took an interesting turn on Wednesday when the six-time Paralympic gold medalist testified that he accidentally fired the shots that killed his girlfriend Reeva Steenkamp. Pistorius' defense all along has been that he mistook Steenkamp for an intruder, but not that the actual gunfire was a mistake. Pistorius was being […]
MORE STORIES >>
Track and Field News

Delivered to your inbox

You'll also receive Yardbarker's daily Top 10, featuring the best sports stories from around the web. Customize your newsletter to get articles on your favorite sports and teams. And the best part? It's free!
THE TRACK AND FIELD HOT 9