We've updated our Privacy Policy.
By continuing to use this site, you are agreeing to the new Privacy Policy.
With "Stone Cold" Steve Austin serving as special guest referee, Michael Cole goes up against fellow broadcaster Jerry Lawler: Courtesy of the award-winning WWE Network.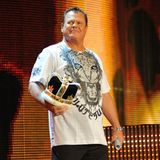 The WWE is truly moving into a New Era. Tuesday's WWE Draft divided the roster into separate lineups for Raw and SmackDown, and WWE also announced that the commentary teams for each show will be changing as well. Corey Graves, who has been working as an NXT commentator for years, has been called up and will join Michael Cole and Byron Saxton on weekly episodes of Monday Night Raw...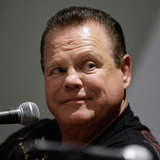 WWE Hall of Famer Jerry "The King" Lawler has been suspended indefinitely by WWE after being arrested, according to Memphis NBC affiliate WMC. Police responded to a 911 hang-up call from the couple's East Memphis home. Lawler and his girlfriend, Lauryn McBride, were both arrested on charges of domestic violence and booked into the Shelby County Jail in Memphis, Tenn. According to...
LIKE WHAT YOU SEE?
GET THE DAILY NEWSLETTER:
Lauryn McBride has been in headlines the past few days after she and fiance Jerry Lawler got into a domestic incident at Lawler's home early Friday morning that resulted in the two being arrested. McBride is 27 while Lawler is 66, so their age difference is something that will jump out at you. But if you take a look at McBride's social media postings, you'll see a woman who appears...
Jerry Lawler and his girlfriend/fiancee Lauryn McBride posted bond on Monday and were ordered by a judge to stay away from each other. Lawler and McBride were arrested last Friday morning at Lawler's home in Memphis after a domestic incident that involved a gun. McBride alleged violence on Lawler's part, while he claimed that she had attacked him. Both ended up arrested because...
Jerry Lawler and his fiancee Lauryn McBride were arrested early Friday morning after police were called to Lawler's home in Memphis, Tenn. in response to a call about a domestic incident. Police arrested both Lawler and McBride after not being able to determine who was the aggressor, and have charged them with misdemeanor domestic assault. The WWE responded swiftly by suspending...
WWE color commentator Jerry "The King" Lawler has been suspended by WWE indefinitely due to allegations of domestic abuse. It was a wild night for Lawler and his girlfriend, Lauren McBride, last night at Lawler's home in East Memphis, Tennessee. According to a report from WREG Memphis, McBride is saying that Lawler "struck her in the head and pushed her against the stove." This...
Wrestling icon Jerry Lawler and his girlfriend Lauryn Laine McBride were involved in a car accident Saturday night in Memphis, Tenn., that left his car crumpled and his girlfriend injured much worse than him. Lawler told WWE's website that he had a green arrow and was making a left turn nearby his home when a car ran a red light and smashed right into him. @Lauryn911 & I...
WWE SmackDown announcer and Hall of Famer Jerry Lawler and his girlfriend Lauren Laine McBride were in an auto accident Saturday night in Tennessee.Lawler is reportedly OK but McBride took the brunt of it, suffering facing swelling after being hit by the airbag and a knee injury.McBride:"Not exactly how we expected to spend our Halloween, but while on our way home from dinner a girl...
Jerry "The King" Lawler was the king of Memphis long before he was barking about puppies on WWE RAW. Lawler gave one of his more extensive interviews on the old territory offering a glimpse into what was arguably the greatest wrestling territory of all-time. Lawler is out doing media for "It's Good to be the King: The Jerry Lawler story," and gave a real fun interview to CraveOnline...
MORE STORIES >>
WWE News

Delivered to your inbox

You'll also receive Yardbarker's daily Top 10, featuring the best sports stories from around the web. Customize your newsletter to get articles on your favorite sports and teams. And the best part? It's free!