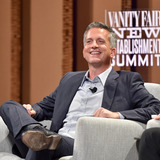 Bill Simmons was trying to make a clever joke using a WWE reference on Sunday night, but he picked the wrong wrestler to call out. Although the Houston Texans came back to beat the Indianapolis Colts in a dramatic overtime win, Simmons felt NBC's Cris Collinsworth was overselling the quality of the game. That's when he decided to compare a lousy football game to a WWE match featuring...
After being sidelined in November due to injury, Sheamus returned to WWE television on the post-WrestleMania episode of Raw. He attacked Daniel Bryan and Dolph Ziggler, which cemented his much-anticipated heel turn.
I've got some good news and bad news for Sheamus fans. The good news is that Sheamus won the WWE United States champion. The bad news is that Sheamus is the new U.S. champion. How this turns out is anyone's guess.
Now that we know Sheamus will be sidelined for nearly half the year with a torn labrum that requires surgery, how is the WWE going to handle one of its major faces being on the mend for that long? They may actually rejoice in the fact The Big White is healing from an injury he sustained at Money in the Bank.
The very first WWE Wrestler of the Week was victorious on both Raw and SmackDown, while also making appearances after the shows were over. He is scheduled for a championship match at this Sunday's TLC pay-per-view.
MORE STORIES >>
WWE News

Delivered to your inbox

You'll also receive Yardbarker's daily Top 10, featuring the best sports stories from around the web. Customize your newsletter to get articles on your favorite sports and teams. And the best part? It's free!