Found August 23, 2012 on Pass The Pill:
PLAYERS:
Carmelo Anthony
,
Chris Paul
,
Blake Griffin
,
Kevin Durant
,
Russell Westbrook
,
Dwight Howard
,
Kobe Bryant
,
Andrew Bynum
,
Dwyane Wade
TEAMS:
New York Knicks
,
Los Angeles Clippers
,
Oklahoma City Thunder
,
Los Angeles Lakers
,
Philadelphia 76ers
,
Miami Heat
I once wrote a piece on the NBA's top 5 duos of all-time and it seemed to spark a nice buzz for debate. Readers love to skim through lists and provide their own sense of opinion, especially when you're writing about talented combos, such as Magic and Kareem, or Stockton and Malone. The debates can become heated and ideas will bounce back and forth. #5:Carmelo Anthony/Amar'e Stoudemire Photo: GettyImages.com Easily one of the more talented duos in the entire league. The big "IF" for Melo and Stat is cohesion. Can these two stars put it together and stay on the same page for 82 games? I firmly believe that if they find a way to completely mesh and stay healthy, they'd make the Knickerbockers a true contender in the East. The problem seems to be their inability to be productive without the ball in hand. This happens when you pair two stars who score a ton and aren't particularly skilled passers. The dreaded stretches where the rock just quits moving. It's give and take that will set this duo apart from the average. Carmelo scored 25.6 points per game in 2010-2011, while Amar'e put up some of his best scoring numbers, notching 25.3 points per game in that same season. With one more season under their belts and the hope that Stoudemire comes back healthy (because I do NOT believe he was in 2011-12), the Knicks should see a spike in production from both of their star players. #4:Chris Paul/Blake Griffin Photo: GettyImages.com The highlight reel that is Blake Griffin seems like a sure-fire fit with a guy who makes a living off of passing the pill (pun intended). Chris Paul is the league's premier ball handler and Blake Griffin is basketball's "IT" player when it comes to ESPN's top 10 plays. These two are still in the very early stages of their partnership, but the signs of cohesive play have already appeared at an alarming rate. It's a pretty simple concept. Chris Paul steals the ball from said point guard (or whomever he chooses) and the dishes to the already in-stride, Blake Griffin. Blake finishes with an insane dunk on said defender (or entire team) and that pretty much sums-up the entirety of a Clippers game. On a serious note, the Clippers are fun to watch and having the league's best point guard and one of the game's up-and-coming power forwards is the dynamic which makes "the other team" in LA so great towatch. The buzz in the greater Los Angeles area is currently surrounding the Lakers, and rightfully so, but don't sleep on "Lob City". This team has the ability to win games and the star-power to compete in style. #3: Kevin Durant/Russell Westbrook Photo: GettyImages.com It took a long, hard look in order for me to place this Thunder duo at number three. In many ways, these two young players from the OKC could be No. 1, but I had to evaluate a lot of factors and go with my gut. Westbrook and Durant are undoubtedly an elite and nearly unstoppable duo in today's NBA. These two rank in the top 5 with the youngest combined age (47 years) and the highest ceiling of any of the other teams on this particular list. They've taken a once dead franchise (the Seattle Supersonics) and revived them in a new city with a terribly small NBA market. I'm sure Oklahoma City is a great city, but the way the league is being shaped by superstars fleeing to large markets such as NY, LA, Miami and Boston, it's hard to even fathom a market as small as that of OKC having such success with so many big names. #2: Dwight Howard/Kobe Bryant  The Lakers have done it again. They have found a way to stay relevant for the foreseeable future after securing the league's premier center, Dwight Howard. Regardless of what these people out there will tell you, Dwight Howard is far superior to Andrew Bynum, and it's not that Bynum is a bad player, it's just that Dwight Howard is so damned good. Bynum may have a leg up with his more polished back-to-the-basket game, but any argument for Bynum's superiority comes to a halt there.  Howard's effect on the game is far more important than ANYTHING Andrew Bynum will ever bring to the table. The fact that Howard can score 10 points and be the most important player on the court is what sets him apart from the rest of the NBA's elite crop. He and Kobe should prove to be a match made in basketball heaven. Kobe can shoot 25 times a game without hurting what Dwight does on the floor. Howard will collect missed shots, make the Lakers all-around defensive (and Pau's lack there of) look about as solid as any NBA defense, and run the floor as well as Shaq did in his prime. Howard is a far-cry from Shaquille O'Neal, but he's also probably the next best thing. His ability to hustle and make the extra plays will ultimately mesh with Kobe's overall skill and winning ways to make this duo a wrecking ball out West. #1:LeBon James/Dwyane Wade Look, I like to give credit where credit is due, and in this situation, picking any combo other than Wade and LeBron would be downright disrespectful and incredibly irresponsible. I already feel that I may have stretched a touch when I decided to rank Howard and Kobe (who haven't even played a game together) over the defending Western conference champs, Kevin Durant and Russell Westbrook. But hey, when you have a hunch, you go for it, and that is exactly the gut feeling I have about Kobe and Superman 2.0. But until the new-look Lakers beat LeBron/Wade and company in a series for all the marbles, consider Wade and James the alpha dogs when it comes to the league's most sensational duos. Bron and Flash could still prove to be the best tandem the league has ever witnessed. Two extremely talented players who have already drank from the championship cup together, and that is the real edge they have over the rest of the duos on this list. It's evidence that they can and have put it all together to win some hardware. This No. 1 combo should come as no shock to anyone. The post The NBA's top 5 duos appeared first on Pass The Pill.
Original Story:
http://sports-kings.com/passthepill/t...
THE BACKYARD
BEST OF MAXIM
RELATED ARTICLES
If you are a Los Angeles Lakers fans, you will love this. If you are an Orlando Magic fan, then this will only fuel your dislike for Dwight Howard. Howard took to his official Facebook page and uploaded a drawing of him following in the line of past Laker great centers such as Jabbar and Chamberlain. Brace yourself Magic fans because this might sting a bit (h/t Orlando Sentinel...
Now that he is a member of the Los Angeles Lakers, Dwight Howard wants to make people forget that purple and gold was not his first choice while he was orchestrating his exit from the Orlando Magic. The All-Star center made a significant gesture toward that end Sunday when he posted a drawing of himself in a Lakers jersey, surrounded by the jerseys of other Lakers greats. The image...
Now that there is a little distance from the initial fever of the Dwight Howard trade, reactions are starting to pour in as to how parties felt when they found out that the trade was finally in the books. For good reason there was no one that went off as hard as Lakers coach Mike Brown did. To read this article, please click the link below.
Lakers head coach Mike Brown reacted the same way most of the team's fans probably did upon hearing the news that Dwight Howard was L.A. bound. "I got a little excited. I tried to jump up and down, but my mind was telling me to do something that my body wouldn't allow me to do. I almost pulled my hamstring sitting down," Brown told ESPN.com. "I don't know...
That's the plan for now at least. Although the Lakers have acquired D12, arguably the most dominant center in the league, he still won't be able to play until his back is completely healed. "If I'm ready for opening night, then I'll be there, but I'm not going to rush it. A back is very serious, so I want to take my time and make sure I get back 100 percent, because I...
These are strange times in the NBA. Ray Allen has gone from Jesus Shuttlesworth to Judas in the eyes of Celtics fans, Steve Nash is a Laker. Meanwhile Drake and Chris Brown nearly knocked Tony Parker out of the Olympics and the Orlando Magic hired a 30-year-old away from the Oklahoma City Thunder's nursery to negotiate their 26-year old superstar's
On a new NER...Mr. Wesley observes Raider Fan outside of his natural habitat; why Augusta National shouldn't be allowed to celebrate adding two women to its membership; the guys from Da Jungle stop by to chat about Dwight Howard and the Lakers; and it's time to stop worrying about what Rihanna says. Click here for the show.
There is something to be said about being a cockeyed optimist. So, I will say it: It's not a good practice to which to adhere. Keep in mind, that sentence was written by someone who is the nonfiction equivalent of Chicken Little. I, like everyone else, tend to get wrapped up in what's popular, or "trending" as the zeitgeist would have it. The only problem is I'm usually...
Welcome back to NBA247365.COM's countdown of the top 20 NBA uniforms of all-time!  We've reached the top five, but those who missed out on earlier stages of the list can go back and check out numbers 20-16, 15-11, and 10-6.  Now, here are the best of the best… #5: Los Angeles Lakers (1966-now)** The Celtics have won more titles, but the Lakers are arguably the most successful...
NBA News

Delivered to your inbox

You'll also receive Yardbarker's daily Top 10, featuring the best sports stories from around the web. Customize your newsletter to get articles on your favorite sports and teams. And the best part? It's free!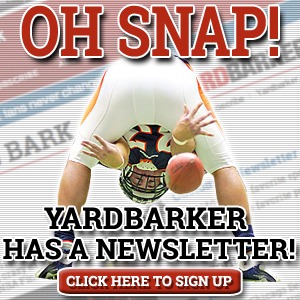 Latest Rumors
Best of Yardbarker

Today's Best Stuff

For Bloggers

Join the Yardbarker Network for more promotion, traffic, and money.

Company Info

Help

What is Yardbarker?

Yardbarker is the largest network of sports blogs and pro athlete blogs on the web. This site is the hub of the Yardbarker Network, where our editors and algorithms curate the best sports content from our network and beyond.