Found September 06, 2013 on The Saints Nation:
PLAYERS:
Roddy White
,
Desmond Trufant
,
Robert McClain
,
Robert Alford
,
Jacquizz Rodgers
,
Earl Thomas
,
Matt Ryan
,
Mike Smith
,
Tony Gonzalez
,
Sean Payton
,
Drew Brees
,
Curtis Lofton
,
Peyton Manning
TEAMS:
Atlanta Falcons
,
Seattle Seahawks
,
New Orleans Saints
It's a bit of a tradition by now that twice a year I connect with Grits Blitz, an Atlanta Falcon blog, to talk about the game and get some pot shots in in the process. Always a good time and they are good enough sports to indulge me despite rooting for such filthy trash. Of course it's always in good fun, if you suspend my deep seated hatred for the Falcons. But seriously, if you're ever curious about the Falcons you should definitely check out Grits Blitz or hit them up on twitter. Here's my questions to them: Saints Nation: I saw Roddy White is banged up... any chance his "ankle injury" is just masking a deep inner fear to come play in the Superdome? Any chance the ankle will need to be amputated? Ok, sorry, too far and not cool. My apologies.   Grits Blitz: There isn't anyone on the Falcons roster that the Saints fans hate more than Roddy but Roddy is a true gamer and no matter how bad his ankle is (I don't think it's bad at all since he's been resting it for weeks) he will come to play and give it his all. No chance he has any fear of the Saints, especially after watching game film of the defense.   SN: I read somewhere that the Falcons might start two rookies at CB, but I didn't see Asante on the injury report so I'm guessing those are just the 2 and 3 corners. Still, are you worried about that kind of lack of experience going up against the Saints' offense in week one?   GB: Asante and rookie Desmond Trufant will start at corner and veteran back-up Robert McClain will be the nickel. There is a chance rookie Robert Alford will get some snaps defensively but I'd look for him more on special teams. Am I worried? Yeah, a little but that goes without saying anytime you throw a rookie out there in game one and fans expect him to be a savior.   SN: The Falcons were able to win the last game by getting relentless pressure on Brees, and creating turnovers. Is that compromised with Abraham and some of the corner depth not being there?    GB: I think the biggest thing that will be missed from Abraham is his nack for getting the big play at the right time. Down the stretch in the last couple of seasons, Abraham faded around playoff time and that's one of the reasons that the Falcons decided to go younger with Osi and drafting a pair of DEs. Our depth is better this year at DE and from play to play I don't think we will be much different from last year but what we might miss is that game saving strip sack that Abraham always seemed to come up with.   SN: What about the Turner for Jackson swap? Is that an upgrade, or more like changing out a tire with 75,000 miles on it for a tire with 50,000 on it that had a recent patched up puncture?   GB: This is a gigantic upgrade. Turner was great when we got him but his age got to him quickly and he just flat out had trouble hitting the hole last season and once he made a move he had no chance to change directions. SJax brings another dimension to the offense as he's a hard-nosed runner that can actually bounce the ball outside when there isn't room up the middle instead of just running up his offensive lineman's back and hoping for the best. Jackson will be a big factor this season and also don't forget about Jacquizz Rodgers, I know Earl Thomas won't forget his name anytime soon.   SN: I've probably done most of your work for you in answering this question with the questions before it, but what's different between Falcons 2012 and Falcons 2013? Besides the whole franchise crippling salary cap wreck of a contract Matt Ryan has now?   GB: I think there is more of a focus and silent confidence. Last year, the Falcons still didn't know if Ryan and Mike Smith could win a play-off game. After a win against the Seahawks and being one play away from going to the Super Bowl, there is an understanding that this team can get to the big game and these players can get them there. Tony Gonzalez wouldn't have come back unless he knew this team had what it takes and that type of confidence and veteran leadership goes a long way.   SN: Seriously for a second, you had to lock up Ryan, it was the only move. But are you even a little uncomfortable with that kind of money being tied up to one player? I value Brees likely even more than you value Ryan maybe, and I have to admit, $100 million especially in the latter stages of the deal is a scary cap situation.   GB: Right now, that's market value for a franchise QB. It's a lot of money but the cap will continue to expand and two or three years from now when guys are making five to ten million more than Ryan it might even be seen as a value. It's a QB driven league, we had to lock him up and we did it at market value. It sucks that so much money goes to one player in a league where everybody puts their bodies on the line but that's the way the game is played.    SN: Be honest, Sean Payton being back changes things. So are you a little more worried playing the Saints than you were when he wasn't around? Any difference in your mind as an opponent?   GB: The Saints are definitely a better team with Payton than without him. No question about that. Even though there is a definite 'hate' in this rivalry there is still a respect for what the Saints offense can do on the field. The Falcons have only beat the Saints three times since Payton has been the coach, so yeah he makes a difference.   SN: Roddy White to Saints fans is Drew Brees to Falcons fans, right? But at least Drew is a classy guy. Is there anyone you guys target more than Brees from a hate standpoint?   GB: I personally don't hate Drew Brees. Just his stupid commercials. Seriously though, the guy we hate is Curtis Lofton. He left Atlanta to "go win a Super Bowl" and blah blah blah. He's been running his mouth since he left Atlanta and while I respect a guy like Brees, I've got nothing but contempt for Curtis LefttheTEopen.   SN: The playoff spell the last couple years is becoming something of a familiar refrain for you guys. I don't mean that as a jab, just honestly looking at it, it has to be Super Bowl or bust mentality now, right? Do you think this team can get better than 13-3? Seemed like an awful lot of luck in close games, hard to sustain that kind of closing ability. At some point do you worry this regime can't get it done in the big games or do you view it as dumb luck?   GB: The Falcons definitely have a "Super Bowl or Bust" mentality right now but I don't think that means that we have to have a better regular season. Going 13-3 with this schedule is simply not going to happen. I think it will be closer to 11-5 or 10-6 but as long as the team peaks at the right time, anything can happen with the offensive talent that is on this roster. As far as the "Big Games", I think that's a lot of media hype as with the increased media scrutiny we expect guys to be superstars from day one and forget that many of the superstars of the past had to build up to their glory. Matt Ryan is in his sixth season, Peyton Manning and Drew Brees didn't win a Super Bowl until well after that in their careers.   SN: Prediction on the score please.   GB: This will be a tough game and it will be an emotional one for the Saints as they get their Vicodin abusing offensive genius back into the fold. It will be a crazy atmosphere in New Orleans and the Falcons are going to have to strike early to at least somewhat take the crowd out of it. I see the Falcons getting on top early and withstanding a late Saints drive in a nail biter. I'll say 33-28 Falcons.
Original Story:
http://www.thesaintsnation.com/2013-a...
THE BACKYARD
BEST OF MAXIM
RELATED ARTICLES
The New Orleans Saints open their season this Sunday against their most bitter rival, the Atlanta Falcons. Though it is Week 1, for the Saints this matchup is a must win. The expression is cliché, but it applies to the Saints this week more than it does any other team in the league. The Saints last season went through some well documented, unprecedented turmoil with the suspension...
  Drew Brees is the top quarterback in the FantasyPPR.com Week One Quarterback Rankings. After a wait that seemingly took forever, the NFL season has finally arrived as the Baltimore Ravens and the Denver Broncos kick off the 2013 season Thursday Night in Denver. For fantasy owners the journey to a fantasy football championship also begins tonight. All the research, all the drafting...
Drew Brees passed for 357 yards and two scores and the New Orleans held on for a 23-17 victory over the Atlanta Falcons to give Saints coach Sean Payton a triumphant return from his bounty ban. Roman Harper intercepted a tipped fourth down pass in the end zone with under a minute left. Brees connected with Marques Colston for a 25-yard touchdown pass during which the receiver also...
Drew Brees passed for 357 yards and two scores and the New Orleans held on for a 23-17 victory over the Atlanta Falcons to give Saints coach Sean Payton a triumphant return from his bounty ban. Roman Harper intercepted a tipped fourth down pass in the end zone with under a minute left. Brees connected with Marques Colston for a 25-yard touchdown pass during which the receiver also...
The Saints' coaching staff has been emphasizing one particular stat this week, ahead of the Saints home opener against the Atlanta Falcons. Historically, these two rivals punish each other until literally the final seconds. "Seven of our last ten games with the Falcons, since Mike Smith has been the head coach, have been decided by the last possession," quarterback...
Ah, football is back. This Sunday, Matty Ice takes on Drew Brees and his bountygate friends. The Falcons are the team to beat this season in the NFC South, and the road to the SuperBowl starts Sunday. Here is my list of 10 things I want to see Sunday..... Matt Ryan picking up where he left off in January. Roddy White on the field to continue his streak. ...
Peyton Manning tied two NFL records Thursday night with five touchdown passes against the Super Bowl champion Baltimore Ravens. Favre tied Brett Favre's NFL record with his 23rd career game with at least four TD throws, then tied Drew Brees' mark with his seventh career five-TD performance. Manning had a pair of TD throws to tight end Julius Thomas in the first half of...
On Thursday, September 5th, the 2013-14 NFL Season kicks off. I cannot tell you how I happy I am to write those words, considering the roller coaster NFL off-season that has just been completed.
The Saints' offensive performance was full of ups and downs, and while there were a lot of nice things there's also a lot to work on. Because of this there's a lot of ups and downs in terms of the grading. To be honest I didn't really feel like anyone on the team player amazing, or even very good, but most were above average. I think we'll see many games where...
Saints Nation Guru is back! Make your predictions for the Falcons game and try to win a $50 gift card to NFL.com at the end of the season. Here's how it works: answer each of the five questions below (5th question is the score prediction, the tiebreaker) in the comment section. If you win, you automatically go into the standings as a weekly winner for the season. The person with...
NEW ORLEANS (AP) -- Sean Payton enjoyed a triumphant return from his bounty ban, with help from Drew Brees and a defense overhauled by the coordinator he hired shortly after his reinstatement. Brees passed for 357 yards and two scores and the New Orleans Saints held on for a 23-17 victory over the Atlanta Falcons on Sunday. Roman Harper intercepted a tipped fourth down pass in...
Welcome, Fake Footballers! Aside from smashing on opponents each week in our yearly fantasy football leagues, we at The Fake Football also do some dabbling in the fine arts of Daily Fantasy Sports. If you like the rush of fantasy football in one-week portions (with a few pesos on the line), then Daily Fantasy Sports may be your cup of tea as well. This season, we will be pumping...
NFL News

Delivered to your inbox

You'll also receive Yardbarker's daily Top 10, featuring the best sports stories from around the web. Customize your newsletter to get articles on your favorite sports and teams. And the best part? It's free!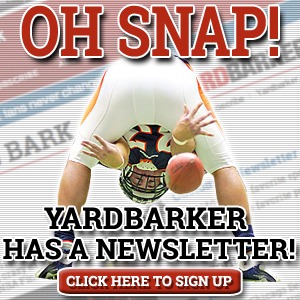 Latest Rumors
Best of Yardbarker

Today's Best Stuff

For Bloggers

Join the Yardbarker Network for more promotion, traffic, and money.

Company Info

Help

What is Yardbarker?

Yardbarker is the largest network of sports blogs and pro athlete blogs on the web. This site is the hub of the Yardbarker Network, where our editors and algorithms curate the best sports content from our network and beyond.