Harper, Machado already influencing MLB free agency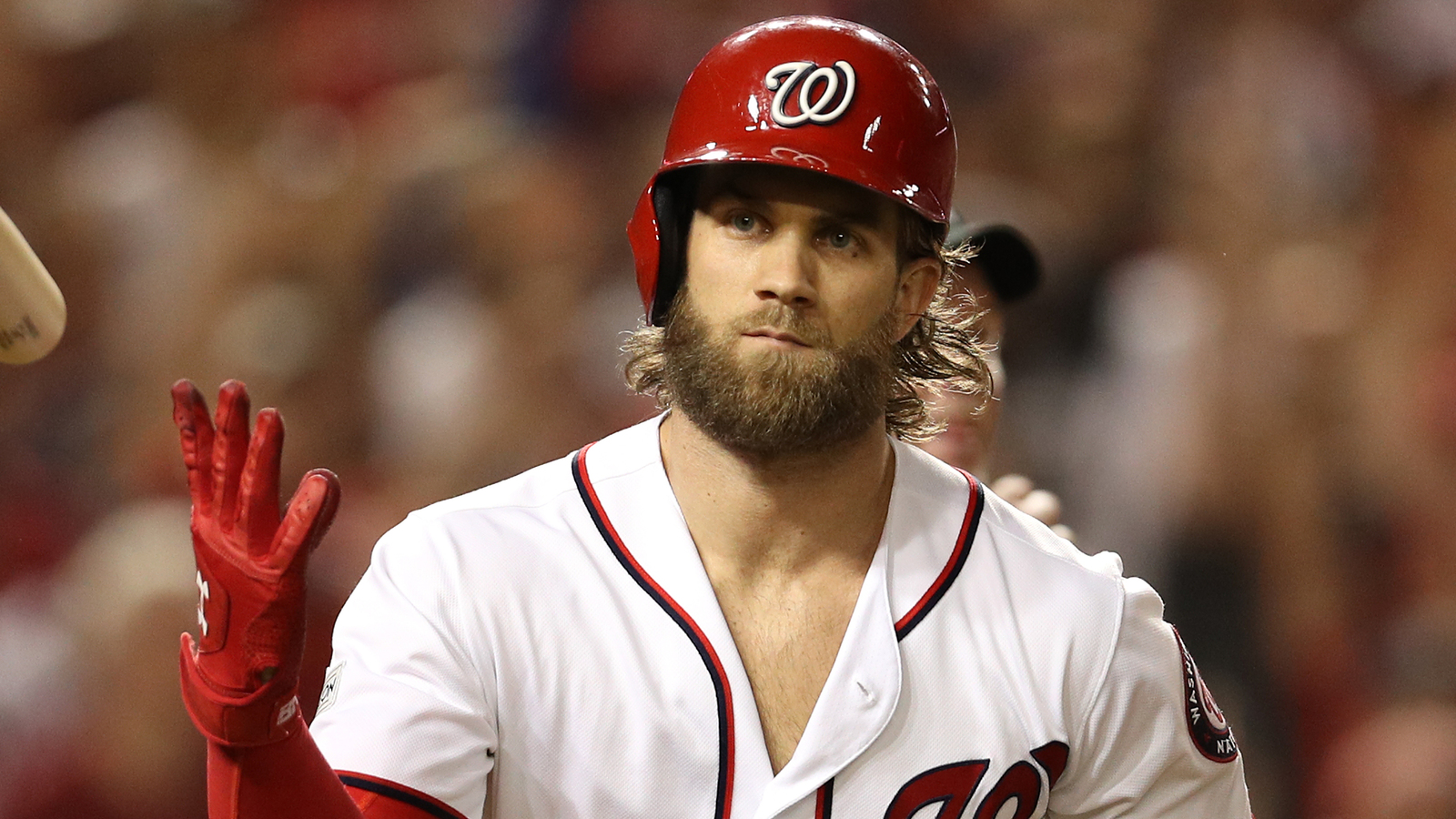 The anticipation of Bryce Harper's free agency following the 2018 season is already running amok.
Patrick Smith/Getty Images
If any word could be used to describe the front end of Major League Baseball's offseason, "plodding" would be the most accurate term to sum it up. Those who entered the winter anticipating excitement along the waves of winter free agency and trade bustle have instead been met by a confusing mixture of seeming indifference and/or stunning patience regarding any substantial moves coming to fruition as the calendar year comes to close.
While the Shohei Ohtani sweepstakes, courting of Giancarlo Stanton and lukewarm dangling of Manny Machado have dominated the headlines, the MLB's hot stove continues to flicker its way toward 2018 with very little in the way definitive excitement around the biggest free agent names to be.
A handful of reasons could be playing a part in the process dragging on thus far. With so many marquee names put forward as available on the trade market, many GMs have opted to swap prospect value in lieu of cash. And while many teams have been preoccupied with either picking through the yard sale in Miami, lining up their bid for Ohtani or in some cases both, the high-end free agent market has gone relatively untouched.
The real reason for why so many clubs are sitting on their hands may ultimately have less to do with this year's crop of available upgrades, which includes a recent Cy Young Award winner in Jake Arrieta, J.D. Martinez fresh off a 45 home run season and the spattering of recent, youthful World Series champions from Kansas City. Rather, it has everything to do with the anticipation of what awaits 10 months from now, when arguably most impressive collection of free agents ever hits the open market at once. Next year will be the most expensive winter in baseball history, by far. However, unlike many other offseason spending sessions, which are ripe with red flags and cautionary tales (such as this one), there is a green light to wheel and deal with little remorse or reserve.
Headlined by a pair of precocious wunderkinds in Bryce Harper and Machado, who will hit free agency at stunningly early ages, the free agency class next year has long been heralded as being capable of garnering over $2 billion in new contracts and creating a seismic shift in the MLB power balance.
Aside from obvious talents of Harper and Machado, there is the chance that Clayton Kershaw is in play as well, as he holds an opt-out following next season. The likes of Charlie Blackmon, Josh Donaldson, Brian Dozier, Andrew McCutchen, Andrew Miller, Craig Kimbrel, A.J. Pollock, Elvis Andrus, Nelson Cruz and Daniel Murphy are all also entering the final year of their current pacts. It is a collective that was good for 54.5 wins last year, even with Harper missing over a month. Even some of the more uncertain quantities who could be in play next year, such as David Price and Zach Britton, would be standout options among each of the previous two free agent crops, a telling fact about how deep next winter's talent pool is.
In comparison, this year's headliners — largely comprising Arrieta and Martinez, along with Yu Darvish, Eric Hosmer, Mike Moustakas, Lorenzo Cain, Wade Davis, Lance Lynn, Greg Holland, Carlos Santana, Jay Bruce and Zack Cozart — produced a 38.2 WAR, a 30 percent less impactful class than next year's crop. Add in the incredible upside of the headliners of next winter, and it is completely understandable why this year's group pales in comparison regarding urgency of interest.
Speaking of upside, it is a very expensive quality to obtain, especially when it comes to an undeniable superstar like Harper. At age 25, he is already an MVP, a five-time All-Star and owner of 150 home runs, and he projects to have a decade of top-tier production head of him. As a Scott Boras client, the question is not if Harper will receive the biggest free agent deal in baseball history. The better question is if he will he make more than the all the Marlins in 2019, combined. That might be a slight exaggeration, the emphasis should be on slight, as he could be worth half the value of a $90 million payroll by himself.
Harper is set to take baseball salaries to a stratosphere hovering around NBA and soccer star levels. It is the type of commitment that does not come lightly for any club. The ability to acquire the most accomplished sub-30 free agent ever will have plenty of unlikely suitors counting their pennies to land an instant building block for the next decade. As a result, they will likely pass on many of the usual — yet costly— fits that are available this winter.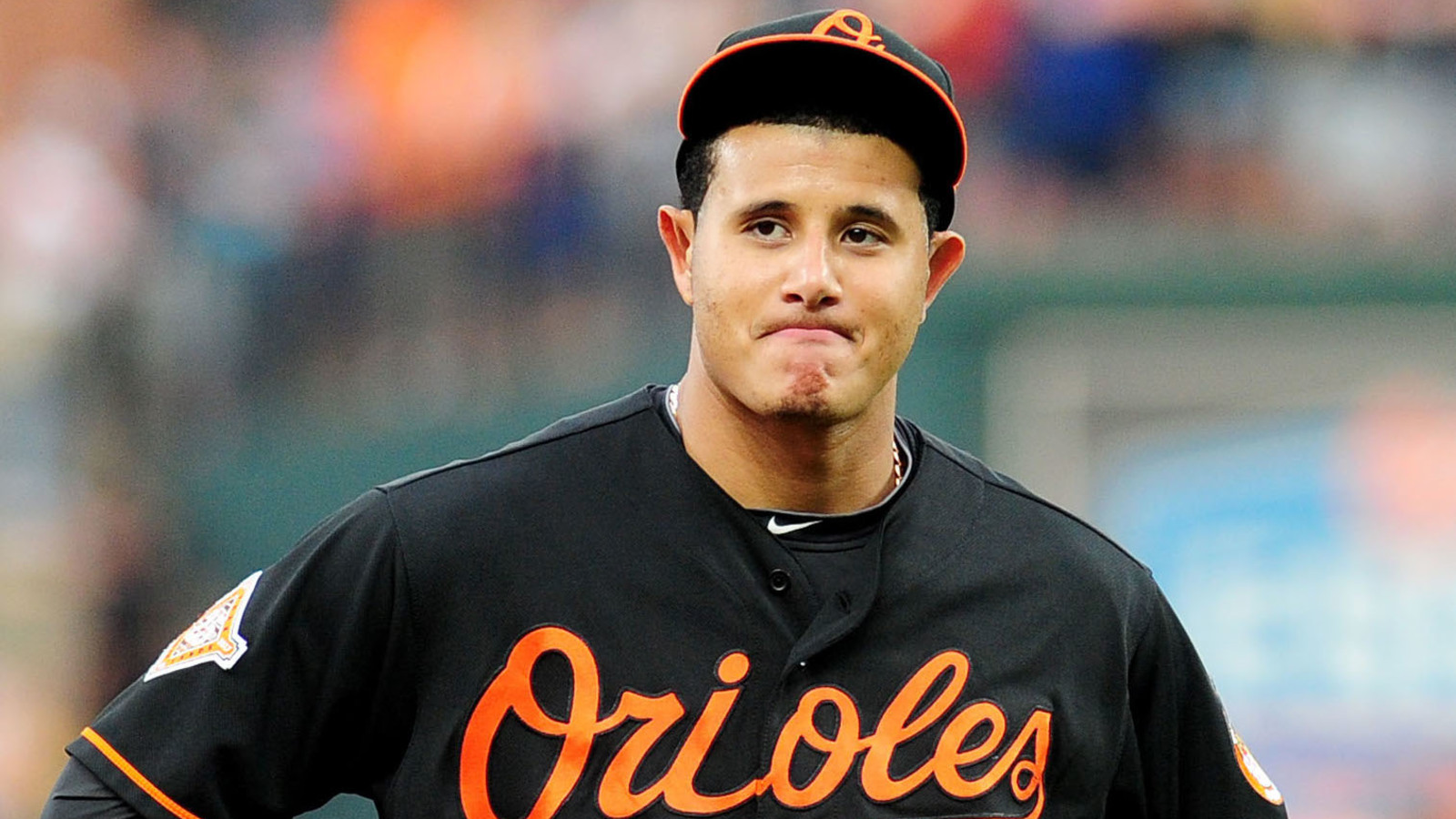 Manny Machado's name has been swirling in trade rumors as he enters the final year of his contract.
Evan Habeeb-USA TODAY Sports
If Harper's looming presence was not enough, there is Machado's potential availability as well, who could become the second highest paid player ever in the wake of Harper in a year's time. Although the cost of losing a draft pick in exchange for Harper is barely blink-worthy, Machado will likely be the freest of all free agents, as he is increasingly likely to be dealt from the Orioles before next August. Machado is yet another reason for many teams to not lock up finances that would be needed a year from now for Machado, as he too is a cornerstone talent who will not turn 30 until July 2022.
Add in even the chance to lure Kershaw away from La La Land, and the winter of 2018-19 becomes a temptation the likes of which have not been seen since the Garden of Eden. Even those who wait in the wings below the $300 million level Harper and Machado will see, and the over $200 million that sits ahead of Kershaw, stand to do very well. A former MVP like Donaldson and mid-prime contributors like Blackmon, Miller and Dozier would top the class of 2017 easily.
In that vein, what is a team on the brink to do? Should the Red Sox or Cardinals go big after an Eric Hosmer or J.D. Martinez this winter or bide their time for a more impactful bid at Machado or Donaldson next winter?
Likewise, the Dodgers and Yankees have strategically shifted their financial commitments that drew them increasingly closer to enhanced luxury tax ramifications to best allocate their funds for next year.
What about a team like the Cubs, a team in the middle of an annual run for the pennant? Should Chicago spend big on bringing back Arrieta or Davis, add Darvish to the front of the rotation, or simply add strategically now and prepare for an all-out push to join Harper with his running mate Kris Bryant for the next decade?
The Giants, Phillies and Angels are all in the middle of rapid rebuilding efforts, and each club would be far better served in proceeding slowly now to make the best push for a franchise-transforming move next winter.
Add in the need to keep pace with the upgraded ranks of the Stanton-enhanced Yankees' lineup and the wide-open window of the defending champions in Houston, and the need to keep up to the pace with the league's elite is at a fever pitch. There will be teams that will successfully pick and pluck from both classes, while there will be some that will cave to the urgency of what's at hand and worry about next winter when it arrives.
With a type of cautious foresight that only Ned Stark can truly appreciate, there are many teams that are slow-playing the current winter with eyes on the one that is coming. We will have to wait and see just how much this ultimately impacts the outcome of this winter's negotiations, but it is undeniably pumping the brakes on the speed with which many teams are willing to commit their dollars and current vacancies to the most notable names of this offseason.
It is tough to blame any GM who passes on the immediacy of "winning" this winter when the chance of legitimately winning the next decade awaits just around the corner.
MLB News

Delivered to your inbox

You'll also receive Yardbarker's daily Top 10, featuring the best sports stories from around the web. Customize your newsletter to get articles on your favorite sports and teams. And the best part? It's free!
MORE FROM YARDBARKER:
QUIZ: Name the No. 1 prospect from every annual Baseball America top 100 list
The fine folks over at Baseball America have been compiling their annual top 100 prospect list since 1990. How many of the No. 1 overall prospects can you name in seven minutes?
Good luck!
CLUE: YEAR / TEAM / POSITION
MORE FROM YARDBARKER
MLB News

Delivered to your inbox

You'll also receive Yardbarker's daily Top 10, featuring the best sports stories from around the web. Customize your newsletter to get articles on your favorite sports and teams. And the best part? It's free!