We have a couple of polls for you on this lovely off-day during spring training regarding what the Braves starting outfield SHOULD look like. The Atlanta Braves outfield is arguably the biggest source of debate amongst media pundits (including national outlets and lowly bloggers like us). To get this out of the way, Ender Inciarte is an absolute lock in center field. Not only is...
It has been a long four years but the Atlanta Braves' rebuild is finally nearing it's end. The 2018 season is shaping up as a pivotal one for the Atlanta Braves who are entering the fourth year of their rebuild. Much of that focus of that rebuild has centered on reviving a barren minor league system and transforming it into one of the best in baseball. With some of that top talent...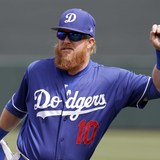 Dodgers fans' worst nightmare came true: Justin Turner is likely looking at an extended absence.Turner left Monday night's spring training game after being hit by a pitch on the wrist. He went in for X-rays, which showed he has a broken wrist. These types of injuries typically cause players to miss around 8-10 weeks. Freddie Freeman returned from a broken wrist in under seven weeks...
Braves reassign top prospect Acuña Jr to the minors In an unsurprising move, the Atlanta Braves have reassigned their top prospect, outfielder Ronald Acuña, to minor league camp. Acuña, 20, will have to wait a couple of weeks to make his heralded debut in the majors. This decision...
On Monday, the Atlanta Braves announced that Julio Teheran is set to start on opening day, becoming the first Braves to do it five straight seasons. On the same day he is set to pitch in another spring game, Julio Teheran was announced to start on opening day for the Atlanta Braves...
The Braves are probably – almost certainly – going to hold Acuna in AAA for 2 full weeks of the regular season.  But what are the alternatives? The Atlanta Braves have a short history of offering contract extensions to their younger players – in fact, there is just one example of any...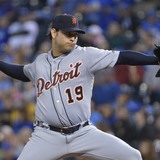 The Braves announced that they've signed right-hander Anibal Sanchez to a minor league contract and invited him to Major League camp for the remainder of Spring Training. The veteran Sanchez, a client of agent Gene Mato, had previously been in camp with the Twins on a non-guaranteed deal but was cut loose when Minnesota's signing of Lance Lynn ended his bid for a rotation spot. Mike...
Atlanta Braves star first baseman Freddie Freeman gives an in-depth tutorial on how to hit off a tee.
The Braves have agreed to terms with outfielder Ezequiel Carrera, per Jon Heyman of Fan Rag (via Twitter). It's a minor-league deal, per MLB.com's Mark Bowman (Twitter link).Carrera was recently released by the Blue Jays, sending him onto the open market in the middle of Spring Training. That move allowed the organization to avoid most of the $1.9MM arbitration salary it had agreed...
Atlanta Braves right-hander Mike Foltynewicz shows how pitchers can use sound mechanics and momentum to add velocity.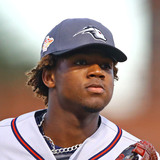 The Atlanta Braves reportedly have expressed a desire for Ronald Acuna, among the top prospects in baseball, to make some slight changes when it comes to behaving like a professional. Amid the issues purportedly troubling the Braves is how the 20-year-old tends to not wear his hat straight.A report from MLB.com's Mark Bowman indicates the Braves "want Acuna to wear his hat straight...
MORE STORIES >>
Braves News

Delivered to your inbox

You'll also receive Yardbarker's daily Top 10, featuring the best sports stories from around the web. Customize your newsletter to get articles on your favorite sports and teams. And the best part? It's free!